The last time we heard from Heidiminx, she was planning her next trip to McLeod Ganj, India, to bring more of her good energy and effort there.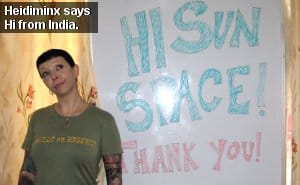 Here's just some of what's happened since she's touched down, with a couple of her photos for good measure. See if you're not inspired by how much one person can get done when working for the benefit of all. (And it's fun to read about it, too.)
SEPTEMBER 5:  Arrival
After about 35 hours of travel, I arrived on Friday afternoon. Luckily I had that DIY presence of mind to keep the plastic utensils from my flight, as my new room here doesn't have anything in the kitchen!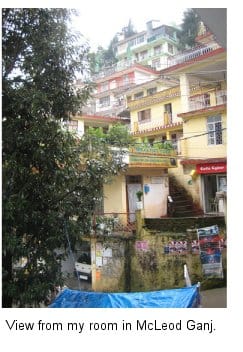 On Friday evening I got to see my dear friend Tashi, he is a thangka painting master.  (Visit tashidhargyal.com if you want to see his work and learn more). The SOLO Foundation, which oversees my non-profit (Built On Respect) is purchasing one of his thangkas for an auction to benefit the Tibet House in New York in November. He is creating a new piece especially for this event.
I've also been working on a larger program — I don't want to give away too many details until it is firm — but after meeting with the Office of Tibet in New York, I was referred to Gu Chu Sum, the ex-political prisoners association.
On Saturday, I met with their director to talk about the program. We are working hard to make it happen, and in the meantime, he has asked me to help him with his English. I am beyond flattered, and would highly encourage you to learn more about their work.
One of my friends here referred me to the Institute of Buddhist Dialectics — some of the senior Geshes are in need of an English teacher. Dialectics is the study of Buddhist philosophy; it takes about 20 years to become a Geshe — the best way to describe it is as a Doctorate in Buddhist Philosophy. The Geshes at IBD will go on to teach Dharma — many, in English, so it is important for them to study it. Since many of the monasteries in Tibet have been destroyed, or are under the control of the Chinese Government, it is not possible to for many monks there to receive a Geshe degree. This work is particularly important to me and when I received the call, after meeting with them on Friday, that they would like me to be their teacher, I literally jumped up and down in the street!
Friday evening I stopped by the Tibet Hope Center, which I have worked with now for over a year. There is an evening beginner English class that I sponsor there. My friend Tenzin is the teacher. There are now about 28 students. When I was last there, they knew NO English — no roman letters, no anything. Since then, they have learned the ABCs and are already doing written home work assignments. I am SO proud of Tenzin! I sat in, and after Tenzin taught new words, I worked with the class on pronunciation.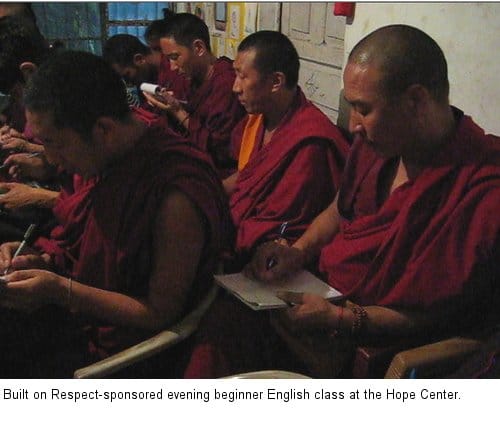 SEPTEMBER 7:  Started teaching today….
I began teaching two senior geshes this morning, it was wonderful. Immediately following, I went to the Institute of Tibetan Art. I was able to give Ngodup $400 for one of the thangkas that sold on eBay's World of Good site.
He said that the website I had built them was getting a very good response, and he was being contacted by many people through it. I got to see a MASSIVE thangka that he and his students had completed for a Korean Monastery.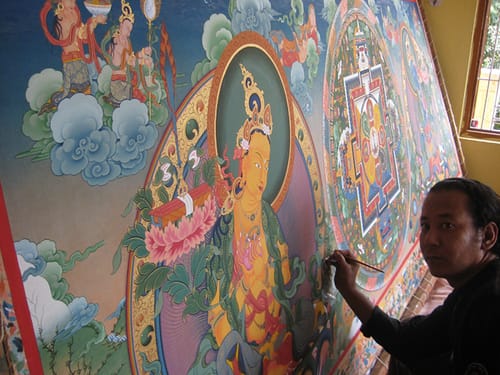 After that I met with Matthew, who does human rights monitoring in Nepal, he was very interesting to speak with, and tomorrow he is introducing me to three nuns who had recorded freedom songs from prison. They want to open a community center in Sidhpur, about 30 minutes from Dharamsala. It will be important to have a center there, as many of the new refugees live in that area, and resources are limited. They are looking for donations, books, medical supplies, and computers.
I met also with the directors of the Hope Center to get caught up on the past three months since I've been away.
Tonight I started teaching Ngawang, the President of Gu Chu Sum. He is a monk, and was a political prisoner. We will be working on grammar and vocabulary, but in particular, part of his job is to explain to Westerners what the conditions are for political prisoners in jail. So, we are focusing on this area in particular. The stories are heartbreaking. Ngawang is lovely, he laughs quite a lot, and has made it clear I am welcome for dinner in his home any time.
I stopped into Tenzin's class tonight as well — I got a lovely gift from Patriot before I left: a large quantity of flash drives. Tonight, after we worked on pronunciation, I got to surprise the first student with one of the drives. I am able to give them out to one student per class; these will go to those who have done the best on their homework. Here's the first winner: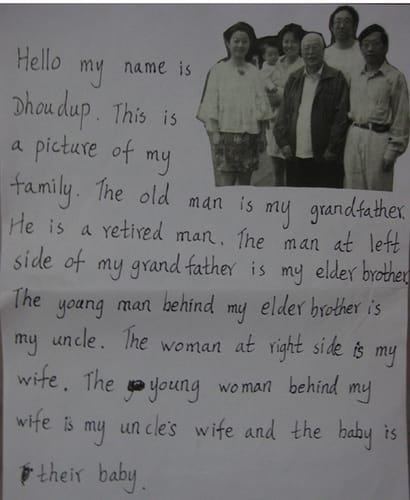 I am SO proud at how much they have progressed in three months!
SEPT 11: The first week has passed…

..and it was amazing. The past two days I was literally working 14 hours straight.
One of the new people I've met is Lamsang. He's just started a small non-profit called Shideling. It is based about 20km away from the main McLeod Ganj area. Many of the new arrivals from Tibet live in that area, is it is much less expensive than the MG area. However, there are very few social services there.
Lamsang has started Shideling to fix that problem. He is trying to start a job-training workshop to teach carpentry. With the proceeds raised from selling furniture, he hopes to fund a computer lab, and also to assist area residents with medical expenses. Many of the residents are ex-political prisoners.
Three of the women who started the Shideling cafe are ex-nuns who were imprisoned. Through a mutual friend I learned their stories:
While in jail, they had refused to sing the Chinese national anthem as a Chinese flag was raised over the prison. For this, they were put in solitary confinement for many months. They frequently must visit the doctor for other problems;  it seems that being forced to stand barefoot outside in ice-cold water, for many hours at a time, led to kidney troubles.
I am really enjoying my evening English classes. I alternate nights between the beginner class at Hope Center that is sponsored by Built on Respect, and teaching Ngawang — the President of Gu Chu Sum. Teaching Ngawang is truly an experience. He is so lovely, smiles and laughs so much. The human rights violations against political prisoners is astonishing. There are rare pictures in the halls of GCS: pictures of tortured bodies, and corpses. The Chinese prison guards have a particular affinity for the electric cattle prod — using it on every sensitive area of the body imaginable.
Ngawang and I are working on his English, so that when he is asked to speak regarding this issue, he will be comfortable doing so in English. I really can't convey how simultaneously angering and heartbreaking it is to discuss the words associated with torture — especially when you know that the beautiful person you're discussing them with has lived through their meaning.
That said, there is a beautiful converse to all this: My friends and students here love to cook and socialize. Ngawang (GCS) , Lhakchung, and Tenzin (Hope Center) and I made dinner this week. They know I adore momos (wonderful Tibetan dumplings). We worked together for almost 2 hours preparing them.
Thank you for reading!
HUGS!
Heidi