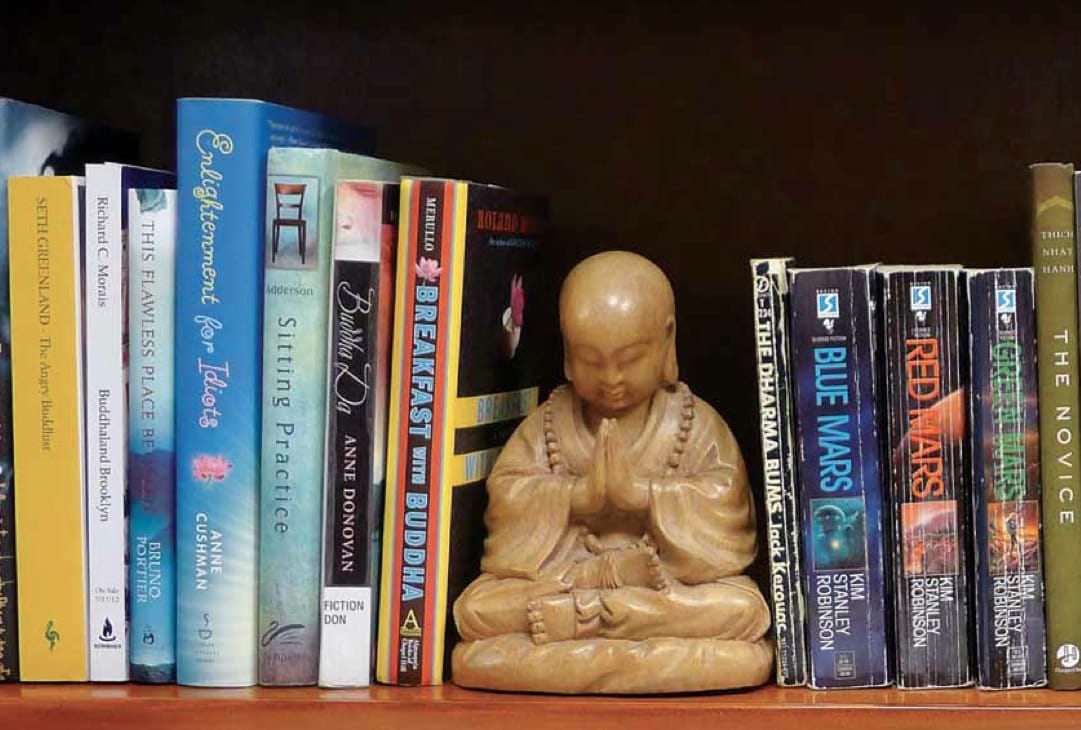 When I was first introduced to Darcy Lott, she was at work as a stunt double, wearing what she dubbed "the world's shortest kimono" and preparing to hurl herself off the turret of a Victorian building. She was careful while preparing for the stunt—or wanted to believe she was—but she got distracted at the last minute when a spotlight panned the dark street and she saw her long-lost brother, or what looked like him, on the roof of the Barbary Coast Zen Center. Suddenly the camera was on Darcy and she had to jump. No time to recheck her stunt prep, she missed the catcher bag and crashed into the sidewalk, red seeping from her shoulder. Was it a coincidence that the very next day an old friend of Darcy's disappeared, echoing the painful disappearance of her brother twenty years earlier?
 

This is the beginning of Hungry Ghosts, Susan Dunlap's second book in her Darcy Lott mystery series. But now, with the release of No Footprints this August, Dunlap is up to number five. She's also the author of three other mystery series, one suspense novel, and a collection of short stories, bringing her total number of published books to twenty-four. Of her books, the Darcy Lott series is most clearly about Buddhism. Yet, according to Dunlap, all of them have a Buddhist element. "They do, because I do," she says.
Buddhist fiction is a slippery fish to define. Some would say it's composed solely of stories written by Buddhists and/or stories that feature Buddhist characters. Others would expand the definition to include stories written by non-Buddhist authors about non-Buddhist characters, as long as the writing reflects a Buddhist sensibility in addressing themes such as suffering, compassion, and emptiness. The Buddhist canon becomes very large indeed, however, if we go with the more liberal definition. Novelists—Buddhist and otherwise—are interested in the human condition. And since Buddhism rests on a foundation of universal human truths, it's common for writers of all faiths and traditions to express some Buddhist ideas in their work, even if they are unschooled in Buddhism. As Charles Johnson wrote in his foreword to Nixon Under the Bodhi Tree and Other Works of Buddhist Fiction, "The Buddhist experience is simply the human experience." Nonetheless, novelists who have studied or practiced Buddhism tend to offer a refreshing perspective by consciously weaving the dharma into their stories.
You could call fiction a lie. It's an invention, a fantasy. But fiction writers are using their "lies" to tell the truth—as they see it—about our world. And in showing us their truth, they offer us a path to compassion. Novels, written well, take us directly into the hearts and minds of others. These others may be fictional characters but they're also a lot like our friends and families, our enemies and adversaries, and the strangers on the train or at the grocery store. When we read novels, we see why characters are driven to do what they do, and by extension we get a glimpse of the inner lives of the real people who are all around us.
In her life, Susan Dunlap has been immediately sure of three things: Zen, her husband, and the city of Berkeley. In the 1970s, she walked into a zendo for the first time and felt instantly at home. An only child, she'd been raised by parents of different religions—one Catholic, one protestant—and whatever conflict there'd been in the family was over that difference. As a result, she learned that spirituality was an important issue and that she could make her own decision about it.
According to Dunlap, Zen is a fit for her because it doesn't demand that practitioners accept doctrine per se; instead it emphasizes practitioners' own experience. She says, "I want to be able to sit quietly facing the wall and know that what is real is what's going on in this moment, and that there's nothing else forced upon me."
It was Dunlap's husband who got her interested in Eastern spirituality when he gave her a copy of Autobiography of a Yogi. They met in 1968 and, as she puts it, they've been married "forever." Her theory is that when your job is writing the thrilling stuff of murder mysteries, you don't need constant change and excitement in your relationships. Laughing, she adds, "When you kill people in fiction, you don't need to kill them in your regular life."
It was early on in her marriage when Dunlap began writing mysteries. One day she was reading an Agatha Christie novel, and she turned to her husband and said, "You know, I could do this." There was a long pause from him, as if he were holding back a rude comment. Then he said, "Well, go ahead."
She did, but it wasn't quite as easy as she'd thought. Her first novel, which was about twins and encounter groups, didn't get picked up by a publisher. Nor did her second novel, her third, her fourth, her fifth… but she kept pounding away at her typewriter because she loved writing. Finally, for her seventh book, she landed a publisher.
Book by book, the pattern has emerged that place plays a central role in Dunlap's writing. This reflects the role of place in her life. She grew up in and around New York City. Then in 1968, she met someone who told her it was always warm and sunny in California. It had been zero degrees for a month in New York, and there was a garbage strike raging. Dunlap packed her bags and headed west.
With only one exception, all of Dunlap's books are set in California and, while Berkeley is her first love, the whole San Francisco Bay Area has inspired her work. No Footprints, for example, revolves around a mysterious woman who attempts to jump off the Golden Gate Bridge. When the protagonist, Darcy Lott, prevents the suicide, the woman disappears into the night with the words: "By the weekend, I'll be dead."
Buddhism and mysteries make a good pairing, says Dunlap, because both ask you "to dismiss what is inessential. To look at what is. In a mystery, things are not as they seem, so what the detective is trying to do is see what the real facts are as opposed to all the things that cover up those facts. That is, the things that other people intend to make the detective believe, the things that the detective herself assumes."
Mysteries are also a succinct reflection of the Buddhist concept of karma. As Dunlap explains it, at the heart of every murder mystery is a dead person. In normal life, people are killed all the time and they don't necessarily bring their fate upon themselves. But in a mystery—for it to work—they do in some fashion have to draw the murderer to them. Otherwise, readers won't really care about the story. The victim in a mystery can cause their murder by doing something evil or conniving or by doing something innocent or even well intentioned. "The important thing," says Dunlap, "is that they have done something to set in motion the wheel of karma in their lives."