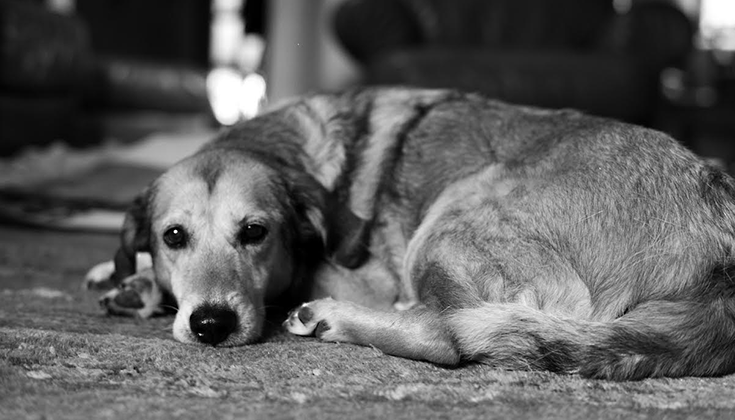 Dominga. Courtesy of Sounds True and Roshi Joan Halifax.
Claire Heisler sits down for an interview with animal-trainer and Buddhist Suzanne Clothier about how training dogs can help our own practice.
A farmer and an animal-trainer, Suzanne Clothier and her husband John Rice breed German Shepherds, and give seminars and private consultations often focusing on repairing relationships between people and their dogs. Raised in a Southern Baptist home, she developed an interest in Buddhism through hearing an Alan Watts lecture on the car radio. Her books, including Bones Would Rain From the Sky: Deepening our Relationships with Dogs, are available on Amazon. She lives in St. Johnsville, NY.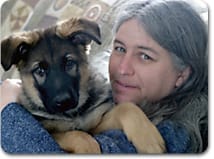 On your farm you're surrounded by animals. What have animals taught you about relating to the world as a whole?
Writer Irving Townsend noted that "we who choose to surround ourselves with lives even more temporary than our own live within a fragile circle, easily and often breached." In living a life shared with animals, I am reminded daily of the eternal cycle of life and death. My life revolves around chopping wood and carrying water, caring for our many animals as a daily moving meditation, and trusting in the fullness of the often inexplicable and yet simple circle of life.
Animals teach me, in a myriad of ways, that there are many rhythms and many songs, and that I am but one small player. In slowing my heart and mind to animal time, in contemplating the brief brilliance of a flower or a beetle, in watching my dogs move through a world richly scented past my wildest imagination, in trying to project myself into the umwelt or environment of other beings and seeing the world through their particular view, I stop being an island and begin – only begin – to grasp how limited my perspective can be.
The animals in my life have also taught me mercy, the possession of power not employed. I experience that daily when dealing with animals fully capable of killing me and yet, they temper their power to live in harmony with each other and with me. Would that I had half that grace.
We recently had a poll on vegetarianism. Is vegetarianism necessary if we care about the well-being of animals?
As a breeder of both German Shepherds (carnivores) and Scottish Highland cattle (beef), I'm clearly not in the vegetarian camp. Since I do not see death as the end, it is perhaps easier for me to view any life as one aspect of a soul's experience. Our cattle and any other food animals we raise are treated with respect, are given lives as free from stress and as full of natural interactions and family life as I know how to provide. The end of their lives is as quick and painless as can be arranged — oddly and ironically, a far more humane ending than I could ever hope to provide another human being no matter how deeply I loved them.
For me, vegetarianism is not necessary, but that's a personal choice. I respect others who choose differently. It is unfortunate that our society does not provide an understanding that it is both possible to revere and kill, something other cultures do understand. I believe that requires knowledge of and an honesty of connection to the animal that is sadly lacking for many who know nothing of meat except supermarkets and factory farming. When I eat one of our homegrown chickens or turkeys or cattle, I know that they grazed on green grass and played in the sunshine and slept safely in stress free environments, surrounded by others of their kind.  I know that they were always treated with respect and gratitude, and that tears of blessing, sorrow, and thanks were shed for each of them at the end of their lives.

Buddhism teaches that every sentient being, including animals, has once been your mother. What are your thoughts?
Both being nurtured by and nurturing animals is the heart of this mother aspect of the soul's journey. Whether it's the lovely frailty of the spider in my shower or the robust power of my horse, there is something in all animals that touches me deeply with a sense of belonging to a vast family of interconnections and relationships. Oddly, I often address that little spider and her ancestors before her (and in years to come all her descendants) as "Momma spider" or sometimes "Grandmother Spider." I do not know why, exactly, that I do this, except that it seems fitting, and is one way to honor all that she and other animals bring to my experience of life. In honoring all animals, I honor the life-giving force that is everywhere.
Training dogs, in my experience with my own dogs, is also about training the owner. What can dog training teach us about the nature of our own minds?
Dog training is not really about training a dog as much as it is about discovering the art of being in relationships with another being whose perceptions, desires, responses, fears, and expectations can be both oddly like your own and yet definitively not human. It is possible to superficially teach any animal this behavior or that behavior, and do so on a very mechanical "stimulus/response" basis so popular with strict behaviorists. But to dive deeper into a relationship with a dog or any other animal is to suit up for an exploration of your own mind, beliefs, fears, and needs.
Dogs serve mankind in so many ways, not the least of which is as mirrors to our own souls. Because they live so closely with us, they are particularly well suited to the task, though sometimes I fear they pay a heavy price for this gift they bring us. My experience is that dogs arrive as teachers well suited to the lessons the student needs—but these are not always happy or joyful lessons. They can be difficult, sad, complicated lessons. Once a person moves past the mechanical and into the territory of authentic connection with another being, whole new worlds appear, but traveling in those lands requires that we acknowledge the truth that wherever we go, there we are.
What does the nature of animal death teach us about our own deaths?
As I have very limited experience with human death, and considerable experience with animal death, I can only speak about animals and their response to the nature of death based on my experience with many species. While I think animals do not fear death as we do, this is not to say that they surrender life readily. Like us, their physical body often fights hard, and at times, it is not easy for them to let go. At the same time, they have their own individual responses.
I have seen animals fight fiercely to remain incarnate; I have seen others gratefully surrender their hold on the silver thread and sail away to distant horizons. I have watched animals die peacefully and horrifically, on their own and with assistance. All of them have taught me that there is tremendous honor in attending to another being's death, in bearing witness to a process no less miraculous than birth, and to do so with a full awareness of the moment, one breath, and one heartbeat at a time. In attending to them not just in the pleasant times of their lives but also at the moments of their deaths, animals have given me yet another version of the gift of Now, where fear does not reside and where love flows freely.
To learn more about Suzanne Clothier, click here.