Larry Ward nos comparte un poema acerca de Thich Nhat Hanh, maestro cuyas enseñanzas han guiado a muchos hacia una vida de presencia mental, alegría y paz.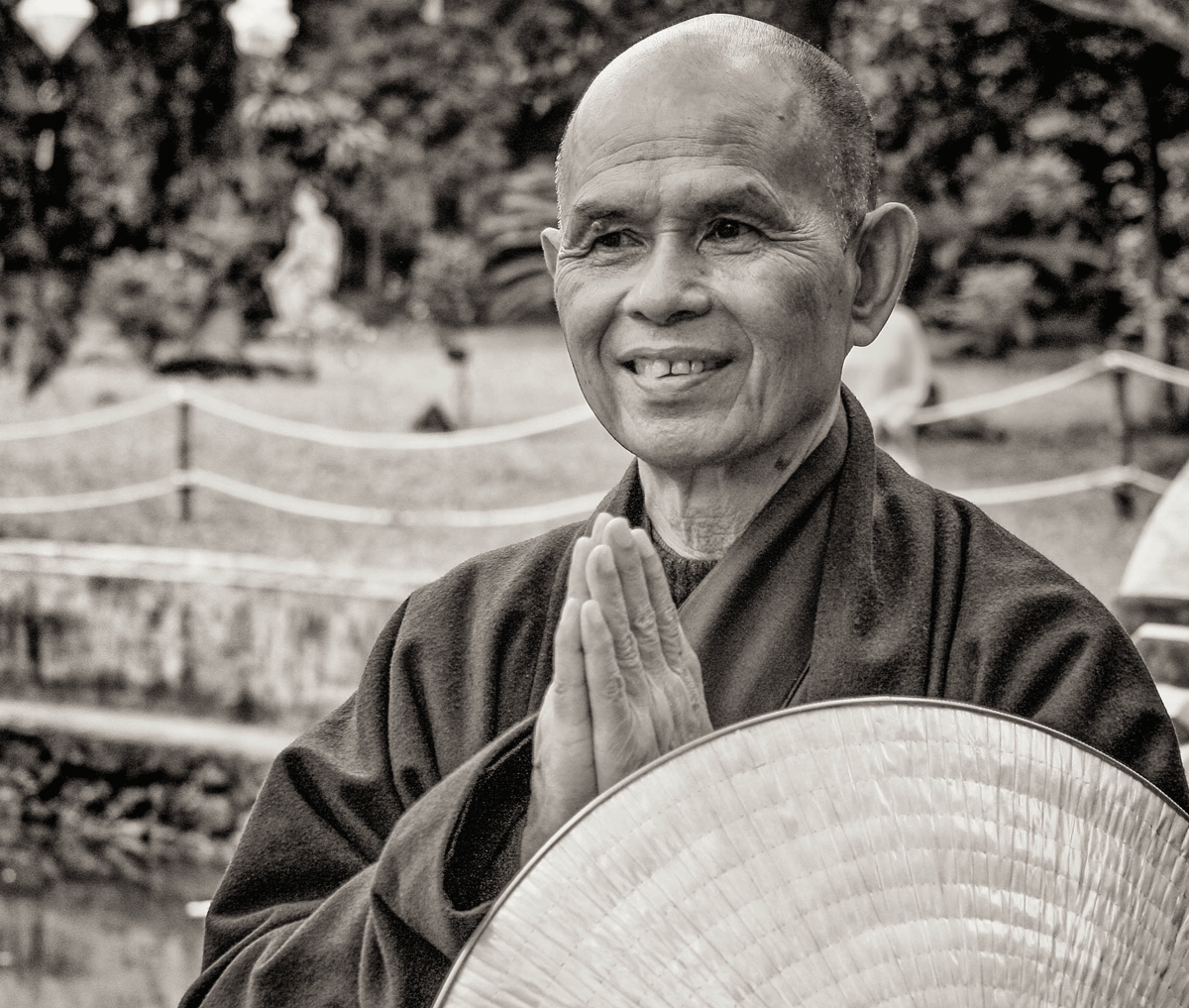 ¿Qué puedo decir acerca de mi amado maestro?
Puedo decir que el suave susurro de su voz en la noche oscura de la confusión, el miedo y la pena, nos lleva al hogar, a nuestro verdadero ser. 
Puedo decir que sus enseñanzas traen la lluvia del dharma, bañándonos en energía sanadora en la bendecida paz de nuestras vidas.
Puedo decir que sus pasos gentiles sobre la tierra van montados en los vientos de la paz, en los truenos de la compasión y reflejan la poderosa luz de luna del entendimiento. 
Puedo decir que él se compromete incansablemente con todo su ser a la causa más noble; a sanar y transformar el oleaje de nuestras sombras.
Puedo decir que amo a mi maestro porque él ha nutrido al maestro en mí a despertar, despertar, despertar.
Puedo decir que su práctica, su prosa, y su poesía hablan con la hermosura y la claridad del buda dentro de cada uno de nosotros .
Puedo decir que en este día somos enormemente afortunados por estar aquí juntos, por estar en contacto con el milagro de la respiración profunda, y con el sagrado momento de consciencia en el que somos tocados por aquello que no está yendo y viniendo.
Así que aquí estamos juntos en el corazón de Thich Nhat Hanh.
ACERCA DE LARRY WARD
Larry Ward (pronombre- él) es un maestro veterano en la tradición Plum Village del maestro budista Zen Thich Nhat Hanh. Dr. Ward es autor del libro America's Racial Karma [El karma racial de América], y co-autor con su esposa, Peggy de Love's Garden, A Guide To Mindful Relationships [El jardín del amor, una guía a las relaciones con presencia mental]. El Dr. Ward aporta veinticinco años de experiencia internacional en el cambio organizacional y la renovación de comunidades locales a su trabajo como director del Lotus Institute y como consejero en el Executive Mind Leadership Institute en la Drucker School of Management. Él tiene un doctorado en estudios religiosos con énfasis en budismo y neurociencia de la meditación. 
ACERCA DE RATNA DAKINI (Traductora)
ratna dakini es una yoguini budista tibetana, poeta y traductora originaria de México. Ha publicado dos libros de poesía de dharma, el último titulado Sunbird (2020). Ha traducido para la Comunidad de Meditación de Tergar por Aprox. 6 años, y continúa traduciendo para Tergar, así como para la página en español de Lion's Roar. Actualmente vive en San Miguel de Allende, donde enseña Yoga, practica danza y prepara un tercer libro de poesía.