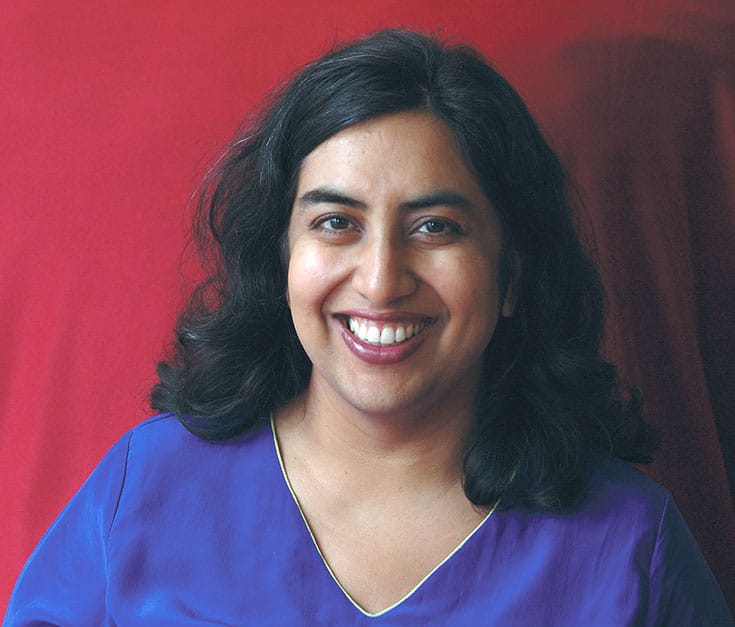 Minal Hajratwala.
The queer eye sees what it's not supposed to: alluring curve of hip or neck on the wrong type of body, band of colored light in a thundercloud, rain bowing like a bodhisattva's back.
Likewise, the Dhammapada tells us that the wise see with the inner eye. This secret eye is how we grasp the wheel of dharma, which turns and turns despite whatever sensation we might have of being stuck. (Say, in the closet.)
The Venerable Ajahn Chah urged us to observe nature and the cycles of nature: "Having arisen, all things change and die." Don't get lost in moods, in attachments and aversions.
Supreme Court this, homophobia that.
As LGBTIQ people we have become skilled at nonattachment. We uproot our clinging to familial acceptance, to hometowns too small to hold our view of the multiverse, to gender assignments at birth, to the well-worn paths of compulsory marriage.
But if queerness becomes mainstream, what will happen to queer sanghas, to the queer eye itself? No fear; the dharma points the way. Ajahn Chah again: "Different people establish different conventions about what's right and what's wrong, but the Buddha took suffering as his guideline."
We must turn our collective queer eye to where the suffering is.
In June 1969, a group fought back against the police outside the Stonewall Inn in New York City. At that moment, a queer rights movement was born, as Sylvia Rivera, Storme DeLarverie, and others declared "enough" and demanded the opening of eyes.
On the forty-sixth anniversary of Stonewall, same-sex marriage—an agenda set and fought for by a largely white gay American movement—scored a major victory. Some of us celebrated at the White House. At the same moment, transgender and immigration activist Jennicet Gutiérrez, inside the White House, honored her Stonewall ancestors by protesting trans deportations. Amid a hissing crowd of mostly white respectable gays, she demanded that we open our eyes to a part of our community whose suffering remains deep and unresolved.
As the dharma eye teaches us, we cannot cling to a fixed path. A movement that ossifies will change and die. Will we attach ourselves to the politics of respectability, or will we shed it as we've learned to shed the genders, faiths, and expectations we were born into? Will we seek approval from the eight worldly winds, or will we honor the wild, messy truths that we apprehend with our innermost gaze?
Can you help us at a critical time?

COVID-19 has brought tremendous suffering, uncertainty, fear, and strain to the world.
Our sincere wish is that these Buddhist teachings, guided practices, and stories can be a balm in these difficult times. Over the past month, over 400,000 readers like you have visited our site, reading almost a million pages and streaming over 120,000 hours of video teachings. We want to provide even more Buddhist wisdom but our resources are strained. Can you help us?
No one is free from the pandemic's impact, including Lion's Roar. We rely significantly on advertising and newsstand sales to support our work — both of which have dropped precipitously this year. Can you lend your support to Lion's Roar at this critical time?