The first lineage of tantric Buddhism established in Tibet is known as the Nyingma tradition, the "School of the Ancients." Since its founding by Padmasambhava in the eighth century, teachers of this tradition have taught the profound view of mind called Dzogchen. From her book Sacred Voices, Sandra Scales offers a selection of portraits and teachings by some of the great Nyingma masters of our time, whose presence "is nothing other than the quintessence of compassion."
Mindrolling Trichen Rinpoche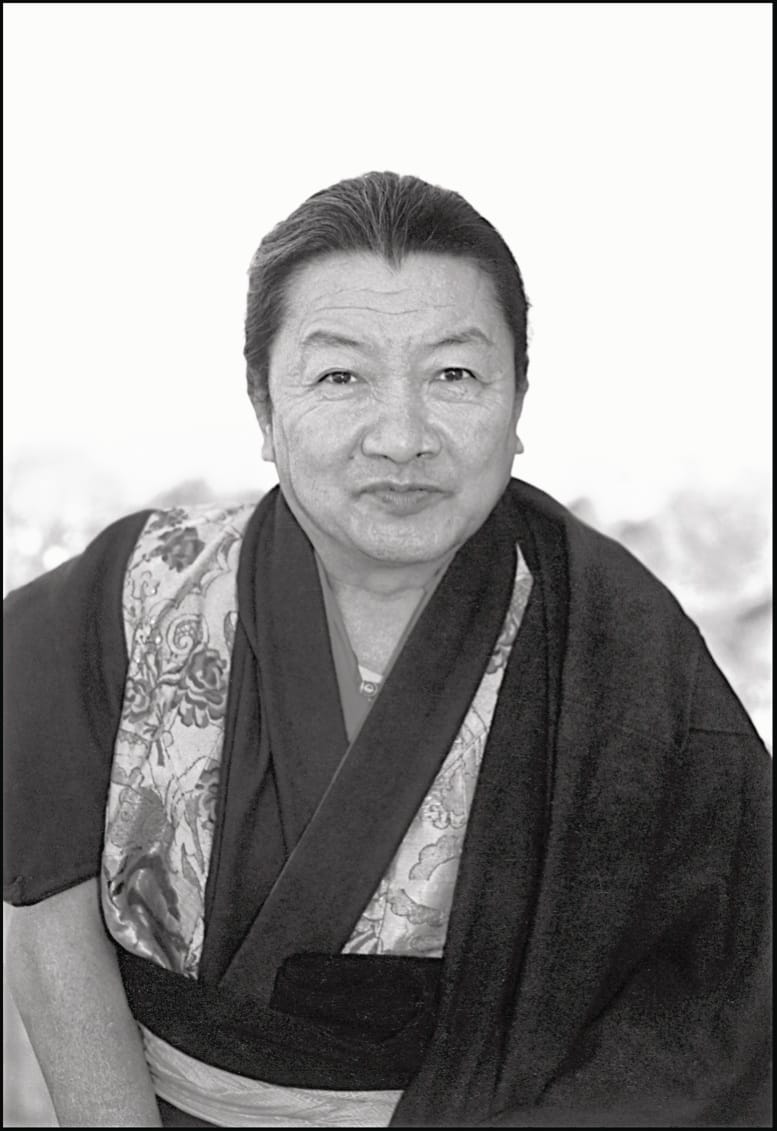 The essence of dharma lies in being true to oneself (one's innate nature) and in exerting great effort to be courageous. When truth and the courage to walk on the path of truth are joined with mindfulness, a practitioner truly begins to practice the dharma. Until these qualities of truth and courage are generated, we will be vulnerable to our own pretenses and fabrications.
The arising of truth and courage allows us to realize the core essence of dharma. Not understanding this leads us into the trap of endless cyclic existence. A lack of courage keeps us from being true to our buddhanature.
Both virtuous and nonvirtuous actions are formed in the mind. Actions'though more apparent'are secondary to our motivation. Even an apparently virtuous action is of little benefit if the root of our motivation is selfishness. Any action performed with wisdom and selfless motivation is an expression of our own buddhanature.
Mindrolling Trichen Rinpoche oversees Mindrolling monastery, near Dehradun, India. In 2001, at the request of Penor Rinpoche, he became head of the Nyingma lineage.
Dilgo Khyentse Rinpoche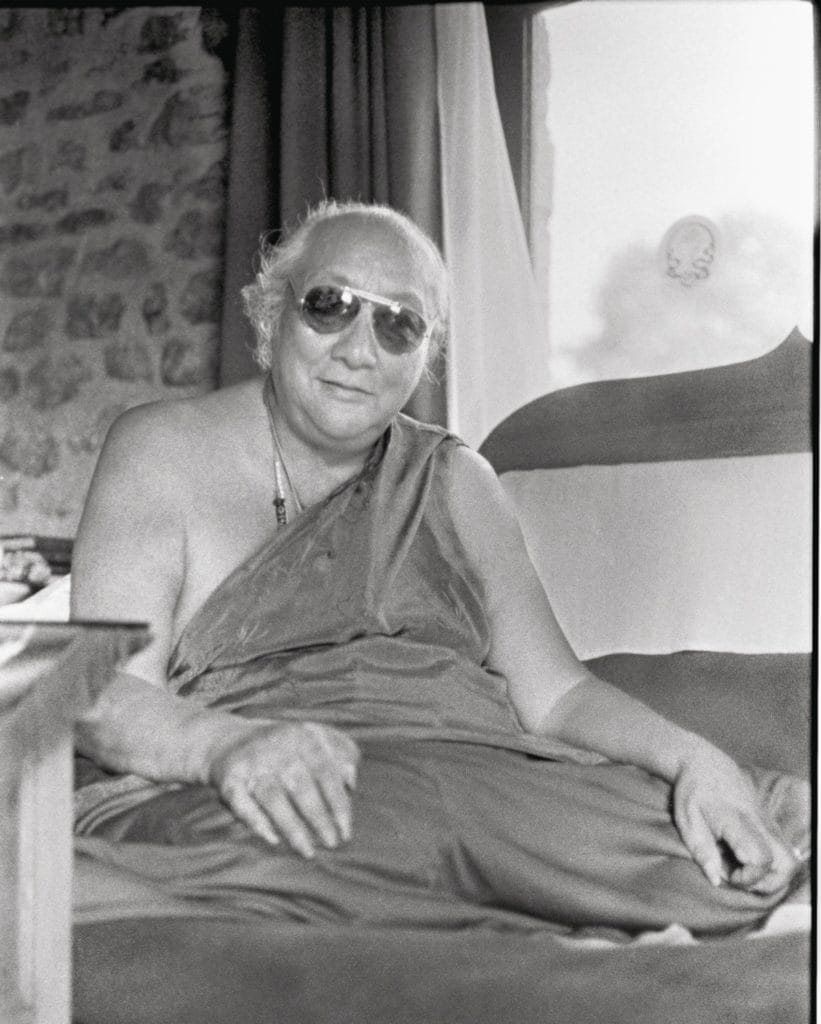 The obscuring emotions of anger, jealousy, pride, ignorance and desire are nothing but thoughts. But what are thoughts? When you watch a thought, look to see if it has any substance or solidity. Does it have a color or shape? Can you find the place where the thought has arisen? Can you find a place where it dwells? Can you find where it has gone when it disappears from your mind?
When a negative thought like anger arises, look to see whether the thought itself and the ground from which it arises are the same or different. Generally speaking, when you have many thoughts running through your mind, this is called "movement." It is the moving aspect of the mind. Occasionally, there are fewer thoughts and the mind is quieter. This is called "quiescence," the still aspect of the mind. When you are conscious of having either many thoughts or few thoughts, this is called "awareness." You should try to practice always being cognizant of whether your thoughts are moving or still, and so on. Try to observe your mind in this way. Then continuing with the investigation, look to see whether the known and the knower – the object of this investigation and that which is investigating it are two distinct things or the same. Meditate on the nature of your mind.
Dilgo Khyentse Rinpoche, who died in 1991, was regarded as one of the greatest Dzogchen masters of the twentieth century. He was a guide and mentor to many other important Tibetan Buddhist teachers.
Khandro Rinpoche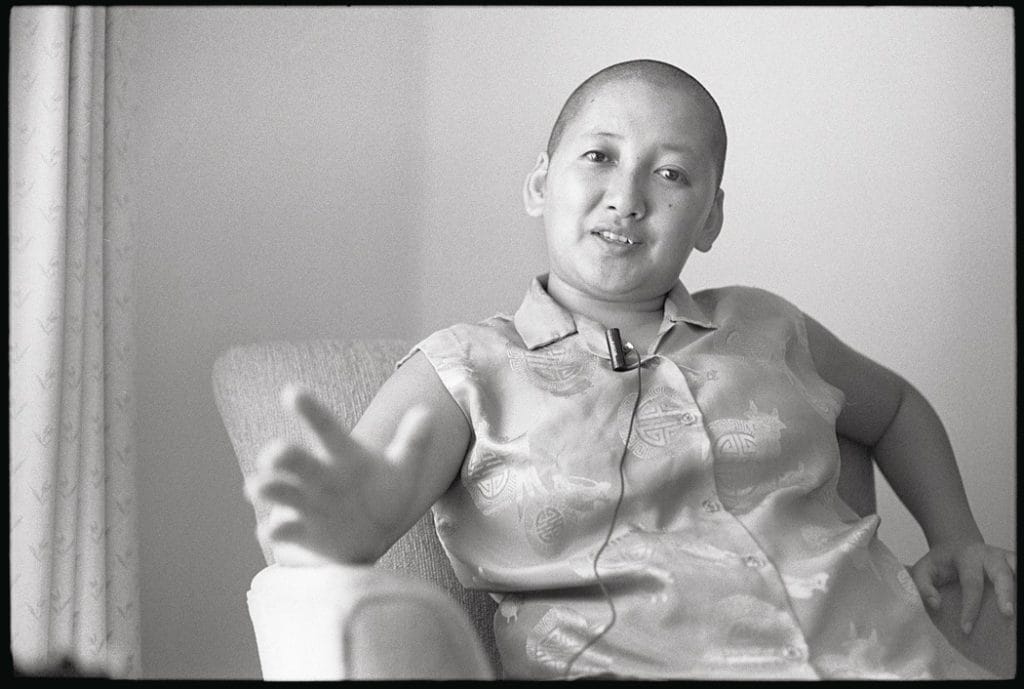 Compassion is not about kindness. Compassion is about awareness. Compassion in the general sense of kindness would be an expression of awareness, but one that might not necessarily be free from the stain of ego-grasping. Genuine compassion is egoless. It is the inherent essence expressed, inseparable from awareness. This natural essence, which is genuine compassion, does not need to be formulated or even expressed as something like "compassion." We see this exemplified in our great teachers. Their genuine compassion does not require phrases and expressions or even actions. Just their presence, who they are, is nothing other than the quintessence of compassion.
We, in contrast, have to invent and demonstrate compassion. Our contaminated compassion still requires effort and deliberation. That is conventional or general compassion. The good thing about the use of deliberate or conventional compassion is that it matures the mind so that ego-grasping diminishes. It definitely has that effect and is therefore a skillful method for developing awareness compassion.
Genuine compassion arises as the ability to go beyond self. This requires that we transcend our preoccupation with our own happiness and suffering. As meditators, one of the first things we can do is to look honestly at the world from behind another's eyes. Experience that person's craving for happiness and fear of suffering with the same immediacy that we would if his heart and mind were ours. We may see that this individual's immense hope and fear are even greater than our own. See the similarities we all share. We cannot even begin to commit ourselves to the path of selfless compassion if our mind is unable to sense the sameness of the ground we all stand upon.
Khandro Rinpoche, daughter of Mindroling Trichen Rinpoche, was recognized at the age of two as the reincarnation of the Great Dakini of Tsurphu, Khandro Ugyen Tsomo. She now heads Samten Tse Retreat Centre for Nuns in Mussoorie, India, and travels and teaches widely in North America, Europe and Asia.
Dzongsar Jamgyang Khyentse Rinpoche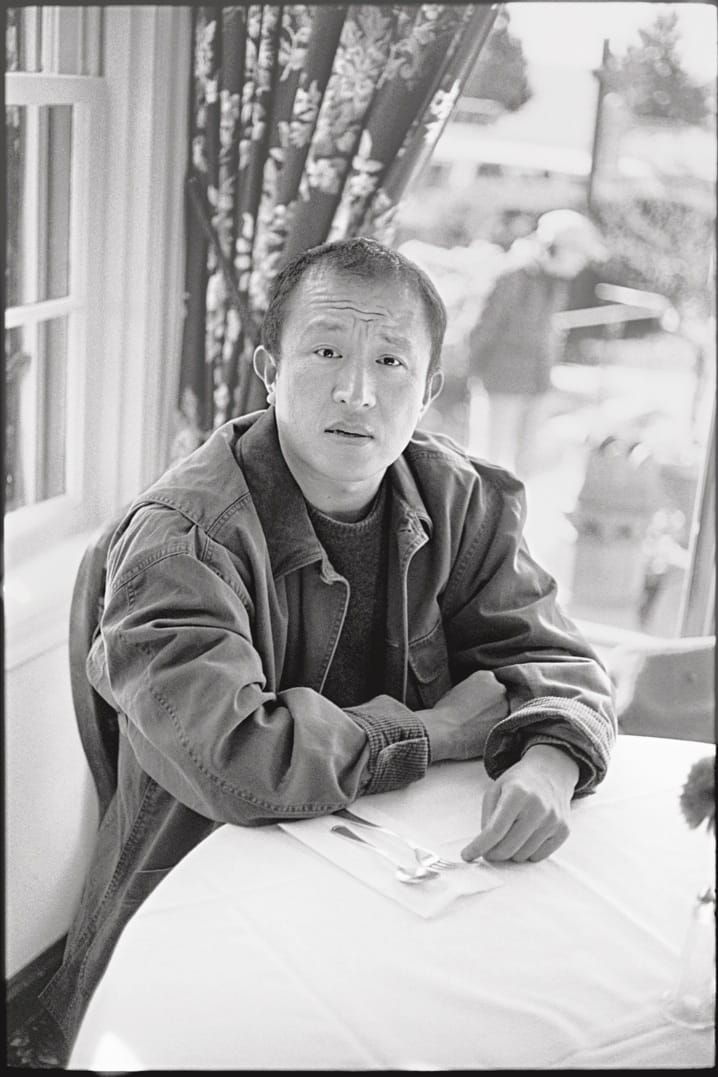 All beings have buddhanature. Nothing can improve upon it; nothing can destabilize it. Stainless from the beginning, its radiance cannot be corrupted. Though we all have the essence of buddha, the wrapping of emotions, habitual patterns, inhibitions and the like temporarily obscures it. To use an analogy, think of soiled cloth: the dirt is not inherent in the cloth, but until we wash the fabric, its true nature is disguised. Everyone accepts that clothes are washable, that the dirt is impermanent. We know the clothes were clean when we bought them; the bill didn't say 'shirt $425, tax $5, dirt $10." The very reason we spend money on things like soap and washing machines is that we trust the dirt is temporary and can be washed away. And furthermore, we have the motivation to put the clothes in the washing machine, add the soap, and wash them.
All the seeming negativity and troubles in your life are a result of cause and condition. They are not "God given"; they are not in your true nature. Nor do they occur by chance. It is not like you smell dog shit from across the street and out of the blue some appears on your shoe. You have to really step in it. Do you understand what I'm saying? This is actually good news because it means you have the power to manipulate the very causes and conditions that have created your problems. When you eliminate negative causes and conditions, what is left behind is what we call buddhanature.
The inhibitions that obscure our buddhanature develop because we use external points of reference to define and confirm our own self-identity. The problem with this is that reference points continually change. As we try to keep up with these varying references, inhibitions build upon themselves and multiply. Our self-consciousness increases, and we experience fear and vulnerability. Reference points are the cause of our hope, fear and inhibitions, and they take us farther and farther from our buddhanature. So you might as well cut inhibitions and go back to what is true – your own basic goodness, your buddhanature.
Dzongsar Khyentse Rinpoche supervises his traditional seat of Dzongsar monastery in Tibet, as well as Siddhartha's Intent, a network of communities and centers around the world. He is also the award-winning director of The Cup. 
Shechen Rabjam Rinpoche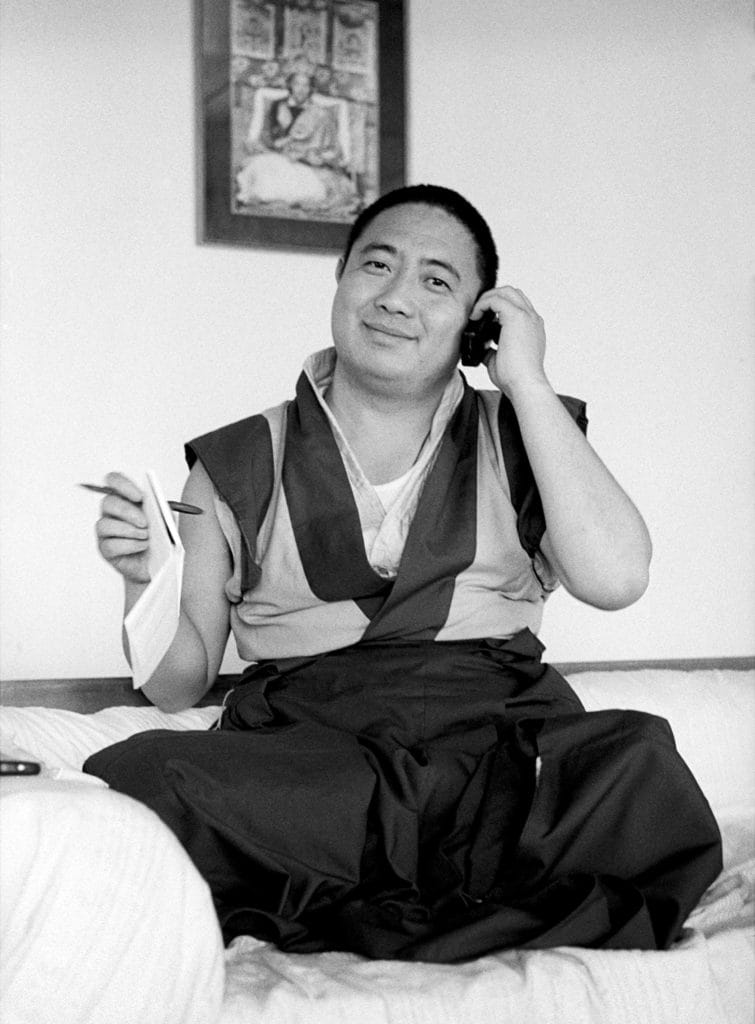 The first, most fortunate condition for progressing to enlightenment is being born into this human existence or human body. Such existence does not just come about spontaneously of its own accord. Lord Buddha says in the scriptures that it comes from having observed a spiritual discipline in former lives. This existence we now have is a reflection of our own exertion in past lives and is quite a unique opportunity for traveling the path all the way to enlightenment. We must appreciate its value and not squander this remarkable opportunity by living only for survival's sake.
We can consider this human existence to be like a ship that can sail to any destination. It can go to very beautiful places or to places of deep suffering. This depends entirely upon us. We can use this human existence positively, gradually bringing ourselves to liberation and enlightenment, or we can use it to accumulate great negativity, predisposing ourselves to a lower type of existence. People often ask me, "What is the meaning of my life?" or "What should I do with my life?" It seems to me the most fruitful thing we can do with our lives is to free ourselves from the suffering inherent in samsara and embark on the path toward full enlightenment in order to free other beings from suffering. That is definitely the best thing we can do.
Shechen Rabjam Rinpoche is the grandson and spiritual heir of the late Dilgo Khyentse Rinpoche. He holds responsibility for all of Khyentse Rinpoche's monasteries in Nepal, Tibet and Bhutan.
Penor Rinpoche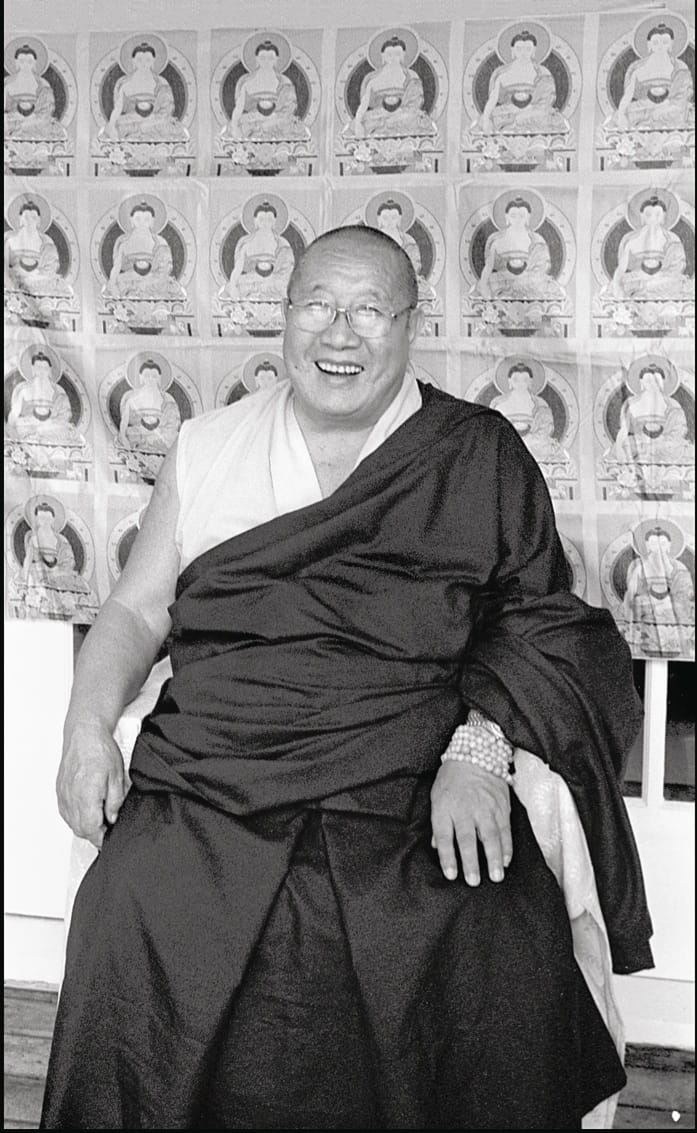 Generally speaking, when we follow a spiritual path such as the path of Buddhism, it is essential to find a qualified teacher or master and rely upon that teacher's guidance. Anyone who attains enlightenment does so by relying upon teachers as part of the process. Students receive profound instructions from a master, put them into practice and thus gain the result. This doesn't come about automatically. This doesn't come about haphazardly. Nor it is something that people can decipher on their own. However, in relying upon a master, you shouldn't be naïve, taking any teacher who comes along and accepting without question whatever is said. You must be discriminating: examine whether, at the very least, the teacher has compassion for the students.
Above and beyond that, you must verify the lineage. What is the origin of the teachings you are receiving? This is very important. The teacher must be someone who is passing on a valid tradition, someone who holds and transmits an authentic lineage. This lineage must have been maintained by great spiritual beings generation after generation, without any interruption due to broken commitments, impaired vows or some other disruptive factor. Such a lineage can be compared to a beautiful golden thread that has not been tarnished in any way and remains bright, immaculate and well-polished over succeeding generations. Reliance upon a compassionate teacher who holds this kind of lineage will truly benefit you as a practitioner.
There is a special relationship that develops between a spiritual master and a student. From the master's perspective, facilitating the student's spiritual development is the primary responsibility. The master must clearly discern the student's strengths and weaknesses to determine whether the student will be a suitable recipient of a specific teaching. The teacher must assess how stable the student's mind is and how sharp his intellect. But it is not necessarily a question of the student's intelligence; faith and trust are also considerations. How much does the student trust the teacher? The teacher has to gauge this in order to work effectively with the student.
From the student's perspective, what is most important is a sense of truth that expresses itself as faith and devotion. Ideally, you respond to your teacher as you would if the Buddha had walked into the room and you were relating directly to him. You may feel this faith as a sense of awe, a sense of yearning, a sense of confidence in the teacher's instructions and what he embodies. This is essential for the relationship to be a truly successful one, a truly effective one. The student's faith must become unshakable so that there is complete trust in the teacher's guidance.
There is a deep bond of love and affection between a teacher and student. The teacher relates to the student as a mother would to her only child. In Buddhism we aspire to feel such loving-kindness toward all beings, whether we are teachers or students.
Penor Rinpoche is the current head of the Palyul Nyingma lineage. He established Namdroling monastery in southern India, now the largest Nyingma monastery in the world, and teaches frequently in North America.
From Sacred Voices of the Nyingma Masters. Photographed and compiled by Sandra Scales and published by Padma Publishing. © 2004 Sandra Scales.