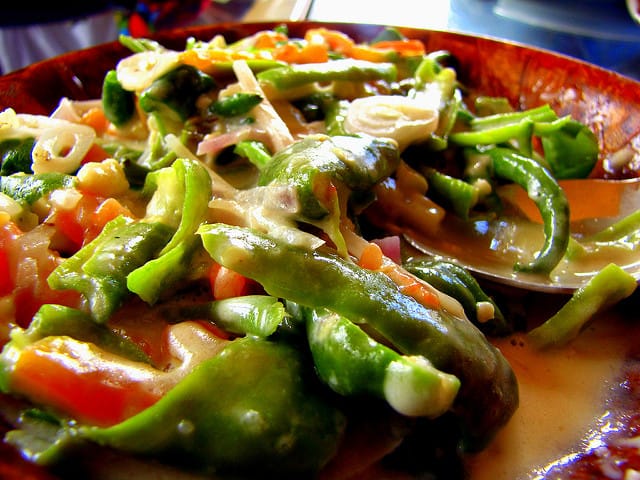 Ema Datse. Photo by
Juan Carlos Madrigal
.
Noa Jones says that Bhutanese home cooking will leave diners breathing hot balls of fire.
Upon leaving the Kingdom of Bhutan after a three-month stay, I had a bit of extra padding around my waist. One similarly soft-bellied Bhutanese friend called it a "second storey"—a soft layer above what had already existed. But unlike other pounds that have come and gone, I felt a fondness for my new middle: this was the butter of Bhutan lingering at my hips. Memories of tasty meals with new friends, spectacular banquets and spontaneous picnics were stored in my new folds of flesh and I wore them with affection.
Simple, rugged, yet rich, Bhutanese cuisine is in many ways unique to the small Himalayan country of 700,000 people. Their diet is more varied than what you would find in Tibet, though the Bhutanese share a taste for yak meat and butter tea and have adopted momos (vegetable, cheese or meat-filled dumplings) into their menus. Influence from India is evident at Bhutanese guesthouses and restaurants around the country, which often serve a selection of curries, dosas and tan- doories. But to sample the very best of Bhutanese food, it's best to stay away from restaurants—even Bhutanese-run establishments often alter recipes to appease tourists. Nothing beats home cooking in the land of the thunder dragon, although it may leave diners breathing hot balls of fire.
When transliterated, the Bhutanese language, Dzongkha, is peppered with the superfluous letter H—there is one right there in the name of the country. The capital is Thimphu (pronounced tim-poo), and every other person seems to be named Phuntshok (pronounced poon-tso) or Tshewang (tsey-wang).
I've come to think, though, that the extra H is for HOT because a meal is not a meal in Bhutan unless it's got chili peppers— breakfast, lunch or dinner. Bhutanese monks may be happy to renounce all worldly attachment but they get decidedly grumpy without their supply of raw chilies dipped in salt. The average Bhutanese citizen eats 250 grams of chilies per week—green, red, dried, powdered, stewed or straight up. Keeping in mind that a chili doesn't weigh very much, that's a lot of chilies.
But it takes more than chili peppers to put on pounds. That's where the rice and butter comes in. Nubby, hearty red rice is the second trademark of Bhutanese cuisine. The health benefits of Bhutanese red rice are hailed by nutritionists, and the flavorful grain is slowly making its way into the vocabulary of gourmands around the world. Some specialty shops and health food stores in the West have begun carrying it. A heaping pressure-cooker-full is served at nearly every meal in Bhutan, although sometimes Indian white rice is offered. White rice is dressed up with cornmeal or stained with saffron for special occasions, and is fermented for the highly intoxicating local liquor called ara.
With a mountain of rice as the foundation, a number of curry dishes are then added to a meal. The Dzongkha word for these dishes is tshoem, but it doesn't denote the turmeric-and-cumin mixtures we usually associate with the word "curry"; rather it refers to any dish that has a sauce. "Sauce" in Bhutan generally means water, salt, butter and sometimes cheese. It is an inexplicably tasty combination, especially when fresh cow or yak butter is used. One fault of Bhutanese cooking, however, is the tendency to use cheap, processed butter, oils and cheese; this is a relatively new habit born of increased Indian imports. Farm-fresh cheese and butter are expensive and hard to store in a country that has very few refrigerators. Processed cheese and butter from India, though, can sit out for weeks without turning rancid. Bhutanese cheese—a bit like aged, pressed cottage cheese—is the preferred ingredient when preparing Bhutanese dishes, but it isn't available in the West. A very mild feta or farmers cheese can substitute. The important thing is that it must not melt when heated.
If you're a chef and you've got a round-trip ticket to Bhutan and $250 a day for the visa, Thimphu's weekend market is the place to shop. It's also a favorite stop for visiting photographers. With the striking display of Bhutanese women in traditional dress combing through bushels of red chilies, green fern fronds and other exotic produce, it's impossible to take a bad picture. Unlike in many other third-world marketplaces, there's very little salesmanship involved: ruddy-faced villagers with betel-nut-stained teeth are content sitting amongst the smoke and baskets muttering mantras and waiting for someone to take notice of their precious turnips and palate-numbing black peppercorns. Their crops grow in unmolested, nutrient-rich soil irrigated by Himalayan glacial waters. Cucumbers five inches in diameter retain their flavor. Apples are sweet and crunchy. Carrots are dark red. Very little is imported aside from mangos, guavas and other tropical fruits from India.
Japanese epicures come specifically for the many special wild mushrooms available at the market, in particular the masutaki. They call it the "Buddha mushroom" in Bhutan, maybe because it is most sublime. Also known as the "phallus mushroom" because of its suggestive shape, the masutaki is similar to the shiitake, but is more buttery, more flavorful and more delicate. The Thimphu market price is about $1 per ounce, but they can cost up to $60 on the world market.
Aside from the need to travel to the other side of the world to assemble the few basic ingredients, Bhutanese cooking is an uncomplicated affair. Being a master of the kitchen is a matter of pride for both men and women, rich and poor alike. While most urban households have the luxury of hired help—often young villagers who have been sent by their parents to make Thimphu wages for the family— even in the most elegant, upper-middle- class homes in Thimphu the lady of the house will roll up her skirts and squat over an open fire outside to roast rice or boil vegetables when the kitchen gets too full.
Fast food has yet to enter the Bhutanese mindstream. Grabbing something to go or missing a meal is as uncommon as eating alone. The Bhutanese relish any excuse for a dinner party and apply themselves fully to the task, which, for special occasions, might require two days of preparation.
Visitors to Bhutan will at one time or another find themselves honored guests at such occasions, sitting against the wall in a wood-paneled living room, being plied with alcohol and then left alone with bowls of dried yak meat for long periods of time. (I've never looked at those dried yak meat snacks the same way since the day my friends and I rounded a bend by a stream, and came upon a nomadic couple laying out the contents of an entire yak to be dried in the sun— intestines, ligaments, legs, eyes, skin, the whole beast. A deconstructed yak requires a good amount of real estate.) But gracious as the hosts always are, being an honored guest at one of their meals is not nearly as fun as hanging out in the kitchen where all the action takes place.
Eventually, though, chafing dishes overflowing with every Bhutanese delicacy will be laid out and the cooks will disappear behind the kitchen door. One or two dishes are usually offered without chili, but hosts will eye abstainers with suspicion. Utensils are optional. Sometimes spoons are used. Forks are for foreigners. One custom is to one-handedly (always the right) roll rice into compact balls and dip them in the tshoem. Another custom is to make a hasty exit the minute dinner is over. That is, if a hasty exit is possible when you are stuffed like a foie gras goose.
The most pleasurable Bhutanese dining experiences are often out of doors. Inventive, industrious and fun-loving, Bhutanese are master picnickers. It's in their blood. Villagers and nomads often carry their lunches in traditional woven baskets called bangchun but these days no family is without a collection of "hot cases" and giant Chinese thermoses. Settled on a carpet of fresh pine needles with the bright blue sky above and a crystal white river gushing nearby, exchanging saucy jokes with your Bhutanese friends and sampling from an overabundance of delicacies" this is to experience the core of Bhutanese life. Picnicking also affords the opportunity burn off some calories as one hikes back to civilization. The fact that foot traffic is still the primary means of travel in Bhutan might explain the generally slim population. For the auto-bound, I developed something I call Bhutanese Belly Busters. While traveling by car along the windy roads of the country, instead of letting myself flop from side to side in the jeep like a rag doll, I attempted to hold myself upright using my stomach muscles. It's harder than one might think and gave me a (perhaps false) sense of countering the effects of enjoying the recipes below.
Ema Datshi
No meal, not even breakfast, truly satisfies the Bhutanese without a rip roaring spicy hot oily pot of ema datshi. The recipe for ema (chili) datshi (cheese) varies. Every region, even every household within each region, has its own interpretation.
Ingredients:
Red Chilies (jalapenos are a good substitute if Bhutanese chilies aren't available)
Butter Or Oil
Farmers Cheese
Salt
Preparation:
Place the chilies, butter and a little water in a pot. Keep seeds in if you like it hot. Garlic is optional. Boil then simmer covered over a low heat until softened. It's important not to overcook Add the cheese toward the end. Chopped scallions are also often added at the end. Other ingredients such as boiled potatoes (kewa datshi), mushrooms, tomatoes, green beans, spinach, wild asparagus, even orchid flowers are commonly added to the basic ema datshi recipe depending on taste and availability. You can play with the proportions to create more or less "gravy." Thinner gravy is more popular in east Bhutan while a thicker sauce is common in the west. Either way it is served with rice.
Riverweed Soup
We spent much of our time living in purpose-built camps around the country. We were fortunate to have a skilled team of cooks whose inter-kitchen competition pressed them to continually outdo themselves. One freezing cold day I watched the head cook wade out into the rushing river beside our camp to fetch dinner. A product of the Himalayan river system coursing through Bhutan, riverweed is an abundant and nutritious option for villagers. It is similar to seaweed but not salty. The weeds are available year round, collected from riverbeds and rolled into flat patties (about the size of a cow pie) then dried in the sun for four to five days. Dried riverweed can be kept through a season and reconstituted whenever needed. The dried cake is soaked in cold water for half an hour or until softened. It's important to thoroughly remove all sand and sediment by placing in a sieve and rinsing for a good long time. Otherwise, it can be a gritty experience.
Ingredients:
3 cakes of riverweed (approx 250 grams each)
1 tomato
Processed or fermented cheese
Salt
10 ml. vegetable oil or butter
Preparation:
Boil the whole tomato for ten minutes until the skin comes loose. Peel then chop the flesh. Put half a liter of water in a soup pot. Add salt, chopped tomato, and oil. Add half a liter of water and boil for 15 to 20 minutes
Add riverweed cakes and boil further for 10 minutes then simmer for 10 minutes. If using fermented cheese add with the riverweed. If using processed cheese add at the end and simmer for 3 minutes. Serve and enjoy.
Agay's Eggs
This recipe is easily prepared even in the west, there are no special
ingredients.
Ingredients:
8 eggs
2 Tbsp. chili powder
1 Tbsp. turmeric
2 Tbsp. garlic finely minced
1 Tbsp. onion finely minced
2 Tbsp. ground dhal powder or corn meal
Preparation:
Hard boil eggs and let cool. Mix chili powder, turmeric, onion and garlic. Add dhal powder or corn meal. Roll cooled eggs in chili mixture. Heat vegetable oil in a pan enough to cover the entire egg. Fry eggs until golden brown. Serve with chili dipping sauce.
Zao
We first arrived in Bhutan overland by train to Phuntsholing then by car to Paro. A reception was arranged at the impressive new hydropower plant about midway. This was my first introduction to Bhutanese hospitality. Cups of tea were served along with bowls of zao, a customary offering of toasted rice. This is a mild and very satisfying snackfood (notice, no H in the name) especially when spooned into cups of butter tea.
Ingredients:
3kgs Jasmine Rice
50ml Cooking oil
Preparation:
Soak rice in warm water for two days. Drain water, add cooking oil and mixed well. Put one cup of soaked rice in a heated frying pan and stir for about 5 to 7 minutes or until toasted. Store in an air-tight container. Sugar and fresh butter can also be added with out melting.
Butter Egg Fried Ara (also known as "Chunky")
While this is an alcoholic beverage, it goes down like a meal. Traditional Ara requires an elaborate fermenting and brewing process but the recipe below works for the impatient.
Ingredients:
Rice
Yeast
Butter
Egg
Preparation:
To make the ara, the alcoholic element, cook up several cups of plain white rice then place in a large jar while still hot. Stir in a tablespoon of brewers yeast and let sit for two days. Melt half a cup of butter in a pan. Add an egg or two and stir vigorously until cooked but not solid then and add the fermented rice and water to cover. Serve when heated. It is possible to replicate the traditional butter fried egg ara without the rice by using sake. Melt the butter, lightly fry the egg, add a cup of sake and let simmer for 3 minutes and add 4 more cups of sake and heat but do not boil. Served in a wooden cup with dried yak meat snacks.
Kewa Phaksha Pa (Pork & Potatoes)
Many of Bhutan's swine are fed on a healthy diet of hemp. The THC is stored in the fatty tissue which can make dining on Bhutanese pork dishes an especially pleasurable experience. This recipe comes from Dasho Kado of the King's Royal Bodyguards.
Ingredients:
350 g of pork (shoulder or thigh) sliced with skin 1/4 inch thick, 2×3 inches round
2 potatoes peeled
3 large dry red chili peppers cut lengthwise with stalks left in
1/2 an onion
Garlic, salt and ginger as much as you like
teaspoon chili powder
1 piece of ginger (finely chopped) "finger-size length"
1/2 Tbsp. oil
Preparation:
Dasho Kado says, "Put everything in a pressure cooker with the chilies and salt on top and cook for a good long time. Then eat." The translation of "good long time" might be about 5 whistles on a pressure cooker. Keep simmering until the gravy reduces. Serve with rice.