The 2011 edition of The Best Buddhist Writing – edited by Melvin McLeod and the editors of the Shambhala Sun – is now available and features writing by Karen Maezen Miller, Joanna Macy, Dzogchen Ponlop Rinpoche, Jack Kornfield, Thich Nhat Hanh, Rick Bass, the Dalai Lama, and still many more.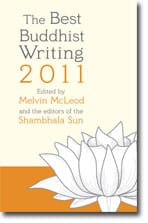 Here you can browse the Table of Contents and read Melvin's introduction, which makes clear that the book not only offers great writing but serves as a window into the current state of Buddhism in America. The news on that score, he says, is good.
Two thousand five hundred years ago, an Indian prince-turned-ascetic-yogi did something simple but profoundly radical: he sat down under a tree and stopped struggling. He had long ago stopped struggling for material pleasure and success, and now he also ceased the Herculean spiritual struggle he had undertaken since he left his princely palace. He stopped, rested his mind, and looked directly at the profound nature of his own being and the world in all its brilliance.
He saw that it was all perfect just as it was and that suffering came only from the unnecessary struggle, founded in ignorance, to make it something different. He awakened to his true nature, which is the true nature of all beings. He saw that he was naturally a buddha, and at that moment, he became the Buddha.
From the Buddha's world-transforming act of cessation 2,500 years ago has grown the religious tradition we know today as Buddhism. Great philosophical schools developed from his simple act of stopping. His disciples founded the Buddhist monastic sangha, the oldest continuous institution in human history. Teachers trained their students in the methods he had developed and they in turn trained new generations of students, in a living transmission of spiritual practice and realization that continues unbroken to this day. His teachings spread across Asia, taking on the flavor of each culture they entered, and now they are taking birth among us.
Buddhism began to have real impact on American culture in the 1950s, with Zen's influence on the Beat writers and other artists and intellectuals. So we are only six decades into what might be a two–hundred-year process to establish a Western Buddhism that is genuine and complete. Some say that Buddhism is still in its infancy in the West, but I think perhaps it is a little more advanced than that, a toddler now taking its first hesitant steps on its own.
This series of The Best Buddhist Writing anthologies, now in its seventh year, is one guide to the state of Buddhism in the West. I think the news in this year's edition is good. These writings reflect an increasingly natural integration of Buddhist practice and philosophy into modern life, while remaining true to the depth and integrity of Buddhist tradition. It is a delicate process to adapt Buddhism to a new culture and yet maintain unbroken that lineage of genuine dharma that goes back to the Buddha himself. But it has been done successfully in other cultures over the course of 2,500 years, and it will be done here too. I think it is already happening.
What is the sign that Buddhism is truly taking birth in our culture, no longer standing outside the mainstream as an exotic foreign import? I think it is when there is no separation between our practice of the dharma and our lives as modern people, when our practice blends naturally into our lives and our lives are fully integrated with our practice.
You can see this is happening in the many marvelous personal stories in this year's The Best Buddhist Writing. "Hand Wash Cold," Karen Maezen Miller's memoir of new love, marriage, and the reality of dishes opens the book. Miller's Buddhist practice takes place in the kitchen-sink reality of the modern American family. She does not deny or try to escape its stresses and problems; she finds love and awareness right within them. She does not fall prey to the idealization and perfectionism that separates spiritual practice from real life.
I am grateful to these writers who open their lives to us. Misha Becker describes a bond of unconditional love between one very old and one very young. In a painful breakup, Susan Piver discovers the wisdom of a broken heart. Karen Connelly invokes ancient teachings to help her deal with her headstrong young son. Susan Moon finds there can be joy in old age, cabdriver Brian Haycock follows the dharma road, and R. J. Eskow goes home again to the gritty industrial town he grew up in. Since the practice of Buddhism is about the way we lead our lives, these honest, moving, and loving stories are great teachings in themselves. To me they are the hopeful sign of a Buddhism truly taking root in the life of America.
Yet it is not enough for practitioners to incorporate Buddhism into their personal lives. To fully take its place in our society, Buddhism also must participate in the social and political sphere, bringing its values and practices to the important questions of our times. This is a natural reflection of Buddhism's dedication to the welfare of all sentient beings, and so Buddhist practitioners, writers, and activists have passionately engaged with questions of war and peace, social justice, human rights, and the environment. Their numbers may be small, but their Buddhist philosophy and practices have been influential.
This is particularly true in the environmental movement, whose basic principles Buddhists have espoused for thousands of years. In the book, Joanna Macy, a seminal figure in the deep ecology movement, tells a powerful story of healing in Chernobyl; Rick Bass and Wendy Johnson address our own environmental disaster, the BP oil spill in the Gulf of Mexico; and Lin Jensen tells a simple human story with global lessons. As they point out, a true commitment to the principles of non-ego, interdependence, and lovingkindness could offer us a turn back from the disastrous direction we seem to be heading in.
Like any world religion, Buddhism has vast bodies of texts, elaborate rituals, and great institutions. Yet at its heart Buddhism is about the personal relationship between teacher and student, in which the deep truths and profound methods of Buddhism are transmitted in accord with the student's individual needs. To succeed, Western Buddhism must develop its own native-born teachers who can join the honored succession that goes back to the Buddha himself. A number of fine Western-born teachers are represented in this book. What they offer is real.
Witness three sparkling teachings by contemporary American Zen teachers. Bonnie Myotai Treace is a poetic and subtle voice in American Zen. Here she joins the generations of teachers who have added their own realization to the enlightenment stories of the old Chinese masters. We can be proud that Americans like her are joining this august lineage. Enkyo Pat O'Hara leads the Village Zendo, an eclectic and progressive Zen community in New York City. She brings a modern perspective to that famous description of the enlightenment experience, "Body and mind dropped away." Joan Sutherland, one of American Buddhism's finest writers, contemplates the gateless gate where the form and formless meet.
Western teachers are taking their place in all traditions of Buddhism. Also collected in The Best Buddhist Writings 2011 are teachings by Jack Kornfield and Rodney Smith of the Theravada school, and Matthieu Ricard, Elizabeth Mattis-Namgyel, Ken McLeod, and Kathleen McDonald of the Vajrayana tradition. Actually, many writers in this book teach Buddhism, although they may not primarily be known as teachers. All give us hope that American Buddhism will develop the learned and realized — dare we hope, even enlightened? — teachers it will need to become a genuine and sustainable tradition.
A maturing Western Buddhism must not only be true to its ancestors but confident enough to make its own contribution to the religion. All traditions have done this in the past, enriching Buddhism through their own cultural and social values, and American Buddhists are already doing this in important ways. None has been more significant than the historic advance in gender equality that Western Buddhists have spearheaded. This book itself tells the story: excluding the contributions by male Asian teachers, more than half of the writings in this anthology are by women. This reflects the important role that women teachers, leaders, and scholars are playing in American Buddhism, making it a leader in gender equality among spiritual traditions and a positive influence on Buddhist culture globally.
This book reflects another important innovation of American Buddhism, the vital cross-fertilization taking place across Buddhist schools. While Buddhist practitioners traditionally focused exclusively on the philosophy and practices of their own school, American Buddhists, while maintaining true to their own tradition, benefit from all teachings of Buddhism. As you read this book, you will find yourself enriched by the voices of Theravada, Zen, and Vajrayana practitioners — each bringing the special genius of their tradition to bear on the issues of modern life.
I have already mentioned how many stories in this anthology are personal — memoirs of marriage, family, work, activism. These stories of life in the modern world reflect perhaps the most fundamental — and challenging — characteristic of the new Buddhism that is emerging in the West. For 2,500 years, full-time practitioners in all their variations—monks, nuns, cave-dwelling yogis, Zen hermits, forest monks—have been the heart of Buddhism. Buddhism in the West, however, has developed largely as a community of lay practitioners who aspire to find enlightenment right in the midst modern life. As Rodney Smith considers in his thoughtful essay in this book, this is leading to new approaches to Buddhist practice, and new approaches to the lay life of Buddhists.
The challenge remains to develop that cadre of full-time practitioners, scholars, and translators who can guarantee the depth and authenticity of American Buddhism long into the future. For now, we still have the good fortune of great Asian teachers to guide us. In this volume, they range from His Holiness the Dalai Lama, who is not only a teacher to Buddhists but to the world; to the great Zen master and Engaged Buddhist founder Thich Nhat Hanh; to the young Tibetan teacher Dzogchen Ponlop, with his modern take on the Vajrayana; to my own teacher, Khenpo Tsultrim Gyamtso, the Milarepa of this age. These are the parents, wise and compassionate, who hold the hand of American Buddhism as it takes its first toddling steps.
Thus my thanks go to the teachers who have illuminated my life—the late Chögyam Trungpa Rinpoche, Khenpo Tsultrim Gyamtso, Thich Nhat Hanh, and Thinley Norbu Rinpoche—and to all the teachers past and present who offer to us the truth of suffering, the cause of suffering, the truth of the cessation of suffering, and the path to enlightenment. This book — and Buddhism itself — exists only because of them.
Table of Contents

Introduction

Hand Wash Cold by Karen Maezen Miller

Pass It On by Joanna Macy

Awakening the Kind Heart by Kathleen McDonald

Through the Dharma Gate by Joan Sutherland

I'm Loving It by Genine Lentine

Dharma Road by Brian Haycock

Rebel Buddha by Dzogchen Ponlop Rinpoche

Enlightenments by Jack Kornfield

The Sword Disappears in the Water by Bonnie Myotai Treace

Adoption by Leza Lowitz

Dead Like Me by Ira Sukrungruang

Age-Old Affinity by Misha Becker

Why Meditate? by Matthieu Ricard

The Power of an Open Question by Elizabeth Mattis-Namgyel

The Wisdom of an Open Heart by Susan Piver

The Child Within by Thich Nhat Hanh

Body and Mind Dropped Away by Pat Enkyo O'Hara

The Burning Present by Rick Bass

The Call of the Abyss by Wendy Johnson

Having the Lake to Ourselves by Lin Jensen

Toward a True Kinship of Faiths by the Dalai Lama

Heart of the Dalai Lama by Pico Iyer

This Is Getting Old by Susan Moon

Another Black Mark by Karen Connelly

Taming the Mind by Khenchen Palden Sherab Rinpoche and Khenpo Tsewang Dongyal Rinpoche

Right Concentration by Ringu Tulku

Stars of Wisdom by Khenpo Tsultrim Gyamtso

Something from Nothing by Ken McLeod

Undivided Mind by Rodney Smith

Rustbelt Dharma by Richard Eskow

Hugging Whoooole World by Shozan Jack Haubner

Contributors

Credits