Lion's Roar office welcomes Buddhist teacher Dzogchen Ponlop Rinpoche to Halifax, as he continues his Rebel Buddha book tour.
Buddhist teacher Dzogchen Ponlop Rinpoche was confronted with protesting members of a little-known Rebel Buddha group in Halifax yesterday as he attempted to visit the offices of the Shambhala Sun Foundation. Luckily, Rinpoche's compassion and charm won over the members of the rebel group, ending the intense standoff with a friendly photo op before continuing on with his visit to our offices.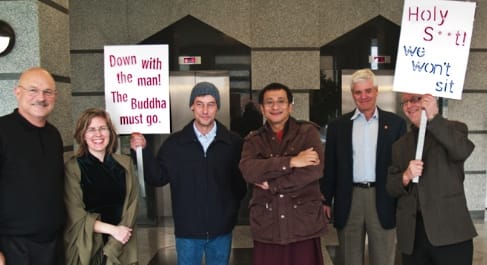 When the ruckus subsided, Dzogchen Ponlop Rinpoche joined our staff for tea and an extended discussion of our mutual mission to help genuine dharma become firmly established in the West, in both new and traditional ways.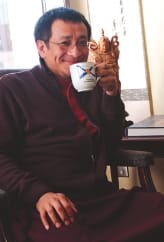 Though born and raised in the traditional monastic setting, Rinpoche is always able to present fresh and surprisingly nontraditional suggestions for how the dharma might flourish in our times.
After the visit to our offices, Dzogchen Ponlop Rinpoche's Rebel Buddha book tour hit Halifax last night with a sparky conversation about 21st century Buddhism in the West in front of a large crowd on the Dalhousie University campus. Rinpoche's talk and the follow-up panel discussion explored the ways the heart of teachings can go forward in the West free of the cultural trappings of the home countries in Asian.
Last night's Rebel Buddha tour event followed a similarly provocative exploration in NYC, and tomorrow the tour goes on to Toronto before hitting Boulder and Seattle later in the month.