He was a giant of modern design, with many famous, enduring works. Less known is his work supporting Buddhism-related causes.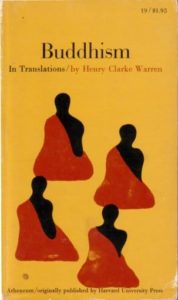 The graphic designer Milton Glaser died on June 26th, on his 91st birthday. Glaser's work is famous: everybody knows, for example, his "I ♥ NY" logo, or maybe his poster of Bob Dylan, or his work as co-founder of New York magazine.
Lesser known, though, are his contributions to the visual presentation of Buddhism in the modern era. For example, he created this Buddhism in Translation paperback (right) cover in 1963.
But that was an early one-off. (As I've written elsewhere, it's a graphic so simple that seemingly anyone could have done it — but perhaps only Glaser, at the time, would have.) Glaser would make some truly notable contributions to the American Dharma scene. For example, he created the logo for the 84000 Project, whose slogan/mission, is "Translating the Words of the Buddha."

And Glaser was deeply involved with the Rubin Museum of Art, contributing to the design of its interior and visual identity, and even creating artworks. He has stated: "I believe that art is a form of meditation for both maker and witness and that art, like meditation, makes us attentive… produces quiet in the mind so that it can discard pre-existing ideas to see what is real."
Lion's Roar reached out to the Rubin for reflections on Glaser's contribution and comradeship.
Shelley Rubin, the RMA's board chair and co-founder:
When I think of Milton, I think of his perennial good humor and small smile as he talked about big things — fear, war-mongering, hate, injustice — and the 'smaller' issues of design and how to distill and convey meaning.
He changed minds with images — and the course of 20th-century design! For a person of such wide renown, Milton was warm and accessible, smart and generous. I already miss the possibility of seeing him again.
Patrick Sears, the RMA's former executive director:
I worked with Milton very closely for the last year and a half before the Museum opened. He was rightly protective of his design work and since I was Director of Operations at the time, we had many tough discussions. But I never disagreed with him on the underlying thinking that guided his designs.
Tibetan art — all great art — comes from a place of deep contemplation, and in addition to being a great artist and designer, Milton also was an accomplished thinker and philosopher. It only took a few hours of conversation with Milton to understand that … and along with it gain even more respect for one of the truly gifted humans I have known.
After this piece was initially published, Gaetano Kazuo Maida, Executive Director of the Buddhist Film Foundation, wrote Lion's Roar to add:
Thank you for taking note of my dear friend Milton and his contributions to the Buddhist landscape over the years. You did overlook one continuing presence of his work in the arena, though: Buddhist Film Foundation and its International Buddhist Film Festival. He even included his work for us in two of his books, Milton Glaser Posters and Art Is Work.
The BFF published their own tribute to Glaser, in which Gaetano Kazuo Maida wrote:
Logos and posters for Buddhist Film Foundation and our International Buddhist Film Festival were among his many gifts to us. Images arrived via a slow printing fax one day a few weeks after I had asked him for his help. I had told him simply, "you know, Buddhism and movies," and what emerged was perfect: a stylized Buddha head with a "projection" triangle emerging from the "mind" of the Buddha. In Buddhist philosophy, everything can be understood as a projection of mind, so film has a double meaning of projection. The version for the film festival was an elaboration, with colors drawn from the Tibetan tradition (Milton had been a collector of Buddhist art for many years). The original 2003 poster image of that colored logo on a field of tiny Buddha images was a clear reference to Tibetan thangka paintings, a suggestion that the film festival was grounded in a long-standing tradition of Buddhist art.
We thank the folks at the RMA and the Buddhist Film Foundation for sharing their reflections upon Glaser's passing with us.