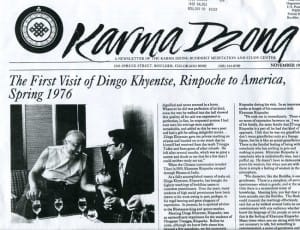 Chogyam Trungpa Rinpoche's unconventional behavior and experimental methods of communicating the Buddhist teachings have become part of the spiritual folklore of America. His work laid a foundation upon which the next generation of teachers have built stable communities as the dharma has spread in our country. Throughout the many phases of his teaching in America, Trungpa Rinpoche retained a profound reverence for the deepest heart of the traditional dharma and an unwavering devotion to his own teachers. He demonstrated that to his students through the visits of HH 16th Gyalwa Karmapa and HH Dilgo Khyentse Rinpoche, which provided an amazing opportunity to witness the culture of devotion so essential to Vajrayana Buddhism.
In two video clips that follow here, John Sennhauser, a senior student and teacher in the Shambhala sangha, offers a wonderfully told recollection of Trungpa Rinpoche's relation to Dilgo Khyentse Rinpoche and Khyentse Rinpoche's subsequent caring embrace of the Shambhala sangha over the years, and many challenging times, that followed his first visit.
Part 1 covers Khyentse Rinpoche's first visit and his work after Trungpa Rinpoche's passing:
Part 2 describes Sakyong Mipham Rinpoche's time studying with Khyentse Rinpoche in Nepal, and in this clip John also offers many of his own vivid memories of what it was like to be in Khyentse Rinpoche's enlightened presence. He also enthusiastically awaits the opportunity to deepen his practice in the presence of Khyenste Yangsi Rinpoche this summer. Enjoy!