A reflection on a recent gathering of Buddhist monks from various traditions, and their discussions of Vinaya, by Bhiksuni Thubten Chodron.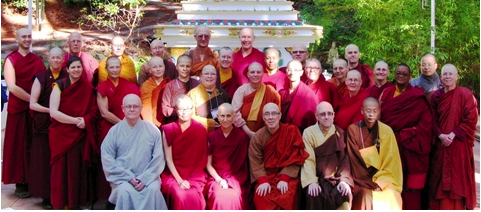 For centuries, Buddhists from the various Buddhist traditions seldom met each other due to geographic distance, different language, and different cultures. Now they can, and for sixteen years Western Buddhist monastics from the diversity of traditions have gathered together to learn about each other's practices, education, and communities. The result has been the development of beautiful friendships and mutual respect as we support each other in living the simplicity of monastic life in a society preoccupied by the complexities of consumerism. Last month 36 of us from the Theravada, Chan and Zen, and Tibetan Buddhist traditions gathered at Vajrapani Institute, a Tibetan Buddhist center in California, for four days to share "Reflections on Renunciation: The Practice of Vinaya in the 21st Century."
Vinaya is the monastic discipline we pledge to follow when we take ordination. The code of monastic discipline was created by the Buddha and has been practiced and passed down to the present for over 25 centuries. Some Vinaya trainings such as to abandon killing, stealing, and so forth are universal ethical principles. Others apply to community life, monastics' relationship with the broader society, and how monastics receive the four requisites of life — food, shelter, clothing, and medicine. Because the Vinaya came about in ancient India, in a society that was very different from our modern Western one, the question arises, "How do we live precepts set up in one environment while living in a different one? What must not be changed, and what can be adapted?" Regarding this, two councils were held each day:
Bhikkhu Bodhi, from the Sri Lankan Theravada tradition, spoke on the meaning of Vinaya and the two kinds of precepts — those fundamental for the spiritual life and those regarding suitable conduct with others. He also discussed the various statements the Buddha made about changing the precepts.
Ajahn Anandabodhi, a siladhara from the Ajahn Chah Thai Forest Tradition, revealed the decision of the nuns at Aloka Vihara in California to leave the Ajahn Chah tradition in order to receive bhikkhuni ordination. She spoke with gratitude for the training they had received, and with sadness about the gender inequity that led to the parting. All the monastics at the conference expressed their support and encouragement for this brave step these nuns are taking in their Dharma practice. There was strong support for gender equality among the monks and nuns at our gathering. Many voiced their thought that Buddhism will not flourish in the West without gender equality and their appreciation for female Dharma teachers and leaders.
Bhiksuni Thubten Chodron from Sravasti Abbey discussed how Vinaya is practiced at this abbey founded by Westerners. She emphasized looking at the spirit of each precept — the mental state the Buddha was trying to subdue when he set up each precept — in order to determine how to put them into practice in Western culture.
Rev. Seikai Leubke, from the Order of Buddhist Contemplatives, spoke about that organization's relationship with the Vinaya. In the Japanese Zen tradition, OBC monastics receive the 16 bodhisattva precepts and 48 great precepts plus celibacy, rather than the traditional Vinaya ordination. His talk sparked a discussion on how to deal compassionately with transgressions of fundamental precepts.
Bhiksuni Thubten Saldon gave a heartfelt presentation on the difficulties of living the monastic life in a society where monastic communities are few and far between. Her talk served as a springboard to an interesting discussion about the difference between regret and guilt, and the confusion that arises when we translate "sikkhaapada" as "vow" instead of as "training" or "precept." Many people expressed their gratitude for those monastics who live on their own and yet keep their precepts despite the difficulties they face.
Bhikshu Jian Hu, a Chinese monastic from the Sunnyvale Zen Center, spoke on what to preserve and what to change as Buddhism and monastic life encounter Western culture. He asked us to consider the current state of our own traditions in Asia, how Buddhism had adapted when it went from India to that place in Asia, and what we personally think is important to preserve and to change. This led to a discussion of the interface of Buddhism and science. While we all encouraged this dialogue as well as the practical application of Buddhist techniques in schools, hospitals, and so forth, we are clear that this will not ensure the continuity of the Dharma. Secular use of Dharma techniques benefits people in this life, but the heart of the Dharma is liberation, and for this the existence of monastics and serious practitioners is essential.
In addition to the councils, we meditated together and did chanting from our various traditions. In the evenings, we gathered to hear "Stories of the Great Masters"—i.e. of our teachers who worked so hard to teach and train us and to bring the Dharma to the West. These stories were inspiring and left many of us with tears of joy. Ven. Heng Sure led us in singing Dharma songs written to folk music melodies, and he and Bhikkhu Bodhi had us laughing with their stuffed animal puppets discussing the Dharma.
Our Annual Monastic Gatherings will continue in 2012. It is a cause for great rejoicing for everyone that the monastic Sangha from so many Buddhist traditions comes together in harmony and mutual support.