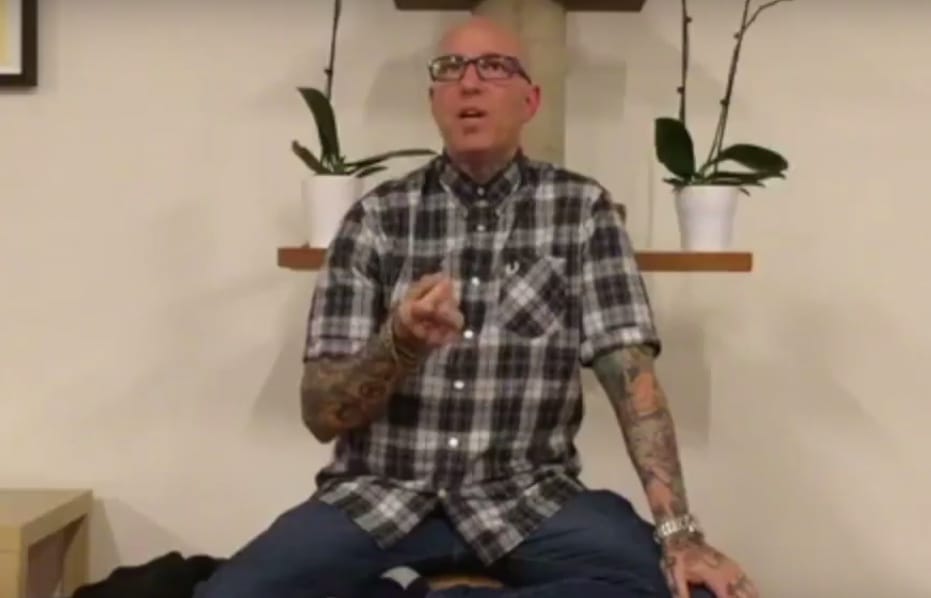 Noah Levine teaching at Against the Stream in Santa Monica on March 12, 2018. Screenshot via ATS on YouTube.
On April 4, the board of directors of Refuge Recovery emailed an "international sangha bulletin" to its community to address the allegations of sexual misconduct against its founder, Buddhist teacher Noah Levine.
The letter says that Levine has taken a leave of absence from his role as president of the Refuge Recovery board. It also states that the Los Angeles Police Department has conducted an investigation into the allegations, but results have yet to be released.
Levine is the bestselling author of Dharma Punx, as well as the founding teacher of Against the Stream Meditation Society (ATS). Refuge Recovery is a not-for-profit organization that helps promote and organize Refuge Recovery groups and meetings.
The letter from Refuge Recovery follows a statement from ATS released on March 29 announcing an investigation into the allegations and a suspension of Levine's teaching activities while the investigation is in process.
The letter, signed by the board's executive director Jean Tuller, follows here in its entirety:
Dear Sangha,
On behalf of the Refuge Recovery Board of Directors, this Director's Report serves to address the recent allegations of sexual misconduct involving Noah Levine, founder of Refuge Recovery and President of the Board. Our focus is on responding to this crisis calmly and with compassion and support for all those involved or affected, directly or indirectly. Our primary job is to ensure the strength, safety, and welcoming nature of our local sanghas and the Refuge Recovery community as a whole.
As many of you know, Against the Stream (ATS) notified its mailing list that ATS had "…received reports of sexual misconduct by Noah Levine which require an investigation. During the investigative process we are required to suspend Noah's teaching activities with Against the Stream and his membership on the Board of Directors." Additionally, the Los Angeles Police Department has conducted an investigation but a report has yet to be released. Spirit Rock has stated that they will not begin an investiagtion at this time but are monitoring the other investigations.
Noah subsequently issued a statement in response to the ATS notification in a letter to his mailing list. Both documents were also published on the Lion's Roar's website. There will no doubt be much speculation. I sincerely respect that each of you will have your own personal reaction. Hearing this type of report is invariably disturbing and hearing it about such a central figure in our community can hit especially close to the bone.
While the process is unfolding, Noah has decided it is in the best interests of Refuge Recovery that he take a leave of absence from the Board. The Board thanks Noah for this decision and is closely monitoring the activities of the Los Angeles Police Department investigation as well as the investigation conducted by ATS and any actions taken by Spirit Rock.
The Board of Directors held an emergency meeting on March 30th with a second emergency meeting on April 7th. We have also been conferring frequently via email. I have also had communication with ATS leadership and want to acknowledge here their transparency and commitment to a thorough and timely process.
The Board is not an investigative body, but we take seriously our responsibility to hear, consider, and respond with compassion regarding any grievance raised that affects our community or any of its members. Our approach is to attempt to reconcile the many people affected in our community and our commitment is to ensuring a safe and healthy refuge. We are actively discussing and developing a plan to allow us to carry out that duty as quickly and with as much patience as possible. There are numerous investigations underway. We in turn need to investigate how we can best support our community and those directly and indirectly affected. We are committed to doing so, and will keep you fully informed as we engage in this process.
The Board is relatively new, having had its first meeting in September 2017. This event has made it clear that we need to expedite the work we've started on new By-Laws, an ethics policy and procedure, and a sexual harassment policy. We'll be working with the Refuge Recovery Regional Representatives to ensure that their voices, as liaisons to our network of local sanghas, are clearly heard. In keeping with our commitment to transparency, we'll be publishing these documents as they are finalized. We recognize and accept that these actions do not relieve of us our duty to pay attention to and respond appropriately to the immediate complaints.
In this difficult situation, the paramita (i.e., the six qualities or perfections that Buddhists are taught to cultivate) of patience counsels us to cultivate the ability to be loving and compassionate in the face of criticism, misunderstanding or aggression, and to accept adversity, insult, and distress with patience and tolerance- without resentment, irritation, emotional reactivity or retaliation. In that spirit, I encourage you to allow this process to unfold and hold safe space for your own recovery as well as for those who are directly affected by this.
Although painful, this entire matter is a reminder that Refuge Recovery is more than one person. As a sangha member wrote recently, this illustrates the "… need for Refuge Recovery to … step with intention to be sure we are as authentic in being peer-led as possible. Refuge is more than any one person and this circumstance truly demonstrates that."
I encourage individual members to seek the refuge of their local, peer-led groups and mentors. As always, please feel free to contact me with any concerns or comments you might have. I can be reached at [email protected].
With great kindness to each of you,
Jean
Refuge Recovery Centers, a separate but affiliated organization that delivers treatment in its centers, also released a statement on Instagram: