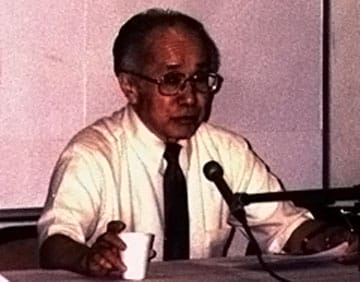 Photo via livingdharma.org.
Update, 9:15am EST, December 19th: See memorial information below.
On Saturday, December 13, Rev. Dr. Taitetsu Unno, a Buddhist scholar known for his work relating to Pure Land Buddhism, died at the age of 85. Taitetsu Unno's son, Mark Unno, wrote in a letter to Lion's Roar that his father died peacefully, at home, without pain, "as he thanked everyone repeatedly."
A local memorial service is scheduled on Sunday, December 21, at 3pm, at the Center for Spiritual Living (390 Vernal St, Eugene, OR). RSVP to Megumi Unno at [email protected], by December 19. The funeral is scheduled on Saturday, January 3, at 11am, at the Berkeley Buddhist Temple (2121 Channing Way, Berkeley, CA). And, a memorial service is scheduled on Sunday, January 11, at 1:30pm, at the Senshin Buddhist Temple (1311 W 37th St, Los Angeles, CA). Trailing memorial services will also occur in New York City and Honolulu.
In lieu of flowers, the family has suggested that friends and colleagues may make donations to the Institute for Buddhist Studies, addressed to the attention of Richard K. Payne, Dean (2140 Durant Avenue, Berkeley, CA, 94704, USA).
The Institute of Buddhist Studies announced Unno's passing on Sunday, and included a bio of Unno written by Mark:
Rev. Dr. Taitetsu Unno completed his life journey on Saturday, Dec 13, 2014. To the very end, he was fully aware and at peace, saying, "Thank you for everything, Namu Amida Butsu," and when he could no longer speak, simply putting his palms together in gassho. His family and close friends who came to visit in his last days and hours experienced the deep joy of being with him and chanting together, immersed in the rhythms of boundless compassion. He received the remarkably good fortune, the great gift of the Dharma, of the life of Namu Amida Butsu, which he was able to share with so many.
He was born in Shojoji temple in Kokura, in the city of Kita-Kyushu, February 5, 1929, the son of Rev. Enryo Unno and Mrs. Hana Unno, the first of five siblings. He arrived in the U.S. in 1935 at the age of six, went through the turbulent years of the Pacific War when he and his family were put into internment camps, first at Rohwer, Arkansas, then at Tule Lake, California. After the war, his family settled in California, where he eventually graduated from the University of California, Berkeley, with a bachelor's degree in English literature. Well into his eighties, he could recite Chaucer in the original Middle English. It was at the end of his career at Berkeley that he met D. T. Suzuki who encouraged him to study Buddhism in Japan, and Taitetsu Unno went on to receive his M.A. and Ph.D. in Buddhist Studies at Tokyo University in 1968.
For the next forty years, he taught in the field of Buddhist studies, first at the University of Illinois at Urbana-Champaign, then for the next thirty-seven years at Smith College, where he served as Department Chair, and was Jill Ker Conway Professor of World Religions. He was also a Visiting Professor at the University of Hawai'i at Manoa, and a Japanese Ministry of Education Fellow in Kyoto, Japan. He was the author, translator, and editor of numerous academic volumes and articles, but he is perhaps best known for his two works introducing Shin Buddhism to English-language audiences, River of Fire, River of Water: An Introduction to the Pure Land Tradition of Shin Buddhism (1998), and Shin Buddhism: Bits of Rubble Turned into Gold (2002), as well as his translation, Tannisho: A Shin Buddhist Classic (1996).
He was the recipient of the Ernest Pon Award of the National Association for Ethnic Studies, for his efforts to increase and retain Asian American faculty among the Five Colleges (1998), the Cultural Award for the Promotion of Buddhism, of the Society for the Promotion of Buddhism (Bukkyo Dendo Kyokai)(2006), and the inaugural President's Award of the Institute for Buddhist Studies (2014). In addition, he was also a fourth-degree black belt in Aikido, and was the translator and author of the "Foreword" for The Spirit of Aikido by Kisshomaru Ueshiba (1984).
Although prolific as a scholar, his passion was always in teaching and working with his students, many whose lives he helped to transform. Although passionate as a college professor, his calling was as a Buddhist minister, ordained in the tradition of Shin Buddhism at Nishi Honganji, as the thirteenth-generation Shin priest in his family. He devoted his career to working with Shin temples, Buddhist centers, and Buddhist groups in North America and elsewhere, as much as he did to make contributions in academia. After retiring from Smith College, he and his wife Alice founded the Northampton Shin Buddhist Sangha in Northampton, Massachusetts, which they led until 2007.
For the last seven years of his life, he, his wife, and their beloved dog Metta, a Lhasa Apso, spent their lives with their son Mark and his wife Megumi in Eugene, Oregon, where they continued the work of the BuddhaDharma as a family, leading events in Hawaii, California, and Eugene. His last public appearance was at the Pacific Seminar, held at the Berkeley Buddhist Temple and the Jodo Shinshu Center in Berkeley, California, in July 2014.
With a twinkle in his eye, sharp sense of humor, gentle spirit, and compassionate presence, he left an indelible impression on those who came to know him through his work in all arenas. He is survived by his wife Alice, a retired schoolteacher and Buddhist teacher in her own right; son Mark, the fourteenth-generation Shin minister in his family and also a scholar of Buddhism; daughter-in-law Megumi, a teacher of the Japanese Way of Tea in the Urasenke School; and of course, dog Metta, who truly embodies her Buddhist name, "Loving Kindness."