On 22nd anniversary of the death of Issan Tommy Dorsey, Adam Tebbe reflects on the life and impact of this compassionate Zen teacher.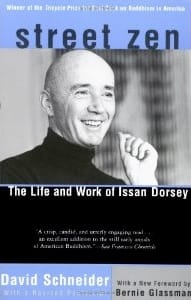 Today marks the 22nd anniversary of the death of Issan Tommy Dorsey, the Soto Zen priest who passed away of complications due to HIV/AIDS. A former drag queen who struggled with drug addiction for many years, the openly gay Dorsey was the first abbot of the Hartford Street Zen Center (HSZC) in San Francisco's Castro District (est. 1981). In 1987, Issan would go on to establish the first Buddhist hospice for those suffering with HIV/AIDS at the HSZC – Maitri Hospice (which has since relocated).
Dorsey remains an inspirational figure to many more than two decades since his passing. He was the kind of person who, due to life experiences, could accept everyone as the person they were. That said, some worry hagiography and idealized projections have obscured who Dorsey actually was in the years since his death.
"I am sometimes frustrated when people portray Issan as a saint – as a totally enlightened being that never had a problem. Issan was a flawed, wise, realized, complex, inspiring human being. It is interesting to me that people need to put him on a pedestal or make him into something he is not now that he is gone. They project all kinds of things on to him that aren't true and this actually alienates him–it separates him–from who he really was; he was somebody that was complex and therefore able to be with anybody–fearlessly–and to support anybody in their practice. He was not perfect." – Daijaku Judith Kinst, Abbot at Ocean Gate Zen Center, Sweeping Zen interview
Flawed and complex, Dorsey was a role model of sorts for others coming to Zen practice from the LGBT community.
"Issan was an unassuming, gentle and earthy kind of guy who was extremely accepting of all sorts of people, regardless of their background, quirks or what-have-you. His past as a drag performer and drug addict is already well-documented, so I don't really need to go in to all that. But, he was certainly important to me when I had begun fulltime residential Zen training in 1982 at San Francisco Zen Center. He was an obviously gay man whom was well established in the practice himself. It was very helpful and very encouraging for me to have a role model like that." – Myo Denis Lahey, Abbot at Hartford Street Zen Center, Sweeping Zen interview
THANK YOU FOR READING LION'S ROAR. CAN WE ASK FOR YOUR HELP?
At Lion's Roar, our mission is to communicate Buddhist wisdom in today's world. The connections we share with you — our readers — are what drive us to fulfill this mission.

Today, we're asking you to make a further connection with Lion's Roar. Can you help us with a donation today?
As an independent nonprofit committed to sharing Buddhist wisdom in all its diversity and breadth, Lion's Roar depends on the support of readers like you. If you have felt the benefit of Buddhist practice and wisdom in your own life, please support our work so that many others can benefit, too.

Please donate today — your support makes all the difference.

Lion's Roar is a registered charity in the US and Canada. All US & Canadian donations are tax deductible to the full extent allowed by law.