Robert Aitken, one of American Zen's great pioneers, has died.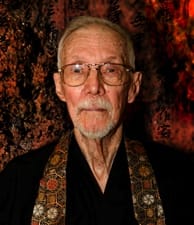 Aitken was brought to Zen in great part thanks to time detained in Japanese internment camps (due to his presence as a worker in Guam at the start of World War II). In one such camp he met R.H. Blyth, whose presence and scholarly work would have a life-changing influence on Aitken.
Aitken would go on to become a Zen teacher in the Harada-Yasutani lineage of Zen Buddhism, and to co-found Honolulu, Hawaii's Diamond Sangha. His influence, as seen in books on Zen practice and ethics like Taking the Path of Zen, Encouraging Words, and The Mind of Clover, would become widespread. Aitken also dedicated himself to social justice throughout his life and work, as one of the co-founders of the Buddhist Peace Fellowship and a stalwart voice of social tolerance and healing.
As of today, Aitken Roshi's website reads "Aitken Roshi passed away today, Thursday, August 5, 2010, at around 5:30 pm at Straub hospital in Honolulu. He was 93." More telling is the wording of the title of that post: "Goodbye Dad, Grampa, Papa, Friend, Teacher, Scholar, Educator, Author, Roshi…" Our thoughts go out to all the many who knew Aitken Roshi in any of these capacities.