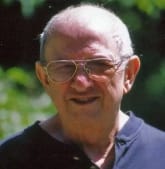 Word has broken that Zen teacher Stefano Mui Barragato, of Treetop Zen Center in Maine, has passed away.
Stef — his Dharma name was Mui, but those who knew him often called him Stef — became a Zen priest in 1983 and received dharma transmission from Bernie Glassman in 1996. At Maezumi Roshi's later urging, Stef moved to New York and offered dharma practice opportunities among a small sangha there, and to prisoners in an upstate "supermax" prison.
It was at Mui's New York temple that I sat my first-ever retreat, along with James Ishmael Ford and some of his then-fledgling Zen community. As a "field trip" of sorts, we sat at that supermax. It was, to say the least, an eye-opening and life-changing week. Stef welcomed one and all, glad to share his down-to-earth good humor and teachings. Some time later, the Barragatos would relocate to Maine and start Treetop Zen Center. Stef and I touched base off and on after that; I now realize how much I wish our contact had been more frequent.
Stef leaves behind a wonderful wife and dharma heir in Margaret Ne-Eka Barragato, and another dharma heir in Peter Seshin Wohl. You can see the bios of all three here: http://www.treetopzencenter.org/Teachers.html.
Treetop's website includes information about Mui's passing and details on his burial and memorial service, to be held this Sunday beginning at 11 a.m. at the Zen Center, 293 Country Club Road, Oakland, ME, 04963.