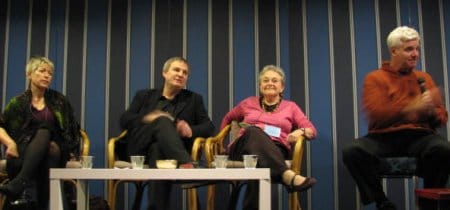 It wasn't a "love in" exactly, but there's a palpable afterglow from the Mindfulness, Love and Relationship weekend the Shambhala Sun just hosted in New York, with Omega Institute. A short report as I depart:
Sylvia Boorstein was first up—a Friday night talk I actually missed while stuck at the airport—but all reported that Sylvia (who's been married for 57 years) gave a warm and witty welcome onto the path of mindfulness and metta.
John Tarrant followed on Saturday, giving our 90 participants glimpses into the nature of mind through meditation and contemplation on a wonderful koan: "People go to wild places to search for their true nature. Where is my true nature?" We looked high and low, inside and out. Please try this out… and leave a comment with what you find.
Later that day, Tulku Thondup Rinpoche guided us through a rich and detailed meditation on lovingkindness, using Avalokiteshvara, the Buddha of lovingkindness, as our object. "His eyes convey warm, unconditional love," said Rinpoche. "When we look at this image, because of how he looks at us, because of the quality of the light, our mind becomes peaceful, clear, luminous … slowly, we see that it is our own mind that is this lovingkindness." Sun editor Melvin McLeod pointed out that during those two hours, Rinpoche had offered us not just a practice, but a direct transmission.
Polly Young-Eisendrath spoke on Sunday and downloaded a wealth of Buddhist and psychotherapeutic truths and pitfalls to love and relationship. One, that "love lies really close to the truth. It's what hits us, and cannot be argued with—it is so close in our experience." Two, that we romance-addicted Westerners too easily idealize those we fall in love with, expecting them to behave in ways that suit our 'selves' rather than accepting the truth of who they are. And also, when we experience our (quite natural) negative emotions, we don't allow them to just be and to dissipate (which they inevitably will). Instead, we push them away, missing the possibility of resting in the raw truth of the moment.
Enter Buddhism—the path that insists we pay attention, acknowledge our thoughts and feelings, acknowledge ourselves, acknowledge each other.
No one gave a recipe for love during the weekend, only an invitation to stay open, to notice, and to see how we do (and don't) invite love into our lives—with our partners, our friends, our kids, and even our enemies. As for 'success' in relationships, the measure isn't how easy or pleasant things become, or how long our relationships last. John Tarrant said it well: "Awakened mind is seeing things clearly, which is how things really are… full of appreciation, and love… Relationships are just part of your life. The more you explore your life, the more you inevitably explore relationships."
A grand thank you to all our presenters and to Omega Institute for this opportunity to gather together. Orders for CD and MP3's may be placed here or by calling 845-266-4444, ext 317 or faxing 845-266-5227.