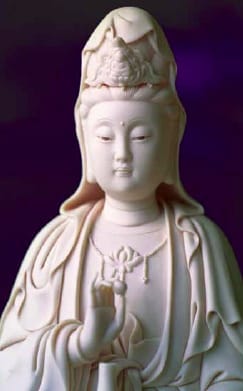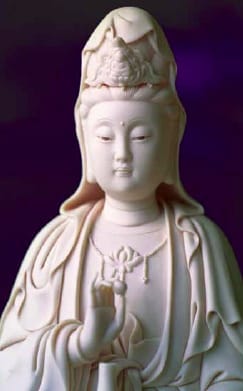 Searching for Guan Yin
By Sarah E. Truman
White Pine Press 2011; 220 pp., $16 (paper)
Bringing Zen Home: The Healing Heart of Japanese Women's Rituals
By Paula Arai
University of Hawaii Press 2011; 261 pp., $52 (cloth)
Reviewed by JOAN SUTHERLAND
The bodhisattva of compassion, known as Guan Yin in China and Kannon or Kanzeon in Japan, is a hugely popular figure around the world, and not only among Buddhists. Though she's had a number of gender transformations, appearing as feminine, masculine, and androgynous, it's the feminine embodiment of mercy that has inspired the most heartfelt devotion, particularly from women. Two recent books show what different forms that devotion can take.
The Mahayana tradition speaks of two complementary attitudes we can adopt in our lives: host and guest. Pilgrims, for example, take up the way of the guest, traveling from place to place and receiving what happens as teachings; they are sometimes called "clouds-and-water" because they are always moving, always changing. The teachers they visit sit in the position of hosts, welcoming all; in China, they often have the word "mountain" in their names, indicating steadfastness. In the old stories, it's in the meeting of host and guest that awakening often blooms—when someone sees the place where abiding nowhere like clouds and water and abiding deeply like a mountain are the same.
In her memoir Searching for Guan Yin, Sarah Truman represents herself as the archetypal guest. Since her childhood in Toronto, she has felt a strong connection to China and Guan Yin, and a revelation during meditation prompts her to go to China to see for herself "what Guan Yin is and is not and what China is and is not." She spends two years there, working as an editor and teacher in Nanjing, and making pilgrimages to places around China associated with the bodhisattva.
Truman is searching for the particular image in which Guan Yin has appeared to her for years in dreams and visualizations. She's aware of the underlying paradox: If the bodhisattva of compassion can take any form, in any place and time, to aid those who call on her, why come all the way to China to look for her? "I could come up with a logical explanation that I didn't need to come here," she says. "I could have found Guan Yin at home or not found her at home. But this isn't a logical equation—this is my life."