Andrea Miller — deputy editor of Lion's Roar, and editor of the book Right Here With You: Bringing Mindful Awareness into Our Relationships — on Daniel Ladinsky's Love Poems from God.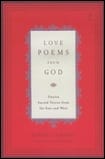 Love Poems From God
Twelve Sacred Voices from the East and West
Translated by Daniel Ladinsky
Penguin Books 2002; 384 pp., $18 (paper)
Love as a spiritual path is the focus of the final section of my anthology Right Here with You: Bringing Mindful Awareness into Our Relationships. The pieces I selected for this section were all written from a Buddhist perspective, but love as a spiritual path is not limited to Buddhism. In Love Poems from God, we get a taste of this path from the perspective of other traditions.
It's a collection of poetry by twelve mystics and saints from the Christian, Islamic, and Hindu traditions, including St. Catherine of Siena, Meister Eckhart, St. Teresa of Avila, Rumi, and Hafiz. Daniel Ladinsky refers to his translations as renderings because they are not word for word but rather they express the spirit of the original. It seems, says Ladinsky, "The three hundred poems in this book were selected from over a thousand I stole from God when He made the mistake of letting me go through His files."
Love Poems from God is a celebration of love that can help us break free of what separates us from each other and our world. I suggest reading just one or two of the poems at a time so that you really turn them over in your mind and fold their message into your life. To start with, here's one by Kabir, a celebrated mystic poet from India:
Look
what happens to the scale
when love
holds
it.
It
stops
working.