Lion's Roar deputy editor Andrea Miller – and editor of the book Right Here With You: Bringing Mindful Awareness into Our Relationships — sometimes points us to noteworthy books on mindful loving. Here, she focuses on Sitting Practice by Caroline Adderson.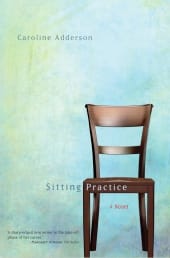 Sitting Practice
By Caroline Adderson
Trumpeter 2009; 336 pp., $21.95 (cloth)
Ross and Iliana have been married for less than a month when Ross gets careless behind the wheel and crashes their car into a truck. Ross walks away from this accident with nothing but whiplash. But Iliana is permanently paralyzed and her highly active and independent lifestyle becomes a thing of the past.
No nonsense Iliana takes this remarkably in stride. She's a nurse, so she has a good grasp of her medical condition and she isn't squeamish about it. Ross, on the other hand, is crushed by guilt—guilt for causing the accident and guilt because he's repulsed by the harsh physical reality of the wheelchair, catheters, and rubber gloves. He wants to pretend that everything is normal, yet for him it isn't. The couple's sex life and all their intimacy come to a screeching halt and then the tension mounts—until the lid blows.
Sitting Practice is fiction, page after page of a made-up story. But it's also a very clear mirror reflecting real life, real love. Our situation may not be as dramatic as Ross and Iliana's but, like them, our life and relationships are not exactly what we expected or hoped for. Disappointment is just par for the course. What matters is what we do with it. Can we learn to appreciate the reality of our situation and each other, or will we pursue another fantasy?