How British fashion designer Katharine Hamnett is trying to change the clothing industry to make it environmentally and socially sustainable.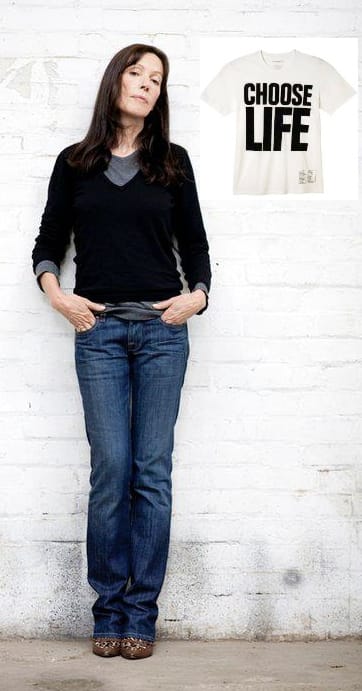 Iconic British fashion designer Katharine Hamnett says she wasn't expecting to find many problems when she commissioned a report about her business practices to see if they were harming people or the environment. "I thought, 'Well, how can you be doing harm making silly clothes?'" she says. "It's not as if you're making bombs." But, intrigued by the Buddhist concept of right livelihood, she wanted to check.
The results of the report shocked her. "I was actually up to my neck in a living nightmare," she said. The environmental effects of the clothing industry are devastating, Hamnett learned, killing livestock, contaminating drinking water, and turning once-fertile areas into deserts. Perhaps even more shockingly, thousands of people die from accidental pesticide poisoning from cotton agriculture each year, she said.
"What do you do once you know that?" At first, she said, she was optimistic that her colleagues in the clothing industry could change their policies if she called she told them what was wrong. That, she said, "turned out to be a complete failure." One of the companies she was working with tried to replace her sustainable, organic fabrics with conventionally grown ones, while another told her, as she puts it: "You care about all this environmental and ethical shit, you can take your collection and fuck off."
Hamnett said she spent over a decade trying to change the fashion industry from within, but in 2004, after returning from a trip to visit cotton farmers in Mali, she decided to take a different course.
"I just tore up all my contracts and said 'I can't do this anymore,'" she told me. Since then, she's been producing and selling her own line of ethically designed clothing, featuring jewelry, jackets, dresses, and of course, her famous slogan t-shirts, now made from organic cotton.
Hamnett was interested in Buddhism long before she became a champion for environmental causes. The first of her slogan tees, 1983's "Choose Life," was inspired by a Buddhist museum exhibit hosted by activist and PR consultant Lynne Franks (who's allegedly the inspiration for Edina Monsoon in the classic sitcom Absolutely Fabulous.) While Hamnett and Franks meant "Choose Life" as an "all-encompassing statement about ideal behavior," it was later co-opted by the anti-abortion movement in the U.S., and Hamnett, who's pro-choice, is still selling the shirts in an effort to reclaim its original meaning.
When she saw Franks' exhibit, Hamnett decided she wanted to help make Buddhism and its ideas more visible.
"If you want to get the message out there, you should print it in giant letters on a t-shirt," Hamnett told Franks. "That's going to be more effective. And she said 'No, no, no,' and I said 'Yes, yes, yes,' and then I went out there and did it."
The "Choose Life" shirt was the first, but others soon followed: "Save the Sea," "Worldwide Nuclear Ban Now," "No War," and "Peace." One of her most iconic shirts was "58% don't want Pershing," referring to Margaret Thatcher's decision to allow Pershing nuclear missiles to be stationed in Britain despite opposition from a majority of the British public. Hamnett wore it to a reception Thatcher hosted for fashion designers, and the two were photographed together at the time.
About her practice, Hamnett says with a laugh, "I'm a crap Buddhist. I'm rubbish. I tried walking meditation, and it's good, but I'm not very disciplined in that area." For her, she explained, Buddhism comes down to "trying to be kind to everything and everybody."
"I just try to be a decent human being, really," she said.
"I think everybody — certainly captains of industry — should be asking themselves about how they make their money," she said. "If we all thought about right livelihood in our jobs it would be a very different world."