As some of you know, I reported earlier today that the classic hero Robin Hood is being updated as the "first Global Buddhist Superhero" in a new film.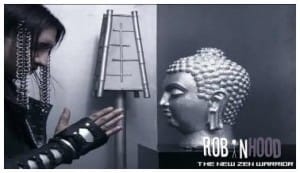 It would seem that my original post about this (replicated below in the interest of accountability; see first comment) has created a minor storm of negative comments, wherein I was taken to task, and also accused of being rather unawakened (which may be true) and a Perez Hilton wanna-be. (Definitely NOT true – I do NOT, under any circumstances, wanna be Perez Hilton!) More importantly, I wasn't quite seeing what some readers were seeing.
I'm not saying I didn't deserve it. But it sure wasn't what I'd intended. The original post wasn't meant to create disharmony or distress. But it was, I'll admit, what some might call snarky. But, then, who am I? And what are others saying about this movie?
David Denby has a new book about snark, called, appropriately, Snark. Its subtitle is even more appropriate: It's Mean, It's Personal, and It's Ruining Our Conversation. And while the original post wasn't meant to be mean or personal, but rather to start a conversation, the conversation it started was an agitated one. That's no fun.
So rather than continue along those lines, the right thing to do is to bring attention to the kind of excited response that you, the readers, have given about the film. Excerpted from their comments (which are left unedited in the regular comments thread below):
"I checked out the website and was blown away. Its using Hollywood elements to promote the Bodhisattva ideal and the teachings of Shakyamuni, Shantideva and Bodhi Dharma and has done very good research. Siddhartha himself was a martial arts expert as shown in Buddha Jataka and into the Kama Sutra before he found enlightenment. … I also read the press release on google and its very well written and the film will be dedicated to the victims of the Mumbai attacks which is very honorable. To me it seems that this film will do very well in promoting Buddhism … And its really cool that Bob Thurman would give a quote to this film and encourage young Hollywood to promote the Dharma."
"The website for this new Robin Hood is one of the coolest I have seen for ANY film and corny is the last word I would use to describe it. I can't wait to see the film for sure."
"Many of my Buddhist friends are so excited about the film and think Bob Thurman really is the coolest Buddhist alive for encouraging it… What Zen Duke is trying to do, i.e. make Buddhism cool, with this massive epic global feature film with unique martial arts/ futuristic fashion etc and quotes from the Buddha and Shantideva – all without studio backing is one of the most incredible feats I have ever seen a Buddhist undertake… My teenage sister saw the trailer and loved it and started to look up Bob Thurman on Wikipedia? Thats great!!!! And the VO on the trailer quotes from Shantideva's Way of the Bodhisattva – what could be cooler than that?"
"I watched the trailer three times now and it seems to have so many selling points …What I see is a young director who is attempting to reach the mainstream and spread the teachings not through a typical documentary style, but in an actual Hollywood blockbuster which can definitely reach so many people internationally… I for one am looking forward to seeing the film and I believe many other Buddhists will be also."
So you, the readers, are speaking loud and clear – you want to see this movie, and you see something great in it – as entertainment, and as Dharma. Well, as I tried to say in my response to your comments, right on. And congrats to the filmmaker, too.
The other takeaway – that one ("one" in this case being me) could and should always be more careful with one's words – isn't lost, either.
Thanks, bodhisattvas.