Based in Bangkok, Arnold has deeply explored the world of yantra tattooing, an ancient Thai tradition of spiritual body art believed to confer power and protection. Even Buddhist monks like the ones pictured here may be seen decorated with these intricate diagrams, and sometimes serve as the tattoo artists themselves. Arnold's site shows more of his images, interspersed with explanatory text. Find out why the artist often wears the mask of Por Gae Ruessii Ta Fai, what unusual ingredients go into the ink mixture, and why those who get the tattoos sometimes launch into spontaneous trance.
One more image and a very intense, short preview (1'39") for a film Arnold made about yantra tattooing that will premiere May 6 at the Musée du Quai Branly's Tattooists, Tattooed exhibition in Paris, running through October 18, 2015.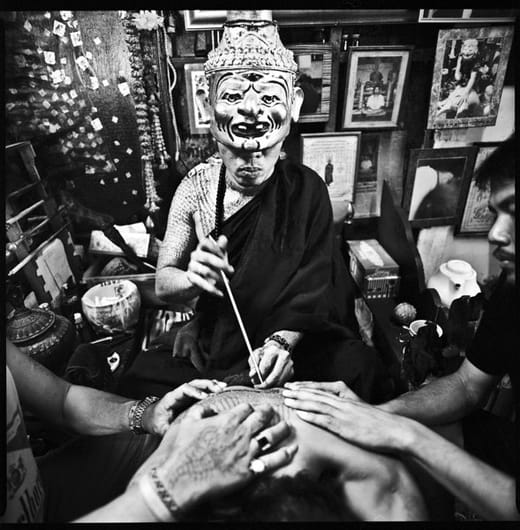 Also check out this Lion's Roar post from August of last year, with images from editor Andrea Miller's review of the book Thai Magic Tattoos: The Art and Influence of Sak Yant.