Thrash metal band Sacred Reich is releasing its first album in 23 years, and it comes with some heavy Buddhist themes.
There's an enjoyable cognitive dissonance to "Buddhism and heavy metal" — kind of like "fish and bicycle" (from the famous phrase by attributed to Gloria Steinem but that Steinem herself says came from Irina Dunn). They really don't seem to go together, and so it's fun to imagine them that way. Go ahead, stop and picture a fish riding a bicycle — or a gaggle of nuns and monks moshing at a Death Angel concert.
But as we've seen numerous times over the years, Buddhism and heavy metal do go together, plenty. Still, it's always a bit of surprising delight when it happens.
To wit, take Revolver magazine's new interview with Phil Rind, founding member, vocalist, and bassist of thrash stalwarts Sacred Reich, who will release their first album in 23 years this August. It's titled Awakening and seems to have a typically ghoulish metal album cover. That is, until you look closer and notice the hidden Buddhist deities depicted  — some of them, yes, throwing the horns — and its biting of Tibetan script. And, the lotus.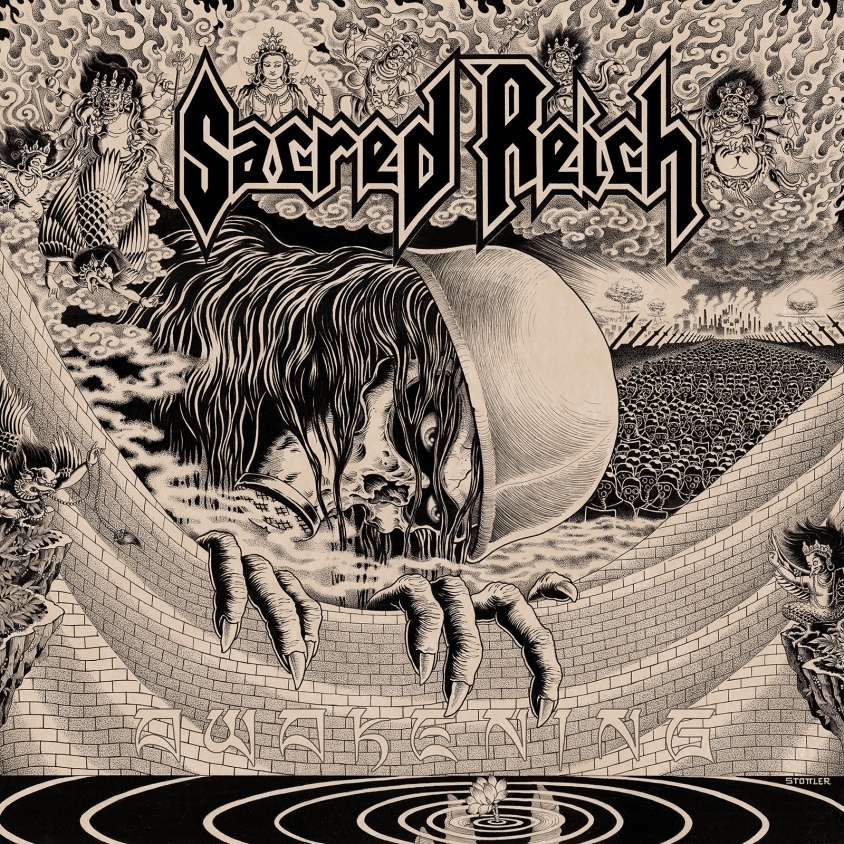 And what Rind tells interviewer Fred Pessaro is a surprising delight, too:
THERE IS A VERY POSITIVE, ALMOST ZEN AIR ABOUT YOU. YOU SEEM TO BE A VERY THOUGHTFUL PERSON. WHERE OR TO WHOM DO YOU ATTRIBUTE A LOT OF THAT PERSONALITY TRAIT?
Twenty years of Buddhist practice. Before that I was a raging ego, selfish piece of shit, crappy human. It's definitely attributed to my teachers and the last 20 years that I've spent with them. That's been the greatest thing in my whole life. I'm not trying to push it on anybody, everybody's got to find their own thing, but that's what works for me. It really works and it has made my entire life, my family, everything just … I think just a lot of it is just understanding your own mind and the kind of troubles that we make for ourselves.
Elsewhere Rind says about the album's sound, while perhaps alluding at once to its cover, "It's aggressive and it's heavy but there's all kinds of wrathful deities and they have a power and an energy behind them."
Rind also tells Pessaro about one object of the compassion that he cultivates through Buddhist practice — Donald Trump:
My feelings about him are conflicted. From a pure standpoint, I feel bad for him. I have a lot of compassion because I know he's probably suffering a great deal. I mean, have you ever worked at a job where you really were in over your head and had no idea what you were doing? It's a terrible feeling. That's his life every day.
[…]  I have some friends that are Trump supporters who are like, "You hate him." I don't hate anybody, I certainly don't hate him, but I think he's a kind of awful human being. He's an example of how your life becomes when you're a narcissist and all that matters is your ego, your pocketbook and [what] you can get out of everything. This is the example of what life looks like when you're only motivation is selfish things. That's the opposite of how we should all actually strive to be. The Dalai Lama always says that the best way to cherish yourself is to cherish others. And that's the thing, also in [the Sacred Reich track] "Manifest" — the idea is if you do things for yourself, you're limited to one thing, and if you do things for others, there is no limit to what you can do for other people.
(Side note: This is not the first time we've seen Buddhists who are maybe not wild about the president try to apply a compassionate mind to him. Like in this piece, from before the 2016 election, and this one, from after.)
Whatever your feelings about the president, Rind sure comes off as a fair-minded individual, self-effacing, funny, and yet dead serious about what matters. I liked his answer to a Blabbermouth interviewer's question about what the band's been up to in their more quiet recent years:
Getting on with the rest of our lives. Sub-atomic particle studies. Writing a thesis on the relative and ultimate realities in Buddhism compared to Immanuel Kant's philosophical view of the universe. Making babies. Searching for a unified string theory. Tracking Bigfoot. Driving around. Watching two elections being stolen. Tossing pizza. Quantifying the economical and social impact of deficit spending at unprecedented levels. Watching the stars. Burying friends. Making up for lost time.
Check out Awakening's title track — with its clearly Buddhism-informed refrain, "living, dying, awakening" — here: