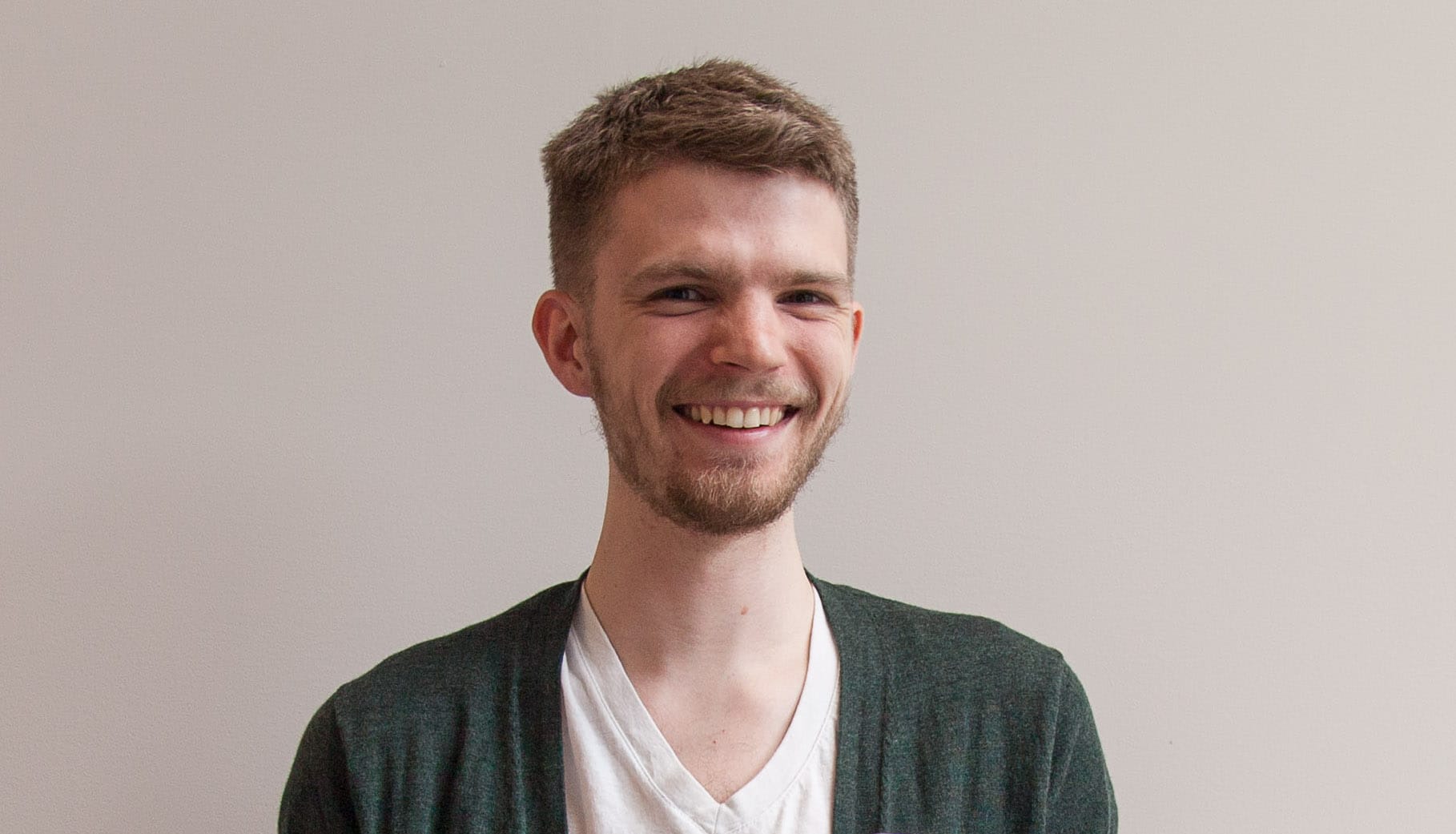 Sam Littlefair, from an in-house photoshoot in 2016.
Outgoing editor Rod Meade Sperry, who will remain with Lion's Roar focused on editorial across media, shares his excitement about the transition.
It's been my pleasure and privilege to serve as LionsRoar.com's editor since we launched — and before that, as editor of our magazines' previous sites. But all things, as they say, are impermanent, and I'm stepping away from the role. The change, I'm confident, will be a very good one.
Sam Littlefair was hired as an assistant editor back in September 2014 and became Associate Editor in March 2016. Passionate, kind, and full of ideas, Sam has now taken the reins of LionsRoar.com as of today. It's exciting. In any similarly curated milieu, a newly appointed guiding editor is charged with two main duties:
1) to keep things moving onward and upward, delivering what readers want: the stories and news (and, in our case, dharma teachings) that keep you engaged and enlivened;
2) to innovate, by bringing a fresh eye to the proceedings, and by bringing the best of themselves and their unique view into the work, thereby expanding the sense of what's being offered.
Sam will no doubt do these well. Just look at the below sampling of his LionsRoar.com work so far, and it will quickly be evident: he's a natural for this.
As for me, I'm not going anywhere. I have a new title, too: "Editorial Director, Special Projects & LionsRoar.com." I'll retain a hand in (or perhaps just a light touch on) LionsRoar.com, and mainly be setting my sights on a series of new projects and initiatives across media.
So, it's one pleasure and privilege followed by another. I thank you, and all my colleagues at Lions Roar, for it all.
—rgms
A Sam Littlefair sampler

Groundbreaking Scholar Timothy Morton Wants Philosophers to Face Their "Buddhaphobia"
Leading neuroscientists and Buddhists agree: "Consciousness is everywhere"
"Dear White People" creator Justin Simien talks Buddhism, empathizing with haters
Buddhist researchers seek to reveal link between heart, mind
These Beautiful Photos Chronicle a Search for Light and Enlightenment
How Would a Buddhist Monk Solve the Classic "Trolley Problem"?
"Ice stupas" bring water to drought-stricken villages of Northern India
Programmers say this Buddhist Bitcoin could "disrupt religion"