Melvin McLeod reports on the memorial service of the late Tibetologist E. Gene Smith, whose work helped spread Tibetan culture across the world.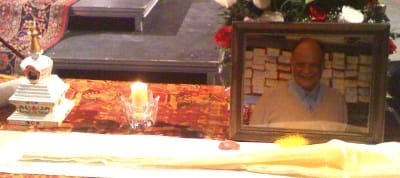 One merely has to know of the late Tibetologist E. Gene Smith to have a sense of his singularity. As recounted by Jeff Wallman in his interview with Melvin McLeod, Dzongsar Khyentse Rinpoche even said that he "wouldn't think it would be an exaggeration to say that Gene Smith did more for the Tibetan Buddhist religion and Tibetan Buddhist culture than anyone in this century."
Those who knew Smith also speak of a generous and joyful human being, a true bodhisattva. At Saturday's heavily attended memorial at New York's Cathedral of Saint John the Divine, that's just what they did. In the following we share praise and memories offered at the memorial by colleagues and Buddhist teachers including Alak Zenkar Rinpoche, Shelley Rubin, Janet Gyatso, Tulku Thondup Rinpoche, Tulku Tenzin Gyatso Rinpoche, Thrangu Rinpoche, Gelek Rinpoche, Sogyal Rinpoche, and others.
The afternoon's proceedings included musical interludes from cellist Ning Ten, solo vocalist Yungchen Lhhamo, pianist and composer Philip Glass, and a closing, somewhat dirge-like rendition of the Kurt Weill's standard "Mack the Knife" performed by saxophonist Jon Gibson. Throughout, on stage and via pretaped video messages, Tibetan lamas and professional colleagues shared anecdotes and praise for Smith. A selection of highlights follows.
Jeff Wallman, Executive Director of Tibetan Buddhist Resource Center, described Smith's contribution through his life work as "colossal," and reported that "Gene's last words on Earth were 'Jeff, thank you.' His heart was light and we sat together. …Gene was overjoyed that his wishes were realized. Was this why he felt it was all right to leave?"
Alak Zenkar Rinpoche spoke of Smith's "excellent, immeasurable qualities," adding that he "would be able to talk about these for several days," and that Smith was "one of the most brilliant people I ever met. Some people may compare his brain to a computer, but I feel it was much greater."
Leonard van der Kuijp, Harvard Professor of Tibetan and Himalayan Studies and President of the TBRC Board of Directors, lovingly referred to Smith as "Gene-la" and as "a visionary genius." He urged attendees to work together to make an endowment designed to fund the TBRC a reality.
His Excellency Lodi G. Gyari, Special Envoy of His Holiness the Dalai Lama, recalled meeting Gene in 1965, and said that he'd made a special trip to see Smith a couple of years ago just to tell him that he considered him a "great treasure." "No single person," he said, "has done as much as this person has done, more than [even some Tibetan Buddhist] masters." He exhorted supporters and scholars following in Smith's footsteps to continue.
Shelley Rubin, Co-Chair of the Rubin Museum of Art and member of the TBRC Board of Directors, recalled that when they'd decided to fund the TBRC, she and her husband Donald were immediately sure of their investment. "He has left the world a priceless legacy," she said.
Tulku Tenzin Gyatso Rinpoche stated that he felt that Smith was "a source of cultural survival," and urged that "those close to him should continue his work." (Via video.)
Thrangu Rinpoche said that Smith "did everything he could do to preserve the [Tibetan Buddhist] tradition," and that his was "a great gift and benefit to everyone." If we "carry on his pure intention," Rinpoche said, it will be "beneficial to all who want to practice the dharma." (Via video.)
Dzogchen Ponlop Rinpoche cheerfully told a story of knowing Smith in India, and how even then Smith was always able to hone in and find an error in a freshly printed book. He closed by saying "Gene was a remarkable person." (Via video.)
Janet Gyatso (Hershey Professor of Buddhist Studies at Harvard University, and TBRC board member) reported that she first saw the loss of Gene Smith as an "inconceivable hole," and that she considered his very existence proof that success in the effort to preserve Tibet's literature was actually possible.
Sogyal Rinpoche called Smith "a true translator, a genius, a giant in his field. Whenever anyone speaks of him, they speak of his goodness… He exemplified the teachings in his life. In Tibet, Gene Smith would have easily been seen as a bodhisattva." (Via video.)
Gelek Rinpoche described Smith's death as "a really terrible loss. I will miss him a lot." (Via video.)
Dzongsar Khyentse Rinpoche said he'd felt that Smith's death was "inconceivable," adding that "It would be a shame if people like me forget what he has done. It's not for Tibet; it's for sentient beings. It's for everyone." (Via video.)
Rosanne Smith remembered her brother as a young man and a "permanent student," looking for "a Tibetan studies degree that didn't exist yet." Smith's Mormon family was always supportive of him, she recalled, though she suggested that perhaps only their mother, Faye, truly knew him. She remembered Gene as always brilliant, unbeatable at Scrabble, disciplined – Smith loved his involvement in ROTC – and destined for greatness. "Every time you saw someone in need, I will miss watching your generosity," she said, choking up. "I will miss who you are, not just what you have done."
As part of his closing reflection and prayer, Tulku Thondup Rinpoche said that he "will always remember Gene for what a monumental goal he has achieved."
The event ended with a video clip from the documentary film about Smith, Digital Dharma – click here to see the film's trailer – and the playing of an audio interview with Gene Smith conducted by Julie Adler. In the clip, introduced by Wallman as displaying "classic" Gene, Smith playfully decried the word "Tibetologist." About the production of translations of Tibetan manuscripts, Adler asked, "Do Buddhists and Tibetologists work together on manuscripts?" Smith answered, laughingly: "Sometimes." Finally, and more seriously, Smith commented on what he hoped for the future of the Tibetan Buddhist Resource Center: "I would like to see our entire library scanned and made available not just to scholars but to everyone in the tradition."
THANK YOU FOR READING LION'S ROAR. CAN WE ASK FOR YOUR HELP?
At Lion's Roar, our mission is to communicate Buddhist wisdom in today's world. The connections we share with you — our readers — are what drive us to fulfill this mission.

Today, we're asking you to make a further connection with Lion's Roar. Can you help us with a donation today?
As an independent nonprofit committed to sharing Buddhist wisdom in all its diversity and breadth, Lion's Roar depends on the support of readers like you. If you have felt the benefit of Buddhist practice and wisdom in your own life, please support our work so that many others can benefit, too.

Please donate today — your support makes all the difference.

Lion's Roar is a registered charity in the US and Canada. All US & Canadian donations are tax deductible to the full extent allowed by law.