Teenagers "get" mindfulness; they soak it up like sponges and it transforms their lives. Gina Biegel on the best ways for parents, teachers, and mentors to introduce teens to the practice.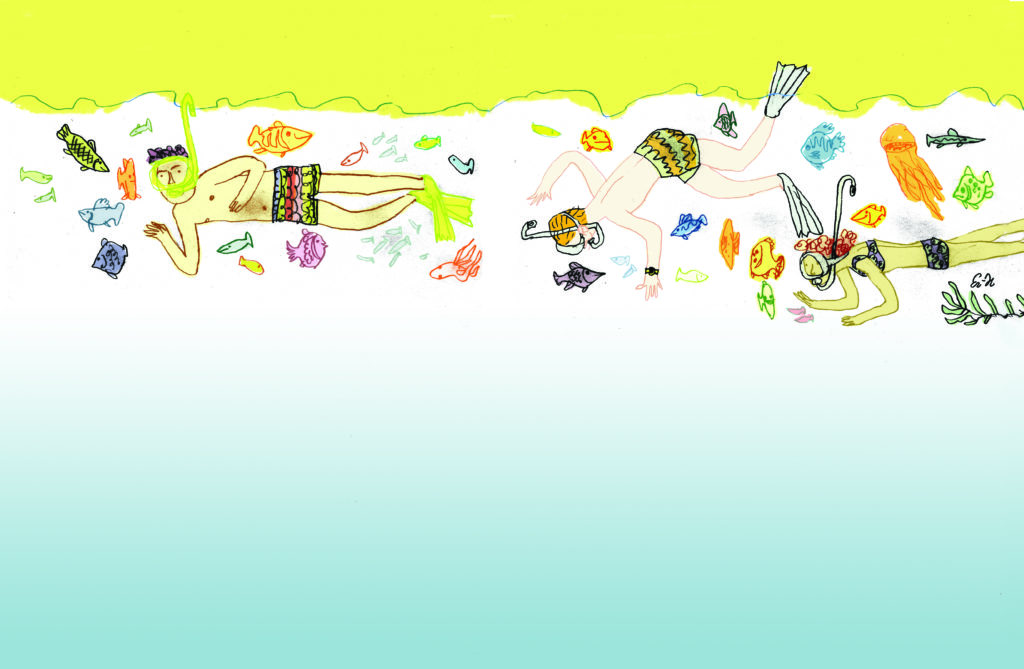 I recently went to Hawaii for the first time, and a friend suggested we go snorkeling to experience the beautiful tropical fish firsthand. I try to be open-minded about checking out new things and I enjoy seeing with fresh eyes, so even though I had learned to swim only a few years ago, I said yes straight away. But it wasn't long before fear and worry set in. I began to think about how I wasn't a very good swimmer, how I often get motion sickness, and that I would probably get seasick. I was sure the fish would bite me. This flood of thoughts about my past and my future filled my mind and offset any anticipated enjoyment.
In the same way, I've noticed that many of the teens I work with worry excessively about things that are out of their control. They believe it will change the outcome of what they're worrying about—which we know from hard experience isn't the case. One of the simplest techniques I use with teenagers is to help them notice when they're engaging in these past/future thoughts and help them see that worries can't change outcomes, no matter how much we would like them to. This small step can often shift their thinking and lead to increased present-moment awareness.
I began to use mindfulness with teenagers in my psychotherapy practice when I saw that techniques that had traditionally been used with adults in the Mindfulness-Based Stress Reduction (MBSR) program could work well with teens. Not only were teens "getting it," they were soaking it up like sponges. I found they were often more open to the practices than adults, if they were explained in teen language. Unlike many of the other interventions I was using from other traditional psychotherapies, I saw that mindfulness techniques and interventions dramatically and quickly improved teens' quality of life. They reduced stress and gave the teens strength from within to solve their problems, which often led to a shift away from "poor me" or judgmental thinking. I've now been systematically teaching these techniques for more than seven years.
People often ask me how to introduce teens to mindfulness. One of the best ways to answer that question is to illustrate it through a story from my own life, such as my snorkeling adventure. I find that mixing stories with real-life examples from the world of teens—along with an appropriate amount of self-disclosure—gets me a lot of mileage in connecting with teenagers and trying to help them.
Now and Then
If we go back to my worry-filled mind as I anticipated going snorkeling, we can see that talking about that experience is just the kind of opening that would help teens relate to a common pattern in their own minds. A great intervention to use with teens is to have them find out how many of their thoughts are actually about what's going on here and now. They can see that by spending so much time in their mind on things that have already happened or are going to happen, they aren't living their life right now. How much are they missing in the present?
As an exercise, you can have them jot down all the thoughts that come to their mind for a period of three to five minutes. After they're finished, ask them to mark each thought with a "P" for past, "N" for now, and "F" for future. It's easy for them to see that most of their thoughts aren't in the now. The point of this activity is to help them discover that by being mindful they'll spend less time focusing on past or future thoughts, many of which aren't particularly helpful, such as worries and judgments about oneself or others. People need to think about the past and future, but if teens can focus more on the present moment it might mitigate some of the mental and physical problems that come from spending so much time in their heads.
Being in the Body
When the day to go snorkeling arrived, I had knots in my stomach and my hands were a little shaky. My body was sending out "red flags" that I was not doing okay. I was still absorbed in thinking about the worst possible outcomes. A great intervention for teens is to get them to use the red flags their body gives off, which they usually don't notice. Many teens, and adults for that matter, are cut off from their body and spend most of the time in their head.
Encouraging teens to notice their breath or even count their breaths can help. For example, asking them to notice their breath and say to themselves, "Breathing in, one; breathing out, one; breathing in, two; breathing out, two," for a count of ten will connect them to their body. It will give them a moment to just be with their breath and body, which unfortunately teens often don't do these days. Taking several conscious breaths can give teens a few moments before they act or react, either toward themselves or someone else. It can be a good anger management strategy, or possibly prevent a teen from engaging in a self-destructive behavior like cutting.
Probing and Listening
I felt sick as I got on the boat, and it wasn't even moving yet. I was convinced that the boat ride and the snorkeling were not going to be fun. I had predetermined the outcome, something teens often do. Try asking them, "If this situation in your life was a movie, how would the end play out?" Their response will give you an insight into their world and a vantage point from which to help and support them. I've learned so many times that something that might appear quite small to us could be a teen's Achilles heel or the biggest trauma they're facing in their life at that particular moment. Try to respect teens where they are, even if you don't agree with them about what is important. Doing this will get you far. The opposite will stop you in your tracks.
Mindful listening and respect are offerings you can give no matter what role you play in a teen's life. Teens often don't feel heard, particularly by adults. If you can provide a different experience for them, you might be able to build a stronger relationship. You might be surprised by the quality of the communication and the respect you get back. Listening and showing respect are not new concepts, but being present in a mindful way deepens the shared experience.
See, Hear, Feel
As I got in the water and began to snorkel, I noticed the flippers were hurting my feet. I forgot to breathe only through my mouth, and took a lot of salt water in through my nose, which was unpleasant. I felt cold and noticed how different the part of my body above the water felt from the part beneath. And then, ccOh my gosh—beauty, amazement!"
I saw a world I'd never seen before: the colors, all the small and big fish, the coral, and how it all formed a community. I noticed how the fish moved in schools, how they glided through the water. I was wondering why some fish were closer together and others farther apart. A visitor to their world, I was seeing something with fresh eyes. I encourage the teens I work with to see things with fresh eyes. I try to elicit what they see in their world—what makes up their world and what gives them purpose. I inquire about the different relationships in their lives—what schools of fish they hang out with—to get an in-depth look into their world. Sometimes their world can seem as new to me as snorkeling for the first time.
I find it quite helpful to use our senses to experience what mindfulness is rather than relying on a definition. Have a teen tell you what they see, smell, hear, touch, and taste in any given moment. First, it will get them to be present, right here in this moment. Second, they might notice something they have seen a thousand times, but never noticed. You can ask them to share what they see, smell, and so on, and then share things you noticed that they didn't, and vice versa. You will learn from them by doing this, which can happen in so many moments with teens if you are open.
Space
I wanted to experience this first snorkeling adventure as my own, and not how other people told me it was going to be. Don't assume a teen's experience will be like yours or what works for you or what you enjoy will be the same for them. Letting a teen experience mindfulness for themselves is best. We all know how freeing a mindful moment can be, like my first mindful moment snorkeling in the water. It's most helpful if you can provide a space for a teen to have such moments, rather than trying to replicate your own experience.
While I was in the water, I saw the fish as a sea community: all connected as friends, siblings, parents, partners, teachers, and so on. We too play many roles that connect us to a larger community. At times people ask whose responsibility it is to teach our youth to be well-rounded, educated people who are emotionally and socially savvy. Who is assigned that task? We all are. If we are mindful, we can make a difference in teens' lives no matter how we encounter them. And, who knows, they might teach us a thing or two and help us see with fresh eyes.