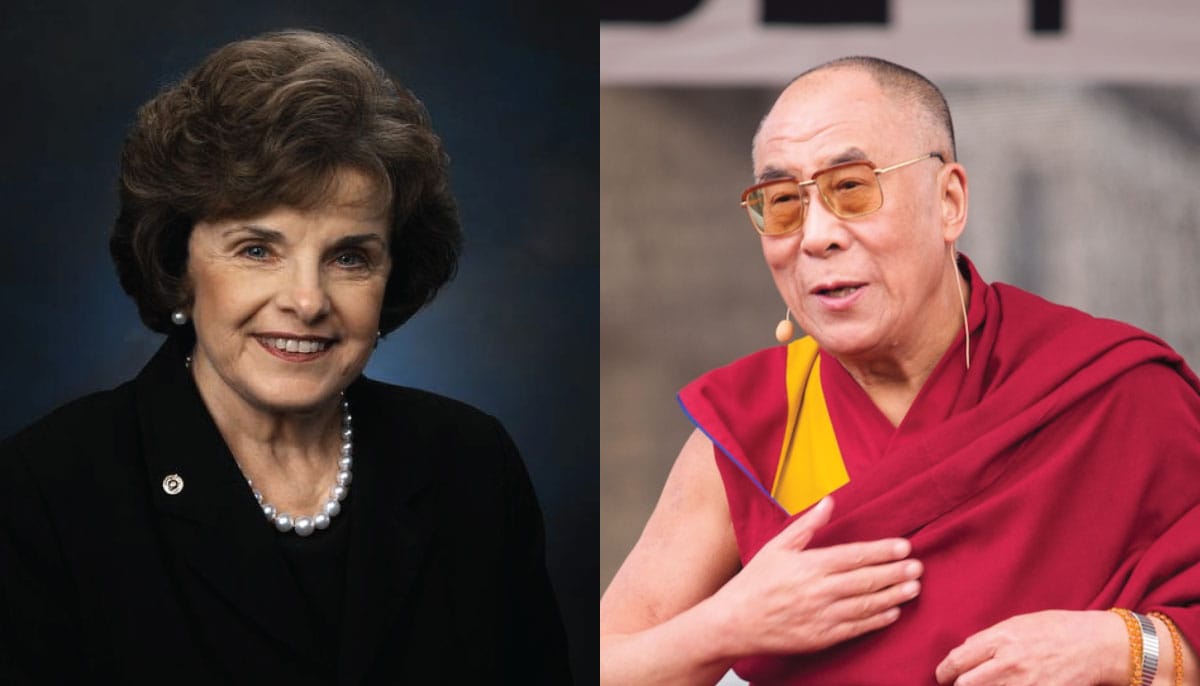 Senator Dianne Feinstein and the Dalai Lama (Photo by 
Jan Michael Ihl
).
Dianne Feinstein, United States Senator for California, has introduced a resolution meant to honor His Holiness the Dalai Lama on his 80th birthday this July 6. In addition to wishing him well, the resolution "recognizes the Dalai Lama for a lifelong commitment and outstanding contribution to the promotion of nonviolence, human rights, religious tolerance, environmental awareness and democracy" and also for "using moral authority to promote the concept of universal responsibility as a guiding tenet for how human beings should treat one another and the planet that all human beings share."
The resolution is cosponsored by Senators Mark Kirk (R-Ill.), Barbara Boxer (D-Calif.), Ben Cardin (D-Md.), Dick Durbin (D-Ill.) and Robert Menendez (D-N.J.).
Said Feinstein: "His Holiness is a singular figure among world leaders, moral authorities and religious mentors. His message of peace, compassion and nonviolence has resonated throughout the world, bridged divides and inspired millions to recognize the common humanity among us. To my dear friend, I wish you a very happy birthday and many more years in which your teachings can touch even more lives."
The full resolution may be viewed here.
Feinstein is also a featured contributor to the Shambhala Sun's forthcoming special publication honoring His Holiness, entitled The Dalai Lama. Click here for details.
June 18 update: Another honor for the Dalai Lama was announced today. His Holiness will be presented the Liberty Medal in an October 26 ceremony in Philadelphia.