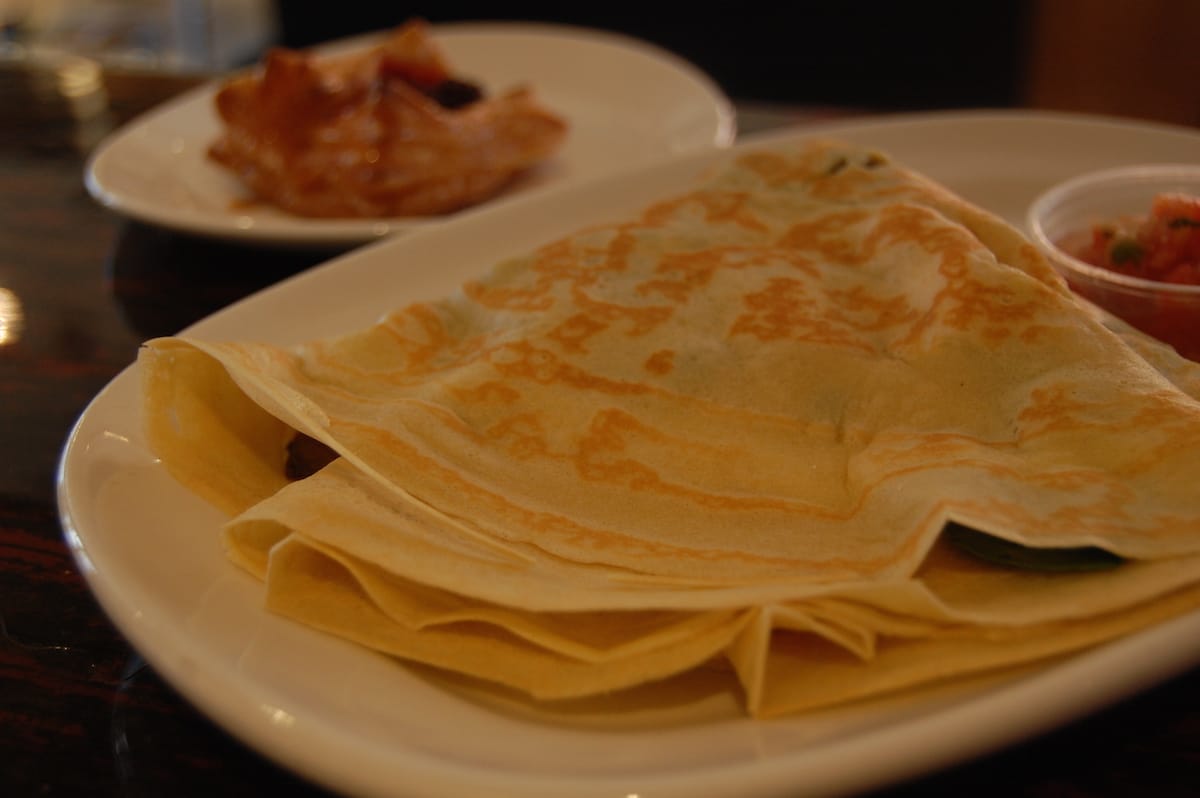 Photo by Stu Spivack.
Edward Espe Brown, Zen teacher and author of the famed Tassajara cookbooks, offers four recipes for colorful, nourishing, seasonal meals: All Orange Winter Squash Soup With Dried Apricots, Mushroom Crepes With Mushroom Sauce, Watercress with Apple and Raisins, and Pear Crisp with Cardamom.
One of the best ways people connect with each other is by eating together. "May I offer you some potatoes?" "Here's to your health and happiness." There's a well-being that comes from the basic reassurance that there's a place for us at the table. Here we are served and we serve others. Here we give and receive sustenance. No small matter.
I found that serving food in the meditation hall at Tassajara Zen Center was an extremely powerful practice— powerful in the sense that it was surprisingly intimate. Taking place in silence, the simple transaction of serving food revealed the mind of the server and the mind of the recipient. It didn't take a genius.
Suzuki-roshi, our teacher, often said that when we all sat in the same posture, as we did in meditation, it was easy to tell the differences among people. Sure enough, serving one person after another, each mind was apparent: anxiety, calm, respect, hesitation, greed, quiet. And the people receiving the food could just as easily tell the mind of the server: ease or awkwardness, nervous or composed.
Once someone asked Suzuki-roshi what he felt when she was serving him food. Yes, I thought, what is his mind at that time? "I feel like you are offering me your most perfect love, your entire being," he answered. I knew it was true, because that's what I was doing when I served him, and I knew he was receiving me thoroughly, wholeheartedly, without reservation.
I felt healed each time I served him. It wouldn't last long, though. As I moved down the row after serving Suzuki- roshi, I again became more hasty, more critical: "Can't you get your bowl out here more quickly?" "Where's your mind anyway?" "Do you have to be so greedy?"
One day I had an inspiration: "Why don't I treat each person as though she or he were Suzuki-roshi?" I saw that I could bring the same mind which I brought to serving the roshi to serving each person.
At first I couldn't sustain my effort. With Suzuki-roshi I would be careful, and then with the next person a little less so. By the third or fourth person I would be rushing along as usual. Yet after awhile I became more settled. I don't know if anyone noticed a difference—no one commented to me about the change—but I felt lighter and more connected, not only to others but also to my own being.
I have kept up this practice for many years now, so that even when I became a waiter at Greens restaurant, I continued to make this effort to serve each person as Suzuki-roshi. I did my best not to get involved with who was who, or what they were like, or how they "deserved" to be treated. "Here is your food, my heartfelt offering for your wellbeing. May your heart be at peace, and may you grow in wisdom and compassion."
I thought about the fall, the autumn leaves, and what I might like to eat. Winter squash came to mind, along with barley-mushroom soup. Then I thought of nuts and dried fruits. Then the notion of crepes appeared. Barley-mushroom soup with squash-nut crepes didn't seem so sound, so I switched things around: squash soup with mushroom crepes, hold the barley.
Once I had all the ingredients in mind, I played around with what went with what. An all-orange soup with banana squash, carrot, dried apricots, and orange called for some ginger. The mushroom crepes ended up understated with some celery and garlic, the red chard got picked up with a jalapeno pepper and some aromatic seeds, along with the roasted almonds and walnuts. How enjoyable to be painting. Which color goes where? So, here's what I came up with, or you can rearrange it for yourself.
All recipes serve 4-6 people.
All Orange Winter Squash Soup With Dried Apricots
2 lbs. banana squash 1 tbl. butter
1 tbl. olive oil Salt
½ lb. dried apricots
2 medium yellow onions, sliced 1 tbl. butter
1 tbl. olive oil
2 carrots, diced
1 ounce fresh ginger, grated (about 3-4 tbl.)
1 orange, zest and juice
Cut open the banana squash or other orange-fleshed winter squash, remove the seeds, and trim off the skin. (If this is difficult because the squash is too tough, bake it for 20-30 minutes to soften it up.) Cut the squash into chunks, and saute them in a heated skillet with the butter and olive oil. Let them brown a bit, if that is happening, and cook for 5-8 minutes. Add a few pinches of salt, the apricots, and two cups of water. Cover and let cook over moderate heat.
Saute the onion in a heated skillet with the butter and olive oil. After the onion turns translucent in a couple of minutes, add the carrots and ginger, along with a pinch or two of salt. Cook another couple of minutes, then add two cups of water. Let the browns on the bottom of the pan work themselves off into the water, then combine with the squash, and cook everything together.
When everything is deliciously soft— 20 minutes to an hour—blend the soup. Add 1-2 cups more water to bring to desired consistency. Zest the orange—I use a vegetable peeler and then chop the orange zest with a knife—and then juice the orange. Add the juice and some of the zest to the soup. Use the rest of the zest to garnish the soup—we're staying with our orange on orange theme!
Mushroom Crepes With Mushroom Sauce
I'm keeping this simple and basic, but the results are still scrumptious. Make the crepes first, then the filling, then the sauce. At the end are the directions for assembly and serve-up.
The Crepes
Makes 12 or more 6-8 inch crepes.
2/3 cup unbleached white flour
1 1/3 cups milk
2 eggs
Touch of salt, touch of butter?
Put the flour, milk, eggs, and salt in a bowl and whisk until smooth, or close to it. Use non-stick frying pans. Usually a medium to medium-high flame works best, but you can adjust it as you go. Put the pan over the flame and let it heat up.
I usually butter the pan the first time around, and then after that it is not necessary if the pan is still in good shape.
Have the pan hot enough so that a few drops of water sizzle when tossed into the pan. To start the crepe, pick up the pan with one hand and pour in 2-3 tbl. of batter with the other hand. Immediately swirl the batter around in the pan so that it completely coats the bottom. 2-3 tbl. will make a 6-inch crepe, 3-4 tbl. an 8-inch crepe. Extra batter may be poured off back into the main batch. Holes in the crepes may be filled with spots of batter or left for decor.
Let the crepe cook 45 seconds to a minute on the first side. Wait for it to show browning around the edges. This is a great time to use your heat-resistant rubber spatula; I get the edge of the crepe up with the spatula, and then pull it up the rest of the way and turn it over by hand.
The second side finishes in about fifteen seconds, since it doesn't need to brown. Be patient with the crepe making— you may be eating a few until they start coming out well. When using butter the crepes will not brown evenly. Also the flame may need to be adjusted.
Mushroom Filling
1 1/2 lbs. mushrooms, sliced
2 tbl. butter
6 cloves garlic, minced A few pinches of dried thyme Salt
1medium onion, diced
1 tbl. olive oil
2 tbl. parsley, minced
A few pinches dried basil
Saute the mushrooms in the butter for 3-4 minutes until the mushrooms have started to brown, then add the garlic, thyme, and a couple pinches of salt. Cook another few minutes, until the juices have come out. Set aside. You may need to do this in two batches.
Saute the onion in the olive oil until softened, and then add the parsley and basil. Combine with the mushrooms and drain, reserving the liquid for the sauce.
Mushroom Sauce
6 green onions 2 stalks celery, finely diced 2 tbl. butter
1 tbl. olive oil
2 1/2 tbl. white flour
1/3 lb. fresh shiitake mushrooms (or regular), sliced
1 tbl. olive oil
2 cups milk Salt, Black pepper
Trim the green onion, and cut thinly, save the dark green pieces for garnishing. Saute the whites and pale green of the onion along with the celery in the butter and olive oil. When softened add a pinch of salt and the flour. Cook 5-6 minutes over moderate heat, stirring occasionally.
Meanwhile add milk to the reserved mushroom elixir to make a total of 2 V2 cups of liquid. Heat in a saucepot. When the flour is cooked remove the vegetable pan from the fire, and pour in the heated liquid. Whisk to combine and return to a moderate heat and cook until thickened, whisking as needed.
Saute the shiitake mushrooms in the olive oil until browned. Add to the sauce. Thin with more milk, if necessary. Check seasoning.
For Assembly and Serve-Up
Put a crepe with the smooth brown sick- down, and spread some filling across tilt- middle. Roll up each crepe around tilt- filling and place on an oiled pan. Brush the tops of the crepes with milk, and heat in a 400 degree oven for 12-15 minutes.
To serve, ladle about half a cup of sauce onto individual plates, and place a crepe or two on top. Garnish with the sliced green onion and freshly-ground pepper.
Chard With Walnuts, Almonds and Jalapeno
1/3 cup walnuts
1/3 cup almonds
1 bunch red chard
1 tbl. olive oil
1 jalapeno chili, minced
1/4 tsp. each—cumin seed, fennel seed, and onion seed
Salt
Roast the nuts in a skillet on top of the stove or in a 350 degree oven for 8 minutes. Chop a bit. Wash the chard, and slice the stems thinly, the leaves in one inch pieces crosswise.
Heat the oil and briefly zap the jalapeno chili and the seeds. Add the chard and stir to coat with the seasonings. Cover and let wilt over moderate heat until tender, about 5-6 minutes. Serve garnished with the roasted nuts.
Watercress with Apple and Raisins
Juice of a lime
2 tbl. honey
1 Fuji or gala apple
1/4 cup raisins
1 bunch watercress
Combine the lime juice and honey. Cut the apple into thin slices and toss with the lime mixture. Plump the raisins in hot water for a few minutes, then drain. Wash the cress and remove the large stems. Toss everything together and serve.
Pear Crisp with Cardamom
Preheat oven to 375 degrees
1/2 lbs. pears, sliced
Grated zest of 1/2 lemon
1/4 cup whole wheat flour
1/2 cup all-purpose flour
3/8 cup sugar
1/8 tsp. salt
1/2 tsp. ground cardamom or 3/8 tsp. freshly ground
3/8 cup unsalted butter, diced
Mix the sliced pears with the lemon zest, and place in a 9-inch pie dish. Combine whole wheat and white flours with the sugar, salt and cardamom. Cut in the butter with knives or a pastry cutter until the mixture resembles coarse cornmeal. Distribute over the pears.
Bake until the pears are tender, the topping is lightly browned, and the juices are bubbling up around the edges, about 40 minutes. Serve plain or with whipped cream or vanilla ice cream.