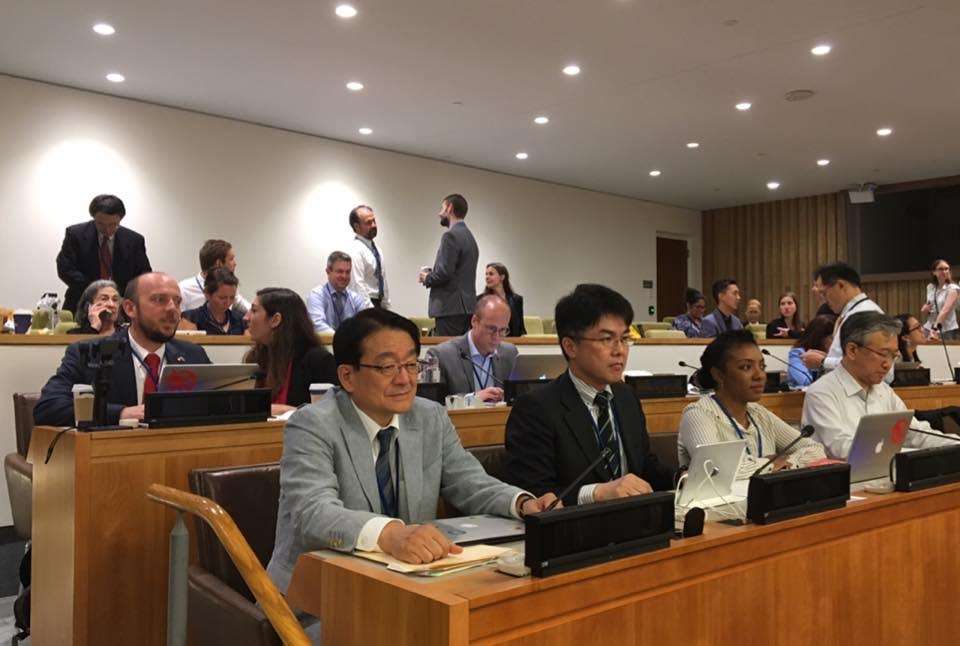 The SGI delegation at the treaty negotiations; courtesy of SGI-USA.
As Religion News Service reports, "On July 7, the group Faith Communities Concerned about Nuclear Weapons issued a joint statement in support of the historic adoption of the Treaty on the Prohibition of Nuclear Weapons at UN Headquarters on the same day." The statement is "supported so far by more than 40 groups and individuals of Christian, Quaker, Buddhist, Muslim and Jewish affiliation."
Prominent among these is Soka Gakkai International, whose US branch SGI-USA convened an "urgent" conference on changing nuclear weapons policy in Washington, DC in April. (A special website for the event was created at the time.) SGI has posted the statement on their site, and has also posted its new "Statement on Nuclear Weapons Ban Treaty", which reads, in part:
For many years, as Buddhists upholding respect for the dignity of life, the SGI has been engaged in raising grassroots awareness toward the abolition of nuclear weapons on a global scale. We have organized exhibitions, petition drives, lectures and publications, based on the initiatives of young people and women, and also contributed to international policy-making processes from the moral and ethical standpoint at forums focusing on nuclear arms.
For more, see "122 Nations Approve Global Treaty Banning Nuclear Weapons," published on the website of the SGI-USA's weekly publication, World Tribune.
Update: As Religion News Service reports, the president of Soka Gakkai International, Daisaku Ikeda, called for the early entry into force of the Treaty on the Prohibition of Nuclear Weapons on the day of the opening for signature of the treaty on September 20 at UN Headquarters in New York. Representatives from SGI attended the opening ceremony for the signing of the treaty. An article written by Ikeda that discusses the treaty has been published on InDepthNews.