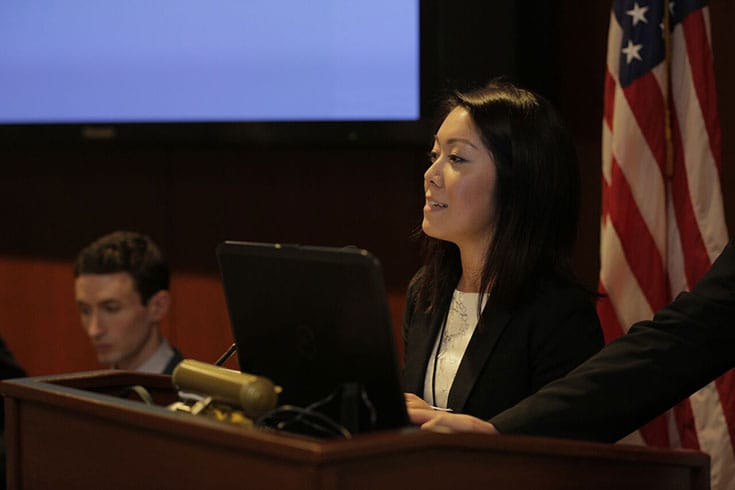 Olivia Saito, Director of Young Women's Programs of SGI-USA, speaks at the event. Photo provided by Danny Hall.
The Buddhist organization Soka Gakkai International-USA (SGI-USA) on April 27 convened "Toward a Fundamental Change in Nuclear Weapons Policy," a one-day conference that SGI-USA characterizes as "an urgent call for all nuclear-armed nations to accelerate action toward nuclear disarmament and avoid a new nuclear arms race."
"The goal of this conference was to educate civil society groups active at the grassroots level about current nuclear flashpoints around the world and the actual consequences if a nuclear war happens," says Daniel Hall, SGI-USA public affairs director. "It also aimed to strengthen advocacy efforts by examining diverse faith perspectives on the moral imperative to act, clarifying short-term steps the United States can take to reduce risk, and outlining a path toward eventual complete elimination of nuclear weapons."
Conference addresses included Hiroshima atomic bomb survivor Setsuko Thurlow on "The Humanitarian Impact of Nuclear Weapons: What Happens if the Bomb is Used"; Zia Mian, Co-Director of the Program on Science & Global Security, Princeton University on "How a War Might Start"; Global Zero co-founder Bruce Blair on "Russia and Accidental Nuclear War"; and the "Buddhist Perspective" from Olivia Saito and Michael O'Malley. A summary provided to Lion's Roar by SGI-USA encapsulates how the organization sees its role in addressing the nuclear-weaponry issue:
Saito, Director of Young Women's Programs of SGI-USA, said that from the essential level, everyone is equal regardless of gender, ethnicity, nationality, wealth of status; their life is equally precious. "Nichiren states one day of life is more valuable than all the treasures of the major world systems." She then shared that the mission of the Soka Gakkai International is to waken all people to this philosophy of respect for the dignity of life.
She then explained that after witnessing the horrors of war and the atomic bombing of Hiroshima, second Soka Gakkai President Josei Toda made a historic declaration in front of 50,000 youth on September 8, 1957 calling for the complete elimination of nuclear weapons and condemning them as absolute evil. She further explained that Toda wanted to convey to the youth that the responsibility of religion was to be part of a larger social and human endeavor and entrusted them to lead the movement for the abolition of nuclear weapons, and establish a society in which the respect for the dignity of life is the guiding principle. She stated that this marked the beginning of the Soka Gakkai's peace movement.
Designed as a follow-up to a 2014 symposium on the Humanitarian Impact of Nuclear Weapons at the United States Institute of Peace, the conference was held at the Congressional Meeting Room South of the United States Capitol Visitor Center in Washington and was co-sponsored by over twenty NGOs and faith-based organizations including Arms Control Association, Hibakusha Stories, International Physicians for the Prevention of Nuclear War, Nuclear Age Peace Foundation, Physicians for Social Responsibility, Ploughshares Fund, Stimson Center, Women's Action for New Directions, Women's International League for Peace and Freedom, American Values Network, Religious Action Center of Reform Judaism, and United Methodist General Board of Church and Society.