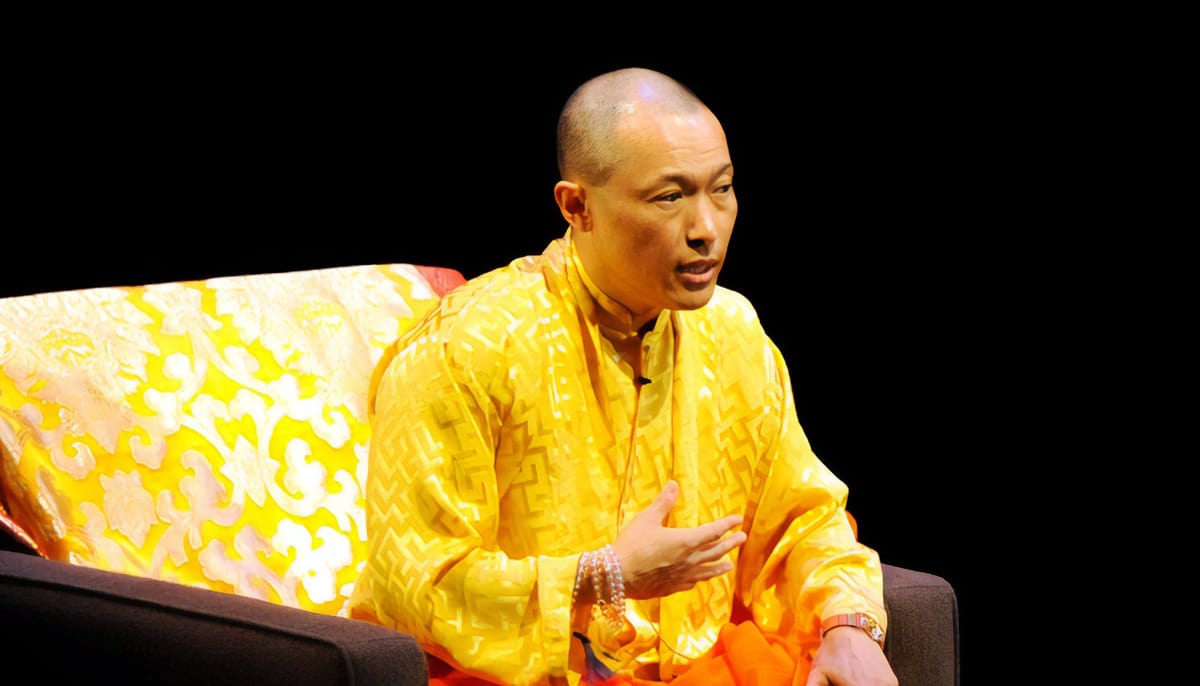 Sakyong Mipham Rinpoche. Photo via Festival of Faiths on
Flickr
.
A new report from Religion News Service details financial troubles facing the Shambhala Buddhist community in the wake of revelations of sexual misconduct by the head of Shambhala, Sakyong Mipham, and several teachers in the community.
Shambhala is one of the largest Buddhist communities in the West, with some 200 centers worldwide. The total revenue of Shambhala International, the community's central organization, is down 60% since the beginning of 2018, and the organization has a debt of more than $1.3 million, according to the organization. In addition to a drop in program revenue, monthly contributions from local centers to the parent organization have declined from $44,000 to $22,000.
According to Religion News Service, several key centers in Shambhala are also suffering. Karme Choling in Barnet, Vermont, one of the oldest Buddhist retreat centers in the U.S., saw a 50% drop in attendance in the first quarter of 2019, resulting in a loss of more than $150,000. As a result, the center will close during the winter months. Shambhala Mountain Center, a retreat and program center in Red Feather Lakes, Colorado, was forced to cut staff but was able to complete their state-mandated wastewater collection system project by the end of 2018 at a cost of 1.2 million dollars.
To recoup its losses, Shambhala International has announced its intention to sell Marpa House, an intentional living residence it owns in Boulder, Colorado, that is home to 40 people. The property is valued at $5,500,000, and  Shambhala International says its sale would offset the organization's  debt and cover operating expenses for up to two years. A group of Shambhala members is organizing to try to purchase the property in order to maintain the community privately.
THANK YOU FOR READING LION'S ROAR. CAN WE ASK FOR YOUR HELP?
At Lion's Roar, our mission is to communicate Buddhist wisdom in today's world. The connections we share with you — our readers — are what drive us to fulfill this mission.

Today, we're asking you to make a further connection with Lion's Roar. Can you help us with a donation today?
As an independent nonprofit committed to sharing Buddhist wisdom in all its diversity and breadth, Lion's Roar depends on the support of readers like you. If you have felt the benefit of Buddhist practice and wisdom in your own life, please support our work so that many others can benefit, too.

Please donate today — your support makes all the difference.

Lion's Roar is a registered charity in the US and Canada. All US & Canadian donations are tax deductible to the full extent allowed by law.