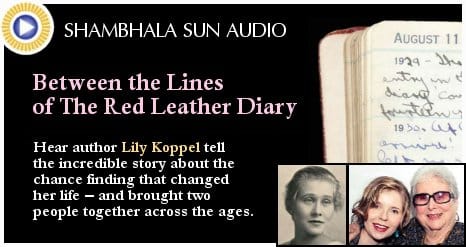 Our May 2009 issue is on stands now and includes a truly special piece by journalist Lily Koppel, author of the bestselling book, The Red Leather Diary: Reclaiming a Life Through the Pages of a Lost Journal. It's an astonishing and beautiful work, and in "Between the Lines of the Red Leather Diary" Koppel gives our readers the Buddhist backstory — and more — on the strange good fortune that led her to the diary and its author, the remarkable Florence Wolfson Howitt.
Koppel is as fine a teller of stories as she is a writer of them, and so we're very glad to share with you this exclusive, full-length interview with her, all about her piece and her book. Just click this player to listen:
Thanks, as always, for listening to Shambhala Sun Audio.