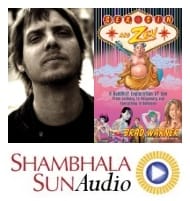 How are Buddhist teachings relevant in a world where — for example — porn is, for many, just a few keyboard taps away?
Do Buddhists have a common blind spot when it comes to observing our relationship to sexuality?
Does being a meditator mean never having to say you're horny?
In this first installment of his new Shambhala Sun Audio interview, Soto Zen priest and author Brad Warner — author of the new book Sex, Sin and Zen (read an excerpt here) talks about the idea of "misusing" sex, and what Buddhism does and doesn't have to say about it. Click through here to listen.
Click this player to listen:
[audio:https://www.lionsroar.com/wp-content/uploads/2010/10/Shambhala-Sun-Audio-Part-1-Brad-Warner-Sex-Sin-and-Zen.mp3|titles=Brad Warner on Sex Sin and Zen – Part One]
This is Part One of a two-part interview. In Part Two, Warner talks about how the media's response to him both helps and hinders his message, why he isn't afraid of so-called "adult" language, and more. Click here to jump to Part Two.
And see also:

Brad Warner on sex and preferences (An excerpt from his new book, Sex, Sin, and Zen)