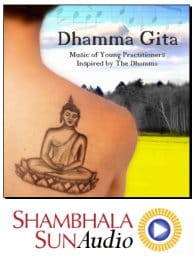 With the release of Dhamma Gita: Music of Young Practitioners Inspired by the Dhamma, Northampton, Mass's More Than Sound Productions seeks to present "manifestations of the timeless, formless wisdom that arises from young artists who practice Buddhism."
So, what might the music of Buddhism's new generation sound like? It's far more adventurous and varied than some might suppose. From rock, to jazz, to instrumental and more, Dhamma Gita paints a picture of diversity through sound.
We've got three samples from Dhamma Gita — from contributors Michaela Lucas, Jay Harper, and Heather Maloney — all right here for you to listen to online on Shambhala SunSpace.
To listen and to read about the musicians and their songs, just click through here.
.


First up is Michaela Lucas and her song "Faith." From the Dhamma Gita liner notes: "Michaela decided three years ago that she would give up her singing career and focus more on dharma practice and study in her life. Since then Sogyal Rinpoche has inspired and helped her to understand that she can use her voice to benefit beings." Michaela writes of the song: "The words of 'Faith' are by Milarepa and it is the voice of my master Sogyal Rinpoche saying so simply that all we need is contentment. This for me is such a powerful teaching and just listening to this song and hearing Rinpoche say 'bubbling and bubbling' changes my state of mind instantly."
Click this player to listen to "Faith":

Next is "Lu Shan Cha," by songwriter and producer Jay Harper, who in addition to creating Buddhist-inspired music, composes full songs and instrumentals for TV, film, ads, and other artists. "Lu Shan Cha," he writes, "is my interpretation of an incense prayer song we sing at the St Dak Tong Buddhist temple where my wife and I are students of Grand Master Sheng-Yen Lu. We have learned from Dharma teachings that there is a gold mine inside all of us, but we must tunnel deep into ourselves to claim our riches. Wealth is not of the pocket; it's of the heart and mind."
Click this player to listen to "Lu Shan Cha":

Finally, we have "Let It Ache," by songwriter and singer Heather Maloney, whose debut album Cozy Razor's Edge is out now.  Of the song Heather writes: "'Let it Ache' was written in the midst of a week-long silent retreat. I had a deep, dull, and consistent pain in my heart for three days. I came up with many stories as to why this was happening, when the First Noble Truth finally bopped me over the head; life is suffering! I surrendered to that and the song started swirling around in my head: 'If your heart is aching, let it ache. Let it weigh, let it throb, let it break.'"
Click this player to listen to "Let it Ache":
Also included on Dhamma Gita are Dave Smith and the Country Rebels, Tori Heller, Ravenna Michalsen, Travis Callison, Brad Gibson, Lela Roy, Duncan Ros, Eva Mohn, Monique Rhodes, Ladyfinger, and Lucky Vita.
To pre-order a CD of Dhamma Gita — or purchase a digital download — visit More Than Sound on the web. Our thanks to them for allowing to share this music with you.