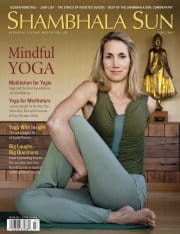 As seen in our July 2009 issue, and ongoingly in the magazine and online, the Shambhala Sun is presenting truly helpful teachings and writings about how to cope with illness, for caregivers and for those who are trying to practice with illness.
Enjoy these classic teachings from the pages of the Shambhala Sun and Buddhadharma.
Just click any article's title to start reading.
---
"By allowing yourself the space to be as you are, you discover a self-existing sanity that lies deeper than thought or feeling," says John Welwood. "For many of us this may be the hardest path of all—opening our hearts to ourselves."


Barry Boyce: "Time for Boomers to Ponder Old Age"
"Enhancing the dignity of old age."

Diana Atkinson: "A Few Words Before they Drag me Away"
As she sews a kesa for her ordination in the new Peacemaker Order, Joan Halifax reflects on her life of science, stories and spiritual search, and her work now with the great teacher, death.

Ruth Ozeki on writing, dying, and Mom.
Will meditation make you healthy? Barbara Rhodes, Jan Chozen Bays, David Shlim, and Mitchell Levy, discuss the Buddhist view of health.
"Social and cultural factors impact our health profoundly, both positively and negatively."
Tibetans doctors, old timers in mind-body medicine, offer us provocative advice: less self-concern may be healthy. For 1500 years or so, their viewpoint has been that a strong identification with self gives rise to unhealthy or impure states of mind. These in turn cause energy imbalances that manifest as physical and mental illness. The Tibetan medical model, in addition to using more conventional treatments such as herbs and lifestyle modification, endorses the development of selflessness through spiritual practices.
"Even when disease cannot be cured, there is often a way to use this difficult experience to know more intimately the value and purpose of your life."
"Fixing and helping create a distance between people, but we cannot serve at a distance. We canonly serve that to which we are profoundly connected."

Dr. Rachel Naomi Remen on illness, loss and spiritual growth.
BOOK REVIEWS:


---
To order a trial subscription to Shambhala Sun, click here.