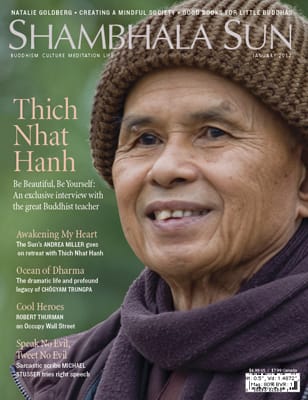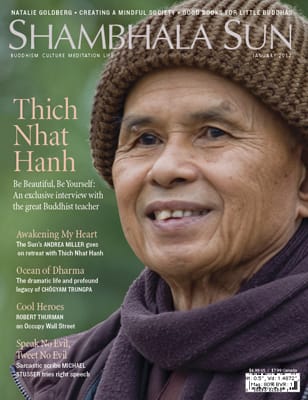 The Shambhala Sun offers the best selection of Thich Nhat Hanh's teachings and commentaries available on the web.Thich Nhat Hanh is the leading proponent of a Buddhist approach to politics and social action. He is a Zen teacher, poet, and the founder of the Engaged Buddhist movement and author of more than forty books.

In 1967, Martin Luther King, Jr., nominated Thich Nhat Hanh for the Nobel Peace Prize. He conducts meditation retreats throughout the world for American Vietnam War veterans, psychotherapists, artists, environmental activists, and children. In 2005, he made an historic pilgrimage back to Vietnam where he was welcomed by thousands of followers and government officials. The Shambhala Sun is pleased to offer this collection of Thich Nhat Hanh's teachings.
---
Thich Nhat Hanh in the Shambhala Sun
Thich Nhat Hanh on why Buddhists don't really believe in reincarnation, why meditation is only worth doing if its enjoyable, and why you don't have to be a Buddhist to be a good Buddhist. A provocative interview with the great Zen teacher, by Andrea Miller.


Andrea Miller attends a transformational six-day retreat with Thich Nhat Hanh.
From the front lines of activism in war-torn Vietnam to worldwide prominence as a Buddhist teacher, Andrea Miller tells Thich Nhat Hanh's extraordinary story.
Thich Nhat Hanh on true love, the benefits of suffering, and the insight that will set you free. An exclusive feature interview with Shambhala Sun editor-in-chief Melvin McLeod.
Thich Nhat Hanh teaches us that there is nothing we experience that can't be approached with mindfulness and compassion.
In this introduction to the book Love's Garden, Thich Nhat Hanh shows us how we can use loving relationships to cultivate the seeds of buddhahood inside us.
Only once we combine our concern for the planet with spiritual practice, says Thich Nhat Hanh, we have the tools needed to transform.
Filmmaker Velcrow Ripper reports on Thich Nhat Hanh's historic trip home to Vietnam, where tens of thousands gathered with him to revive Buddhist practice and to heal the wounds of war.
Thich Nhat Hanh offers a guided meditation to relax our body and mind and return to the here and now. Fully present, fully alive, we find we are already home.
The great Buddhist teacher Thich Nhat Hanh talks about non-self, interdependence, and the love that expands until it has no limit.
A teaching by Thich Nhat Hanh on allowing ourselves to rest like a stone thrown into a river. Resting on the bottom of the river, it allows the water to pass by.
Thich Nhat Hanh, who originated Engaged Buddhism, in an interview with John Malkin.
Thich Nhat Hanh says that only deep listening and gentle communication can remove the wrong perceptions that are the foundation of violence.
bell hooks meets with Thich Nhat Hanh to ask: How do we build a community of love?
More Related Articles:
• Earth Gatas, by Thich Nhat Hanh
• This Silence is Called Great Joy, by Thich Nhat Hanh
• Loosening the Knots of Anger, by Thich Nhat Hanh
• The Practice of Looking Deeply Using Three Dharma Seals: Impermanence, No Self and Nirvana, by Thich Nhat Hanh
• Listening Deeply for Peace, by Thich Nhat Hanh
• Mindfulness Bell: A Profile of Thich Nhat Hanh, by Trevor Carolan
• The Life of a "Lazy Monk," by Arnie Kotler
• Ordinary Buddha, by Thich Nhat Hanh
• The Four Layers of Consciousness, by Thich Nhat Hanh

Links:
• Plum Village
• seaox.com
• Parallax Press
• The Mindfulness Bell
• Deer Park Monastery


---
In the Face of Fear: Buddhist Wisdom for Challenging Times
Edited by the Shambhala Sun's Barry Boyce and being released to coincide with the Urban Retreat, this new book features the greatest contemporary Buddhist teachers and writers—people renowned for addressing precisely the problems we're facing today—including the Dalai Lama, Pema Chödrön, Thich Nhat Hanh, Chögyam Trungpa, Sylvia Boorstein, Jack Kornfield, Norman Fischer, Jon Kabat-Zinn, Sharon Salzberg, and many others.
Click to order In the Face of Fear
---
To order a trial subscription to Shambhala Sun, click here.
 
THANK YOU FOR READING LION'S ROAR. CAN WE ASK FOR YOUR HELP?
At Lion's Roar, our mission is to communicate Buddhist wisdom in today's world. The connections we share with you — our readers — are what drive us to fulfill this mission.

Today, we're asking you to make a further connection with Lion's Roar. Can you help us with a donation today?
As an independent nonprofit committed to sharing Buddhist wisdom in all its diversity and breadth, Lion's Roar depends on the support of readers like you. If you have felt the benefit of Buddhist practice and wisdom in your own life, please support our work so that many others can benefit, too.

Please donate today — your support makes all the difference.

Lion's Roar is a registered charity in the US and Canada. All US & Canadian donations are tax deductible to the full extent allowed by law.