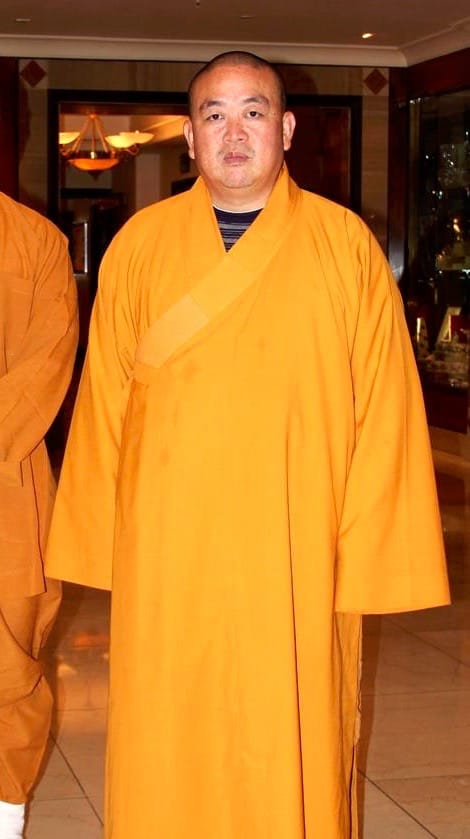 Shi Yongxin. Photo via
UK Shaolin Temple,
on Facebook.
Last week, The New York Times ran a feature profile on the prominent Chinese Buddhist monk Shi Yongxin, which critically examined his contributions to Shaolin tradition and the new controversy that has erupted around him in the Chinese media. Shi Yongxin, a high-ranking figure in Chinese Buddhism, is the vice chairman of the state-run Buddhist Association of China and a representative of the National People's Congress. He is largely credited with reestablishing the ancient Shaolin tradition, having restored the Shaolin Temple, revived Shaolin medicine, and set up martial arts schools abroad. His critics say that he has commercialized Shaolin. In 1997, he set up a company to trademark the name of the temple, and has since turned Shaolin into a global commercial empire. Now, he has come under direct fire for allegations of personal misconduct.
On Tuesday, July 28, a social media user in China produced evidence suggesting Shi Yongxin has embezzled millions of dollars from a temple-run corporation and fathered children with two women. The New York Times reports that the allegations have rocked Chinese media, with more information emerging every day, which, as the Times writes, "does not bode well for Shi Yongxin," in a country that is growing evermore cynical of corruption.
For more on abuses of power in Buddhist communities, read our series:
THANK YOU FOR READING LION'S ROAR. CAN WE ASK FOR YOUR HELP?
At Lion's Roar, our mission is to communicate Buddhist wisdom in today's world. The connections we share with you — our readers — are what drive us to fulfill this mission.

Today, we're asking you to make a further connection with Lion's Roar. Can you help us with a donation today?
As an independent nonprofit committed to sharing Buddhist wisdom in all its diversity and breadth, Lion's Roar depends on the support of readers like you. If you have felt the benefit of Buddhist practice and wisdom in your own life, please support our work so that many others can benefit, too.

Please donate today — your support makes all the difference.

Lion's Roar is a registered charity in the US and Canada. All US & Canadian donations are tax deductible to the full extent allowed by law.