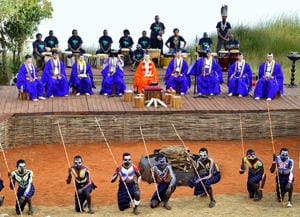 Her Holiness Shinso Ito, Head Priest of Shinnyo-en, performed a religious Fire and Water ceremony at the Gallmann Africa Conservancy in Kenya–the first such event Shinnyo-en has performed in Africa. The ceremony was part of the Global Peace Initiative of Women conference held last week in Nairobi and Laikipia, which brought together over 300 religious and spiritual leaders from around the world. In addition, you can watch the Agence France-Presse's coverage of the ceremony below.
THANK YOU FOR READING LION'S ROAR. CAN WE ASK FOR YOUR HELP?
At Lion's Roar, our mission is to communicate Buddhist wisdom in today's world. The connections we share with you — our readers — are what drive us to fulfill this mission.

Today, we're asking you to make a further connection with Lion's Roar. Can you help us with a donation today?
As an independent nonprofit committed to sharing Buddhist wisdom in all its diversity and breadth, Lion's Roar depends on the support of readers like you. If you have felt the benefit of Buddhist practice and wisdom in your own life, please support our work so that many others can benefit, too.

Please donate today — your support makes all the difference.

Lion's Roar is a registered charity in the US and Canada. All US & Canadian donations are tax deductible to the full extent allowed by law.