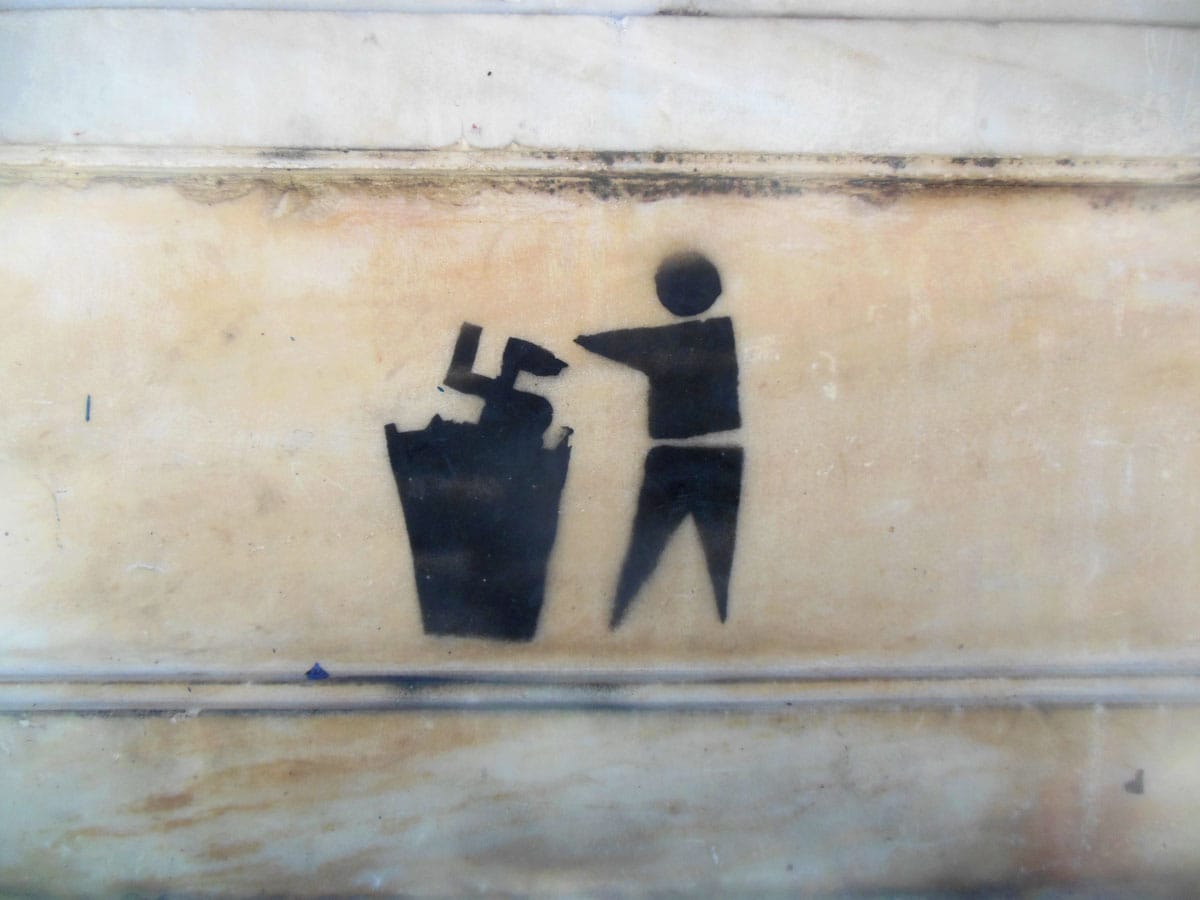 A graffiti stencil shows a popular anti-Nazi icon, "Thank you for dumping Nazism." In 2007, the icon was allowed in Germany despite anti-swastika laws, on the grounds that it is a clear symbol of fascist resistance. Photo by
Denis Bocquet
.
The swastika: it's known to many people as a symbol of peace. But its appropriation as a Nazi symbol has of resulted in it symbolizing, to many more, quite the opposite. And now its usage will be hotly debated at George Washington University.
ValueWalk.com reports that a Jewish student at the school was suspended when he posted a Sanskrit swastika, which he'd purchased on a trip to India, to a fraternity bulletin board. The student nows faces expulsion. As ValueWalk.com reports today, the school is planning to ban all students — including Buddhists and Hindus — from displaying the symbol:
"George Washington University is gearing up to permanently ban from campus an important religious symbol, one which is sacred to many Hindus and Buddhists in India and elsewhere, because it looks like something else which may upset the sensibilities of some students."
It's like banning the 6-pointed Jewish Star of David because some people might mistake it for the pentagram symbol and human sacrifice, or expelling a student for using the word "niggardly" because other students may mistake it for a racist word and get upset, says George Washington University public interest law professor John Banzhaf.
In recent years, a movement to take back the swastika has been undertaken, one of its most vocal proponents being the late artist ManWoman, who authored the book Gentle Swastika: Reclaiming the Innocence.
Of course, the symbol is mostly used as one of hatred and intolerance, which is why GWU will be holding a hearing about its usage, which will likely result in "any one displaying it, even for purely individual religious reasons, would likewise face immediately expulsion." Read ValueWalk's full piece about this here.