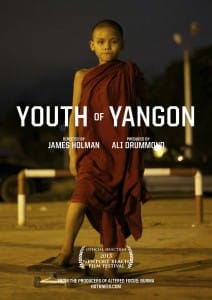 Two years ago, we spotlighted "Altered Focus," a short film about a small, Burmese subculture among urban youth indicative of the vast social changes in that land: skateboarding. The filmmakers have now released a 13-minute follow-up, Youth of Yangon. It shows the kids' struggle to stay positive as they skate in deteriorating conditions under the shadow of Yangon's Shwedagon Pagoda.
Watch Youth of Yangon at Vimeo on Demand here.
Also worth noting: some striking dharma-influenced designs are making their way onto skateboard decks, thanks to folks like The Gateless Gate and the crew at Cryptik.