When we face difficult circumstances—as so many people do these days—fear can overwhelm us. Carolyn Gimian shows us how we can discover the fearlessness of the great meditators—by welcoming fear as a precious opportunity to open up and let go. And that can make us smile.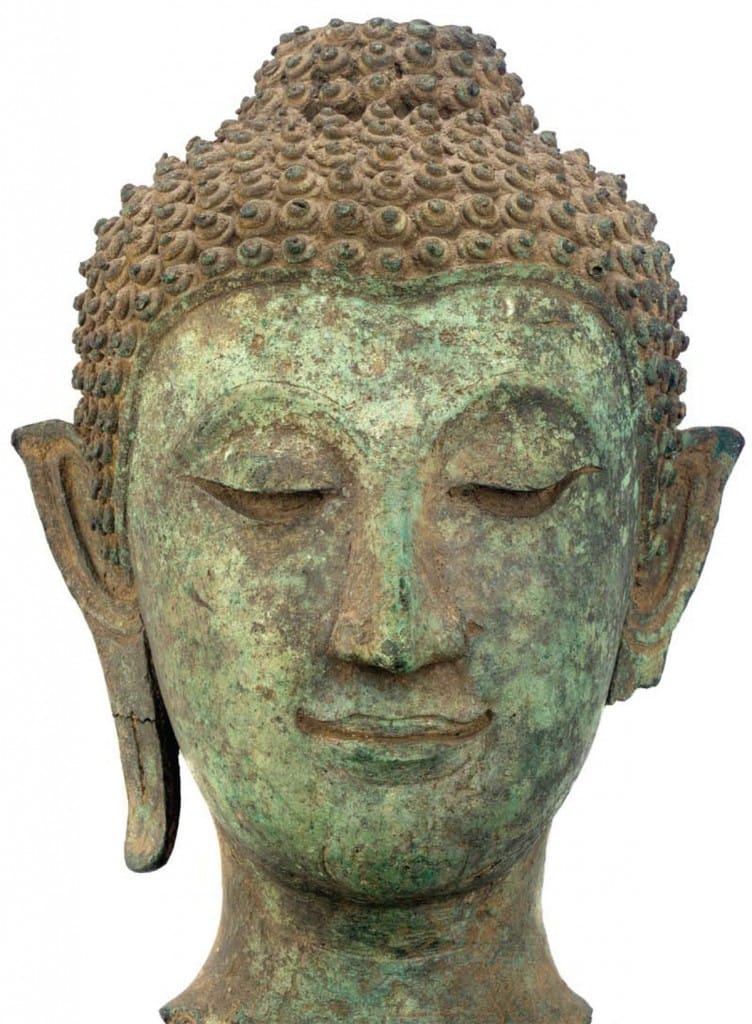 Spiritually speaking, I come from an eccentric family. The patriarch of my family was the Indian mahasiddha Tilopa who, while spiritually accomplished, was not motivated by worldly success. He held humble jobs: grinding sesame seeds into oil during the day, and at night, procuring clients for a prostitute. Later in life, having attained the supreme realization of the Vajrayana, he became a wandering yogi, known to feast on fish entrails left by fisherman down by the lake. At least, that's the story passed down to me, told with a great deal of family pride.
His spiritual son, Naropa, was a renowned scholar at the greatest Indian university of his era, Nalanda. After realizing that he didn't understand the inner meaning of the texts he was studying, he left the university to study with Tilopa. Naropa was subjected to a series of difficult trials by his teacher, such as jumping off buildings or lying in leech-infested water. Eventually, he attained complete, stainless enlightenment when Tilopa whapped him across the cheek with his sandal.
The next forefather, Marpa, owned a farm in Tibet and was married with children. From time to time, he travelled to India to study the dharma. There he found Naropa. Marpa had brought a bag of gold dust to make offerings to the teachers he encountered. When Naropa demanded the whole bag, Marpa didn't want to part with it, but he gave in. At that point, Naropa scattered the gold dust into the air, singing: "Gold, gold, what is gold to me? The whole world is gold to me." This was the beginning of Marpa's training with Naropa, which led to his ultimate liberation.
The next spiritual son, Milarepa, studied black magic and sent a hailstorm to destroy the farm of his aunt and uncle, who had made him and his mother into servants, but the vengeance did not fundamentally satisfy him. Eventually he found Marpa, who asked him to construct a series of buildings in exchange for receiving the teachings. Milarepa had to carry large boulders and shove them into place by himself, but Marpa would show up, often drunk, and ask Milarepa just what in the name of heaven he was doing. Ordered to dismantle the edifice, he would have to put up another somewhere else. Finally, when Milarepa was completely broken down and close to suicide, Marpa give him formal initiation. Milarepa eventually left to pursue meditation in solitude, spending the remainder of his life in caves, surviving mainly on nettles (to the point of developing a green glow). Milarepa sang to anyone who came by his cave, leaving thousands of songs of realization for us to contemplate.
These are some of the early forefathers of the Kagyu school of Vajrayana Buddhism, a lineage that has continued in this manner down to the present day. It is currently led by the His Holiness the Seventeenth Karmapa, who had to make a dangerous escape from Tibet in order to receive thorough training and education. These life stories of the great figures of the Kagyu lineage show us what extreme human beings they were. The wisdom that comes from this family tree is extreme wisdom, and it may be just what is needed for the current situation.
This article is not intended to make you long for the "fish-entrails diet." Nor does it prescribe the "sandal-whap facial," the "throw your money in the air" freeing-therapy, or the "if you build it, you will tear it down" theory of insight. Rather, it asks: What helpful insights can we glean from the teachings of people like these? Why would we turn to such people now?
Because they were all fearless. They were not intimidated by external difficulties. In fact, they approached their lives with spontaneity, humor, and a sparkling sense of dignity and decorum that were completely independent of outside circumstances. They were not preoccupied with themselves or their problems. They were concerned about others; in fact, they embodied compassion, either ruthless or gentle depending on what was called for. And they were very, very wise, in the ways of the world, the ways of the heart, and the ways of the spirit.
In tough times, we need wisdom that is not dependent on conditions. When things are falling apart, we need wisdom that is not propped up. The basis for this wisdom is freedom—freedom from confusion, freedom from fear, and interestingly enough, freedom from extreme views. Extreme views in this context means eternalism and nihilism, the belief in either existence or nonexistence as ultimate reality or saving grace. The origin of this wisdom is simplicity, or nonattachment, which is a bit less threatening than calling it "riding on the razor's edge," which might also apply.
Tilopa, Naropa, Marpa, Milarepa, and all their descendants exemplified the freedom of profound simplicity or naturalness of mind, which can adapt to and transform any external circumstance. Their lifestyles might look extremely unconventional to us, perhaps even unspiritual, but in fact these were people completely at ease in their world, having nothing more to attain and nothing more to give up.
How can we, as beginners on the path, relate to this way of being? To follow their example does not mean mimicking their behavior. Rather than trying to imitate or adopt something external, which will never be a thoroughly satisfying solution, we need to emulate their inner practice and, ultimately, their state of mind.
This may seem like a tall order, but to begin, at least, it is not that complicated. In the beginning, we need simply to examine what's taking place; we need to familiarize ourselves with ourselves. As long as we are in a state of panic, it is very difficult to actually see what is happening to us, to others, or to the world altogether. So in the beginning, developing simplicity means making friends with our fear. When the situation in the world around us inspires panic, we may regard that panic as something unusual or extraordinary. But actually, we are panicked all the time. Fear is already an old friend.
However, fear is so ingrained in us, as anxiety and denial, that we generally don't recognize it. We try to suppress our awareness of it. But in extreme times, this becomes harder to do. To keep ourselves from feeling panicked, we have to build a much denser wall of denial and self-deception, which we construct from the building blocks that the Buddhist teachings call the three poisons: passion, aggression, and ignorance.
On the other hand, we could take the approach that an extreme time is an opportunity as well as an obstacle. We could even celebrate and encourage the chance to bring fear to the surface, into the open. We could welcome our fear for the opportunity it brings us to develop fearlessness. Fear is not the enemy, unless we allow it to become that. Instead, fear can be conquered. But that requires that when we see fear, we smile—an image imparted to me by my teacher, Chögyam Trungpa Rinpoche.
What does it mean to smile at fear? To begin with, it means to relax with our fear, by allowing ourselves to be fully with ourselves. One way to cultivate this relaxation is through the practice of meditation. In the Buddhist tradition, the practice of sitting meditation has two elements: simplicity, or peacefulness, and insight, or clarity. The application of mindfulness allows us to stop the world from spinning, by stopping the spinning of our own minds. This is the essence of the simplicity or peacefulness of shamatha. Then we can see the confusion. We can shine the light of vipashyana, or clear seeing, on confusion, and that brings the clarity of seeing things as they are. When we begin to see the situation as it is, and when we begin to see our own minds clearly, we defuse the panic.
From the experience we have in meditation, we also may begin to see how we can relax on the spot in the midst of the most difficult experiences in our lives. We begin to see that it is possible to be there in a simple and open way. What are we afraid of all the time? Often, it is the unknown. If we are willing to simply witness what is there, although it might in fact be devastating, it also turns out to be more benign, more manageable, and more ordinary and transparent than we expected. This is where we begin to discover the quality of freedom, in the emptiness of our freak-out, which allows us to remain vulnerable.
The Buddha himself set the example for us. Here was an extreme human being if ever there was one. Having left the comfort of his father's palace and his own regal life, he tried every method he encountered to achieve liberation. Having practiced intense asceticism and arduous disciplines for a number of years, he realized that struggle was not the path to enlightenment. And this, I think, is when he began to smile at fear.
Make no mistake. The closer the Buddha got to enlightenment, the more forceful and insistent were the obstacles he encountered. We sometimes seem to approach the experience of enlightenment as though it were like a long drowsy soak in a warm perfumed bath. After our nap, we will arise as the Awakened One. The stories of the Buddha's enlightenment instead describe how the greatest obstacles, or maras, appeared to the Buddha the night before he attained enlightenment. Meeting their challenge required vigilance, or openness, rather than somnolence. As the Buddha sat in meditation beneath the bodhi tree, Mara sent his daughters in the guise of beautiful women to seduce the Buddha; he sent his troops of warriors to attack the Buddha. The Buddha manifested as the victorious one, vijaya, or the fearless one, the warrior of nonaggression. He remained unmoved by passion and aggression. He chose instead to be awake. Mara's arrows then became a rain of flowers.
In our own lives, it is difficult to be open yet unmoved by extreme situations, but we too, like the Buddha, have the choice to be wakeful. Whether it is the crash of the financial markets, the death of a loved one, the experience of chemotherapy, the failure of a relationship, or the violence of an angry mob—whatever the difficulties, they can be the bearers of good news, or at the veiy least, real news. That's quite an outrageous thing to say, but it is truly the message of people like the Kagyu lineage forefathers, who lived in the ground of reality beyond pain and pleasure, good and bad. This is not suggesting that the worse things get, the better it is; nor that we shouldn't have sympathy and feel compassion for our own and others' difficulties. However, unless we can make friends with what occurs in our life, we are simply subject to circumstances and controlled by them. Often, the worst—whatever it is—has already happened by the time we realize the need to apply these teachings. In that sense, we have no choice. We can't take our life back. It is not a rehearsal.
When circumstances bring our emotions to a sharp point, at that point both confusion and wakefulness emerge from the same ground. If we are willing to practice in that groundless ground, that too is smiling at our fear. In the Kagyu tradition, this is also called practicing in the place where rock meets bone. I always thought this phrase referred to the meditator's bony behind sitting on the bare rock of a meditation cave, but I learned recently that it refers to crushing bones for soup with a heavy rock mallet. That sense of crushing or breaking through our confusion and hesitation is also an expression of opening everything up, letting everything go, exposing the innermost marrow of the situation. It is about our ultimate vulnerability.
I can't offer you a finite list of things to do, nor can I tell you exactly how you can smile at fear. I'm working with turning up the edges of my mouth when I feel anxious. The advice I give myself is: Don't avoid the opportunity to grin back at fear. And if you can dive into that empty feeling in the pit of your stomach, well, that would be excellent! We each have to find our own inner grin.
The time where rock meets bone turns out to be the time we are always living in, although we don't always acknowledge that raw mark of our existence. To do so is to meet the moment where neither past nor future exist and where we cannot hold on to the present for security. In that moment, the closing bell of the stock market is no different from the bell that calls us to the shrine room. In that moment, our dharmic ancestors will all applaud our fearless smile.