Daniel Menaker gives us a humorous look at the trendiness of Buddhism.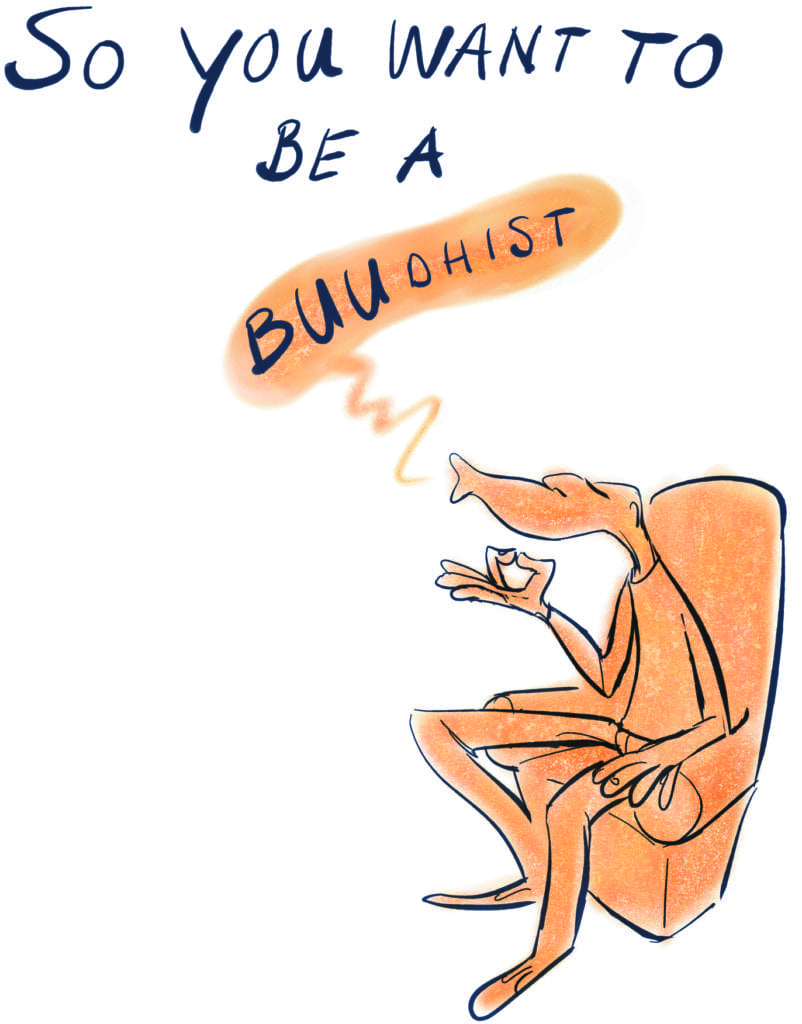 Who doesn't? It's easy and also fun, especially if like me and most Americans who enjoy relaxing on the deck and talking about Buddhism you know very little about it. I mean the kind of people who when you get a little ticked at them for breaking the gears of the bicycle they borrowed from you yesterday say, "Could you please try to be a little more Buddhist about this?" or when they wonder if there really is such a thing as reincarnation hope to come back as a wealthy beagler.
The first thing you have to do is renounce desire. But since you want to renounce desire, that's desire in and of itself! So renounce the desire to renounce desire and you can do whatever you please, like try to get back in good with your old girlfriend Tawnee, plus become an ipso facto Buddhist at the same time. Sweet, no? And the real Buddhists can't object, because they are enjoined to universal kindliness and have to keep on grinning that real-Buddhist grin.
The next thing you have to do is decide on whether you're going to say "BOOdist," "BUUHdist" (rhymes with "WOODist"), or "BUDDist" (rhymes with "FUDDist" and also "DUDDist"). I have to say that for my money the first sounds low-rent, kind of Casper the Ghost, and the last sounds a little floral and also could be heard as "BUTTist," so the second it is, even though in order to say it that way you have to purse your lips in a sissy manner.
OK—you're well on your way. The next thing you have to do is know some terminology or pretend to know it, so that you can use it when the conversational waters get heavy.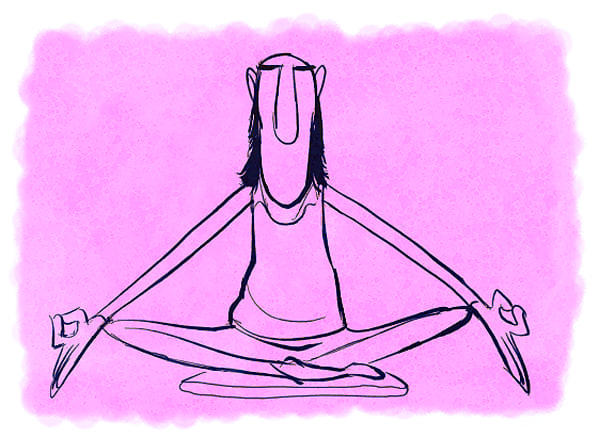 Dharma: This is a great word to use in practically any sentence of gravity because it has so many meanings (I think). It's something good, a good quality of a person or a regulation of how you act, if I'm not mistaken. When an NBA star, especially one of the very tall ones, reads to any group of fetching or marginal or, especially, reviled illiterate people, that is a possible example of dharma in action. If you're still not sure what it means, be serene, be a Buddhist about it, and that could well be dharma in action, too. Helpful hint: The "h" in "dharma" is silent—and a good thing, too.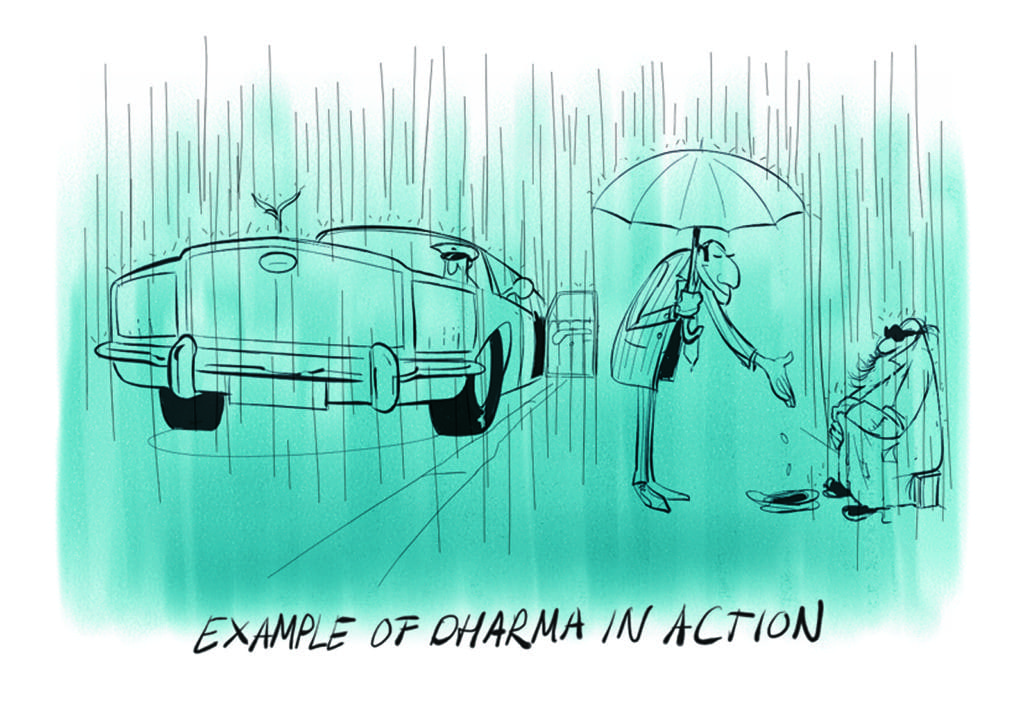 Karma: This is the most-said amateur-Buddhist word by a long shot. You can apply it to absolutely anything that happens to a person. For instance, if you enjoy infomercials and decide to order Moving Men, those plastic discs with discs of orange foam set in them that you put furniture legs on so that you can push or pull heavy items from room to room, that becomes part of your karma, and might be one of the reasons you come back in your next life as a dray horse. "Karma" will fit an infinite number of occasions but is best used sparingly, lest it deteriorate into a synonym for "whatever." To summarize: karma is the things you choose to do but don't have any choice about, like throwing down with Tawnee and then not spending the night—it's free will and fate all rolled into one hell of a complex concept, and if you don't get it, that's part of your karma, too.
Note: Karma can be troubling to those who are tempted by more practical-seeming theories of causation. Let's say you get pneumonia, God forbid. "It's your karma," a dilettante (and for all I know a real) Buddhist might say. "It's your staphylococcus," a doctor might say. But you can't beat karma, I'm afraid, because it's one of those oceanic ideas that drowns everything else, as in "It's your karma to have your staphylococcus."
Shawarma: N/A.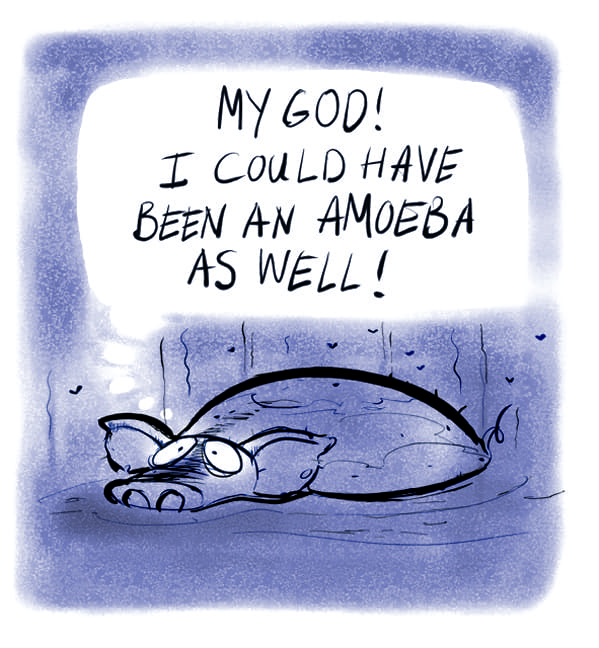 Reincarnation: It gets really tricky when you add to the pneumonia example that the staphylococcus in question might be the reincarnation of Nero or Senator Joseph McCarthy. Yes, it's true, from all reports I've heard: Buddhism holds that after you die you come back as someone else or an animal or even an animalcule. But you're still you, if you and your past incarnations see what I and mine mean. If you have good compounded karma from past lives and your present life, you come back on a higher plane—like the previous incarnations who are now Derek Jeter and Diane Sawyer. If you were rotten, you might be a vole or an asp or a dung beetle.
Questions: Do you come back as yourself if your life has been a karmic wash? Or is there a tiebreaker or sudden-death overtime? Wouldn't it be awful to come back and realize you're still Trent Lott? Wouldn't it be cool to start over again with Tawnee (assuming she doesn't come back as a millipede, as she deserves to, for dumping you, even though it's true that you didn't take your socks off and then ran out on her that night)?
Meditation: You sit quietly in a certain position and breathe in a certain way and try to empty your mind, all as part of the effort to renounce desire and seek the enlightenment that will bolster your standing in the karma league. It also really helps in the effort to get your thoughts off Tawnee.
Akimcanyayata: "Atayaynacmika" spelled backward.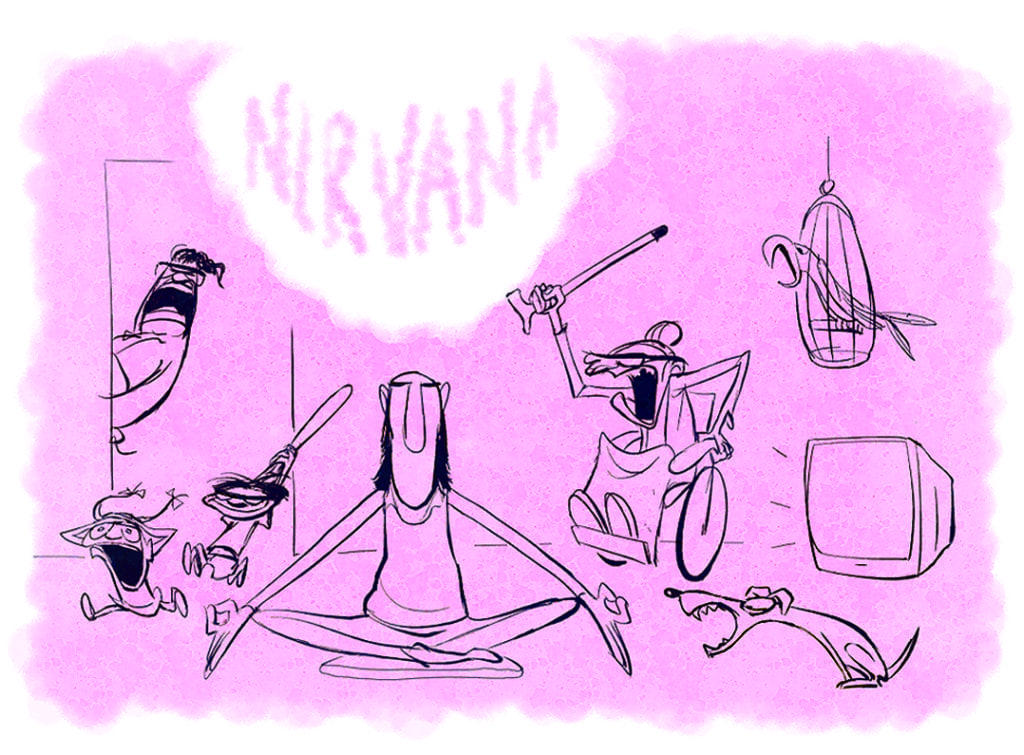 Nirvana:
That's right—that's the definition of nirvana (which is what you are striving to achieve as a Buddhist), as I understand it: a big fat nothing. You get so enlightened, your desire is in such giga-renunciation, that you don't have to be reincarnated anymore, at least if you don't want to be. You are obliterated, released from the cycle of pain and suffering. No more 932 combined SAT scores, no more running out of cold beer, no more hold music, no more caramelized reductions and eggplant coulis, no more big electronic highway signs that tell you how fast you're going, no more irritable bowel syndrome, no more pining for Tawnee, no more Chuck Norris reruns, no more copy-center jobs, no more silage combustion, no more air turbulence, no more periodontics, no more "funny" lists. No more post-coital escape panics.
No more coition, either. Hmmm. No more ruby-throated hummingbirds, no more whoever Alison Krauss comes back as, no more soft-serve ice-cream, no more first kisses, no more boogie-boarding, no more finding a cold beer in the fridge, no more throwing down with anyone whatsoever ever, no more homecomings. No more whatever the future holds in store: teleportation holidays, mansions created from utility fog and nanotechnology swarms, invisibility. No second chance with Tawnee.
If you were a Buddhist, I guess it would be up to you, and not.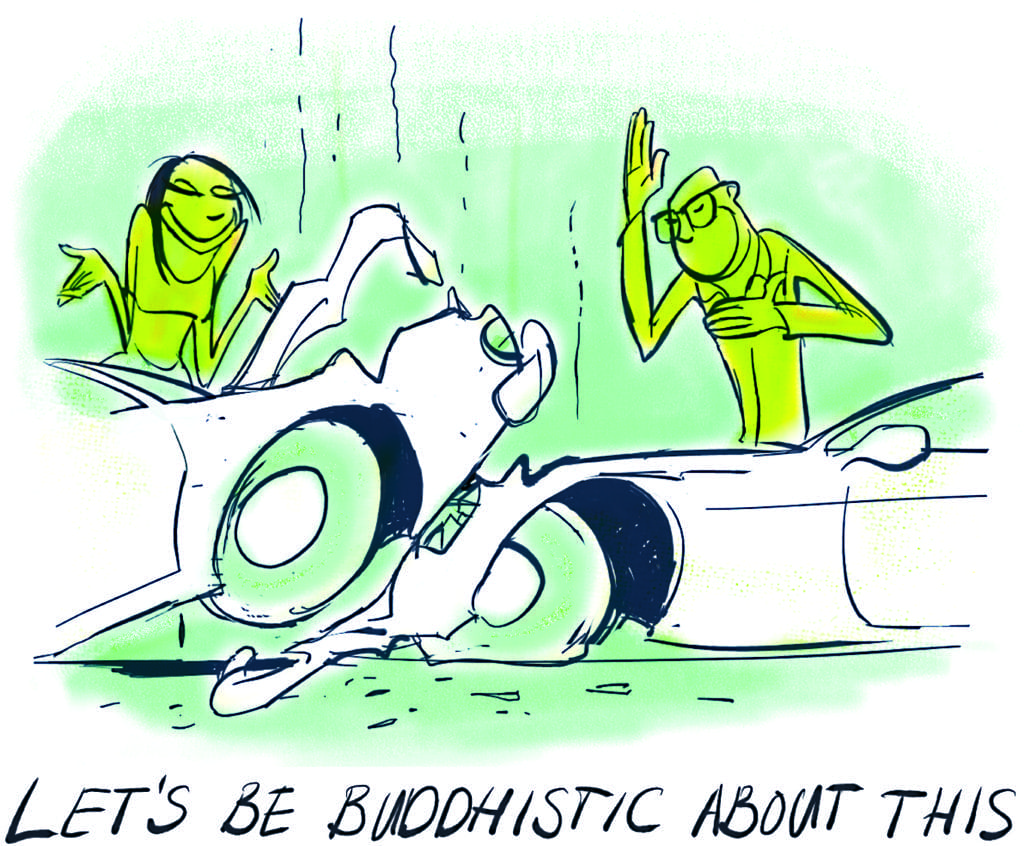 Drawings by Andrew Slob.