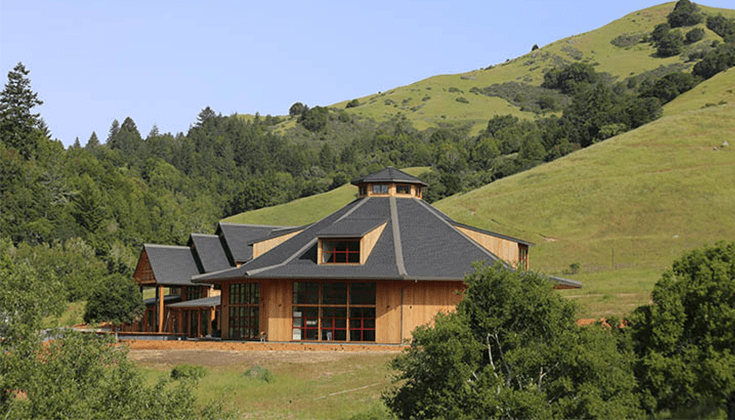 The new Community Meditation Center at Spirit Rock.
Spirit Rock Meditation Center in West Marin County, California will open its new Community Meditation Center (CMC) on Friday, June 3.
According to the Spirit Rock website, the new CMC building provides an 11,851 square foot environment for meditation practice and community engagement. Spirit Rock is a self-described "escape from everyday life," situated on a 411-acre campus amongst a natural environment.
The center serves 40,000 people a year, offering a multitude of programs on subjects like mindfulness and Insight Meditation, as well as the opportunity to study with many prominent teachers.
The CMC was designed by the San Francisco-based architectural firm Hart Howerton, with special attention given to complementing Spirit Rock's existing meditation retreat facilities. The new building will feature a Great Hall, with seating for 400 people, that will act as the main gathering place and will host the traditional day programs and Monday Night Meditation.
There will be two additional classrooms for smaller group activities, opening possibilities for advanced study, family programming, teacher training, introductory and specialized classes, multi-day non-residential retreats, and intensive multi-year trainings. The CMC will replace the temporary Community Meditation Hall that was built 25 years ago out of four trailers.
In 2013, Spirit Rock celebrated its 25th anniversary by launching a $15.6 million capital campaign to upgrade its facilities, hoping to generate its own solar power, accommodate more guests in the meditation hall, and expand its dedicated programs for children and families.
The opening of the new CMC marks the realization of the founding teachers' vision to create a center that is accessible to everyone and supports the community in developing a practice of mindfulness in everyday life.
"The life-transforming Buddhist teachings of mindfulness and compassion that are spreading so widely in our culture now have a beautiful new home. It will be a center of understanding and care for many generations ahead," says founding teacher Jack Kornfield.
The CMC will open Friday, June 3 and will house special events for the opening weekend led by Jack Kornfield, Mark Coleman, Venerable Pannavati, and Venerable Ajahn Amaro.