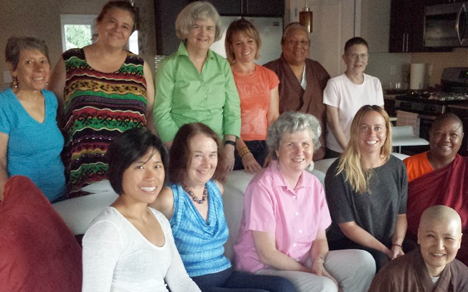 Buddhist women teachers and leaders gathered at August 15th's meeting.
On August 15th, female members of the North American Buddhist Alliance Board of Directors organized a first meeting of Buddhist women teachers and leaders in Seattle, Washington, intending to observe what may emerge from such a circle. Approximately a dozen women teachers and leaders from several Buddhist traditions gathered, including North American Buddhist Alliance Board member and ordained Theravada nun Venerable Dr. Pannavati, and Reverend Myokei, North American Buddhist Alliance Board member and the first Western female Bishop in the Nichiren tradition.
These two teachers helped set the tone, with the former reminding those gathered that the true dharma is beyond gender, and the latter that while being, too, is gender-free, gender in real life is a predominant social conditioning. Until we can operate in the world where we and all those around us cease to make distinctions based on gender, women benefit by being in circles of women. We are trying to reach common ground, learning from each other, grappling with terminology: our circle shared definitions of gender, patriarchy, matriarchy, feminine characteristics, masculine characteristics, and similarities and differences between men and women or among a spectrum of gendered individuals. I suspect that Buddhist women in intimate conversations have something to learn, too, from Buddhist people of color who have begun to go through this linguistic learning curve.
Patriarchy, inequality, and inequity do pervade our lives, and the topic of whether and how men may participate in circles such as this one arises often. For them to join women's circles while the women are still building trust and understanding among themselves may be premature and can amount to defaulting to an old habit unaware: why shouldn't the focus be on women?
While overall the ratio of Buddhist female teachers to Buddhist male teachers remains low, there are now more opportunities in the West for female teachers to give dharma talks and lead groups of women and men. These teachers, some of whom have joined our circle, offer guidance and experience for Buddhist women across traditions to dialogue about wisdom, compassionate action, and women's responsibilities in any social order, which are typically patriarchal and perhaps especially so across Buddhist communities.
Our group is committed to continuing the dialogue with other Buddhist women. We will be meeting once every two months in person and online starting October 18th. Furthermore, North American Buddhist Alliance will be holding a first and unprecedented North American Buddhists Conference online for all Buddhists across the region on September 25, 2016. Contact the North American Buddhist Alliance ([email protected]) for more information.