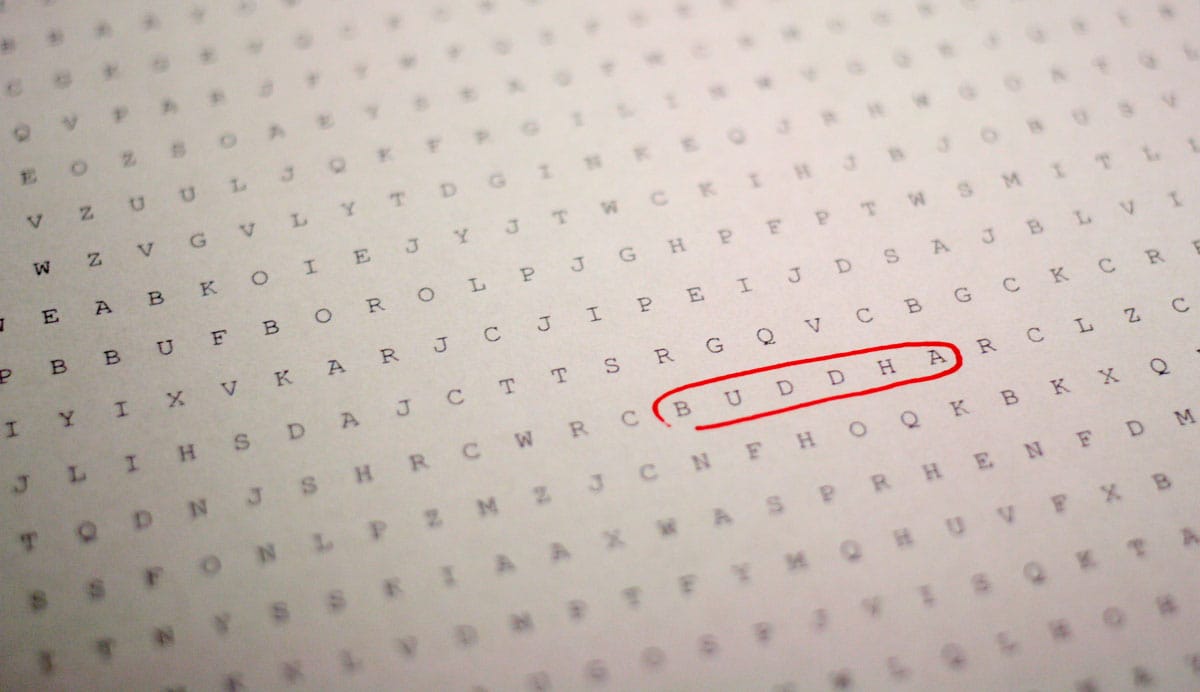 Part of the study was conducted by getting participants to do word searches that contained Buddhist terms, and then administering tests to measure their tolerance and compassion.
A new study reports that when people are exposed to Buddhist concepts, they show more prosocial behavior and tolerance of outsiders.
Research has shown that when people are exposed to concepts from monotheistic religions they show more prosocial behavior within the group, but less tolerance for those outside—for anyone who is somehow "different."
It's a strange paradox – that caring more for some people would reduce caring for all. The authors of this new study wondered if it might be different with an Eastern religion. They thought that Buddhist concepts might encourage tolerance for otherness, because Buddhism emphasizes compassion in a way that is "possibly clearer than in [Christianity, Judaism, and Islam]." The researchers pointed out that Buddhist teachings encourage thinking about interconnectedness, oneness, harmony, tolerance of contradiction, and interdependence between all life forms.
The researchers, led by Magali Clobert, tested three different groups: Western converts to Buddhism, Christian and secular Westerners, and East Asian students who were either Buddhist/Taoist or secular.
For one of the tests, researchers administered regular word searches to a control group and word searches with Buddhist words to another group. The researchers found that the Buddhist concepts activated compassion and tolerance, and undermined ethnic and religious prejudice, especially among those whose personalities were already disposed to open-mindedness.
The paper was published in the Personality and Social Psychology Bulletin. For more about the study, read the full paper here.
THANK YOU FOR READING LION'S ROAR. CAN WE ASK FOR YOUR HELP?
At Lion's Roar, our mission is to communicate Buddhist wisdom in today's world. The connections we share with you — our readers — are what drive us to fulfill this mission.

Today, we're asking you to make a further connection with Lion's Roar. Can you help us with a donation today?
As an independent nonprofit committed to sharing Buddhist wisdom in all its diversity and breadth, Lion's Roar depends on the support of readers like you. If you have felt the benefit of Buddhist practice and wisdom in your own life, please support our work so that many others can benefit, too.

Please donate today — your support makes all the difference.

Lion's Roar is a registered charity in the US and Canada. All US & Canadian donations are tax deductible to the full extent allowed by law.