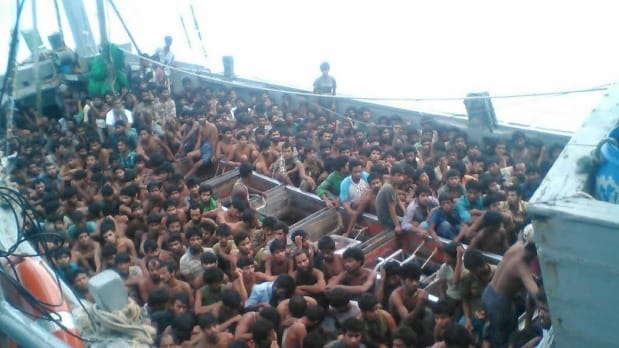 Photo via Myanmar Ministry of Information.
On Monday, President Obama said the Burmese government's treatment of Rohingya people will be "a great test for the democracy of the future." In response to a question at a White House event, Obama called out discrimination against the Rohingya. "It's important, I think, as part of the democratic transition, to take very seriously this issue of how the Rohingya are treated."
The issue of discrimination against the Rohingya — Muslims from the Rakhine State of Burma — has made global headlines over the last month as news has emerged that thousands of displaced Rohingya people are stranded in the ocean off of Malaysia. The migrants are fleeing violence in their homeland, as described by Jack Kornfield in his Shambhala Sun feature, "Buddhists Betray the Teachings." The majority have yet to be rescued.
A cohort of Buddhist leaders — including Jack Kornfield, Ven. Bhikkhu Bodhi, William Aiken, Tara Brach, Lama Surya Das, Alan Senauke, Taigen Dan Leighton, Larry Yang, Rev. angel Kyodo williams, and Rev. Dr. T. Kenjitsu Nakagaki — have written an urgent appeal for help for the stranded Rohingya, calling for donations to get food, water, and medicine to the refugees, and to address the causes of the problem. In a blog post, Jack Kornfield says that the letter is one of the products of the Buddhist Leadership Conference held last month at the White House.
The Dalai Lama has also spoken out, urging Burmese politician and Nobel Peace Prize laureate Aung San Suu Kyi to take a stand for the Rohingya. "I feel she can do something," said the Dalai Lama in an interview with The Australian. See our coverage of the Dalai Lama's comments, here. A separate group of seven Nobel Peace Prize laureates, including Desmond Tutu, made a call in May for the violence against the Rohingya to be labelled genocide.
Buddhist nationalism and racism have been spreading through Southeast Asia, particularly in Burma, Sri Lanka, and Thailand. See these Lion's Roar stories for much more information on why this suffering is being inflicted upon the ethnic minorities of the region, and what we all can do about it: