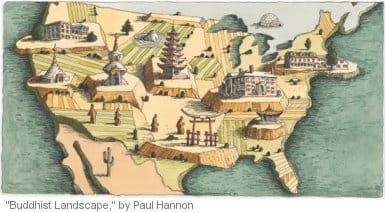 Charles Prebish, a leading chronicler of Buddhism in the West, surveys some of the many choices open to the would-be Buddhist practitioner. "Things sure have changed."
In the Summer of 2001, while visiting my boyhood home in a predominantly Jewish suburb of Chicago, I decided to drive by my old high school. Directly across the street, much to my surprise, was a rather prosperous looking Korean Zen center. It was located only a few doors from what used to be a small restaurant where I spent many happy lunch-hours wolfing down cheeseburgers and sneaking Marlboros. Not far away were the Chicago Zen Center, the Kubose Dharma Legacy, the Lakeside Buddhist Sangha, the Dhammaka Meditation Center of Chicago, the Chicago Shambhala Center and the Buddhist Council of the Midwest.
This was a far cry from my early days of mapping American Buddhist communities in the 1970's. Then I was always very careful to telephone groups before I visited to make sure they were still there. As often as not, I got the "Sorry, this number has been disconnected" message. Back then, dharma-hopping from community to community was almost a sport, and it seemed like Buddhist groups came and went faster than franchise restaurants.
To be sure, the world of Buddhist practice in America has changed a lot since 1970. Now when I want to locate a center I simply consult one of the many on-line Buddhist community locators. The challenge now is not to count how few Buddhist centers and teachers there are, but how many.
So how does the beginning, would-be Buddhist practitioner sort out what's available today? What traditions and practice lineages can be found? Which communities have lasted the longest? Which teachers, Asian and Western, have had the most impact on American Buddhism? Do Asian immigrant Buddhists and American convert Buddhists go to the same centers? Are there any special resources and communities for Buddhists chanters, or gay Buddhists or social activists?
With the exception of those American converts who have taken up the chanting practice of Soka Gakkai, the consensus is that American converts to Buddhism gravitate toward the various meditative traditions of Zen, Vajrayana and Vipassana, while Asian immigrant Buddhists maintain practices coincident with ritual activity or Pure Land observance, depending on the nature of the parent tradition. But prospective Buddhist practitioners can find virtually every Buddhist sect, from every Asian Buddhist tradition, present on the North American continent. In fact, the field of American Buddhism is so large now that a single magazine piece can only offer an overview, so please excuse any omissions.
Ethnic Buddhists
The oldest Buddhist tradition in the United States is Buddhist Churches of America, a Japanese Pure Land sect that has been here for more than a century. With headquarters in San Francisco, BCA at last count had about 50,000 members, almost exclusively Japanese-Americans, who constitute what Richard Seager calls "America's old-line Buddhists." There are currently about 60 temples, of which 44 are in California and 5 in Washington state.
There are many other ethnic Asian Buddhist communities in the United States, most notably Chinese monastic communities such as the Hsi Lai Temple in Hacienda Heights, California, which is the largest Buddhist monastic complex outside of Asia, and the Buddhist Association of the United States, founded in 1964 in New York. Ethnic Theravada communities from Burma, Thailand, Cambodia, Sri Lanka and Vietnam are generally located in major cities and provide a rich resource base for the religious practice of their constituents.
Zen
Don Morreale reported in his Complete Guide to Buddhist America that the number of North American Buddhist meditation groups grew from 429 in 1987 to 1,362 in 1997. No growth was more dramatic than that of the Zen tradition.
Although Zen exploded onto the American Buddhist scene following the popularity of the Beat movement of the 1950's and 1960's, Zen has been present on American soil almost as long as Pure Land. Following the World Parliament of Religions in Chicago in 1893, a veritable parade of Zen teachers appeared over the next several decades, including Shaku Soen, D.T. Suzuki, Nyogen Senzaki, Shaku Sokatsu and Sokei-an. By mid-century, both the Soto and Rinzai lineages were thriving, and shortly thereafter, they were joined by the Sanbyo Kyodan tradition, which utilizes both Rinzai and Soto techniques.
The list of Zen teachers who have established themselves here in the last fifty years is long and significant, populated by many exemplary teachers from China, Japan, Korea and Vietnam, with large followings from coast to coast. Zen schools such as the Kwan Um School of Zen, founded by Seung Sahn Sunim in Providence; Dai Bosatsu Zendo, founded by Eido Tai Shimano Roshi in the Catskills; the Diamond Sangha, founded by Robert Aitken Roshi in Hawaii in 1961, and the Order of Buddhist Contemplatives, founded by Jiyu Kennett Roshi in northern California, have been enormously successful.
However, no Zen communities have had as much impact as those begun by Hakuyu Taizan Maezumi Roshi at the Zen Center of Los Angeles, Shunryu Suzuki Roshi at the San Francisco Zen Center, and Philip Kapleau at the Zen Center of Rochester.
Hakuyu Taizan Maezumi arrived in Los Angeles in 1956. By 1967 he had established the Zen Center of Los Angeles, which by 1980 had over 200 students. He founded an association of his students known as the "White Plum Sangha," which became formally incorporated after his death in 1995. Wendy Egyoku Nakao Sensei is the current abbot of ZCLA. Many of Maezumi Roshi's dharma heirs in the White Plum Sangha have established their own centers throughout the United States and Europe. Most notable of his dharma descendants are Roshi Bernard Tetsugen Glassman (Maezumi Roshi's most senior student), founder of the Zen Peacemaker Order; Dennis Genpo Merzel Roshi, founder of the Kanzeon Sangha in Utah; Jan Chozen Bays Roshi, founder of the Zen Community of Oregon, and John Daido Loori Roshi, the recently deceased founder of Zen Mountain Monastery in Mt. Tremper, New York.
In 1995, I visited Zen Mountain Monastery for the first time. Although I'd known Daido Roshi somewhat, we'd never spent any significant time together. Much to my surprise, Daido spent the entire day with me, walking the many acres of ZMM, leafing through the library in the abbacy, sitting in the zendo, playing with the computers, and talking Buddhism.
In all my travels, I'd never been treated more hospitably in any Buddhist center. Several years later, during a forum at the Smithsonian Institution in Washington, D.C., I reminded Daido Roshi of that magnificent day. I told him how much his warmth and guidance had meant to both my study and my practice, and how much I'd clung to the recollection of that visit. Daido looked a bit perplexed, scratched his bald head, and leaned over and whispered to me, "Chuck, I'm sorry to disappoint you, but I don't remember your visit at all."
Although he later explained that he simply has a bad memory, I learned a lot about my own craving and grasping and expectations that day. Authentic teachers always find simple ways to teach important lessons.
Shunryu Suzuki Roshi arrived in San Francisco in 1959 and established the San Francisco Zen Center in 1961. Tassajara Hot Springs—the first Buddhist training monastery outside of Asia—opened in 1967. Upon Suzuki Roshi's death in 1971, his dharma heir Zentatsu Richard Baker was installed as abbot, one of the first Western students trained by an Asian master to become a Roshi. Among Suzuki Roshi's famous students are Dainin Katagiri Roshi, who died in 1009, Tenshin Reb Anderson, and Sohun Mel Weitsman. Zoketsu Norman Fischer and Zenkei Blanche Hartman have also served as abbots of SFZC.
Philip Kapleau, the first American student of Hakuun Yasutani Roshi, founded the Rochester Zen Center in 1966 after returning from a long training period in Japan. Kapleau Roshi was one of the first Western Zen teachers to emphasize an Americanization of Zen, eschewing Asian dharma names and Asian dress. Bodhin Kjolhede became his dharma successor in 1986, but his most famous disciple, Toni Packer, left his center and its Harada-Yasutani lineage to found her own Springwater Center. Rochester Zen Center now has affiliates in Canada, Mexico and Europe.
Tibetan Buddhists
The earliest noteworthy Tibetan Buddhist to arrive in the United States was Geshe Ngawang Wangyal, a Gelugpa teacher who came to the United States in 1955 and established the Lamaist Buddhist Monastery of America in New Jersey. It was renamed the Tibetan Buddhist Learning Center in 1986. Geshe Wangyal is perhaps best known through his famous students Robert Thurman and Jeffrey Hopkins, each of whom is a highly respected "scholar-practitioner" in the American Buddhist community. Other well-known Gelugpa centers include Osel Shen Phen Ling in Montana and the Vajrapani Institute in California, both founded by Lama Thubten Zopa. The Dalai Lama's personal monastery, Namgyal, founded a North American branch in Ithaca, New York in 1992.
The Sakya and Nyingma traditions of Tibetan Buddhism can also be found in the United States. As early as 1960 the Sakya teachers Deshung Rinpoche and H.H. Jigdal Dagchen Sakya arrived in Seattle, and by 1971, Lama Thartse Kunga had established the Ewam Choden Tibetan Buddhist Center. A Sakya monastery in Seattle was opened in 1974, followed by two Sakya centers on the other coast: the Sakya Institute for Buddhist Studies and Meditation in Cambridge, Massachusetts (1980), and the Sakya Phuntsok Ling Center in Silver Springs, Maryland (1986).
The first Nyingma teacher in America was Tarthang Tulku Rinpoche, who arrived in the U.S. in 1968. He established the Tibetan Nyingma Meditation Center in Berkeley in 1969. In 1973 he founded Nyingma Institute, also in Berkeley, and two years later began work on an extensive retreat center known as Odiyan in Sonoma County. He has also founded a series of international communities in Holland, Germany and Brazil. Other prominent Nyingma teachers in the United States include Thinley Norbu Rinpoche, Tulku Thondup and Chagdud Tulku Rinpoche.
No doubt the best-known Tibetan Buddhist in North America was the Kagyü/Nyingma teacher Chögyam Trungpa Rinpoche (1939-1987). He arrived in America in 1970, taking up residence at Tail of the Tiger—later renamed Karmê Chöling—in Barnet, Vermont. Soon after, he established headquarters in Boulder, Colorado, from which he developed two organizations known as Vajradhatu and the Nalanda Foundation.
In 1974 Trungpa Rinpoche founded the Naropa Institute (now an accredited university), which has become the most interesting and influential Buddhist educational organization on American soil. It was at that first summer of Naropa that I had my first face-to-face meeting with Trungpa Rinpoche. Although I described this visit in my 1999 book Luminous Passage: The Practice and Study of Buddhism in America, the details remain interesting and revealing.
Within sixty seconds of beginning of our meeting, Trungpa Rinpoche related to me in great detail every aspect of my decade-long meditation practice. It was private, personal information that he simply couldn't, or shouldn't, have known. But he somehow did. And his diagnosis of my spiritual malaise was perfect, if unsettling: I was using my four daily hours of satipatthana practice as a means of withdrawing from the world rather than encountering it mindfully. So he offered a startling prescription (not described in the book): "Stop sitting periodically and just let the events of your life be your guru. Go back to your cushion only when you begin to have doubts about the dharma…and you will have them. Then your meditation practice will be fertile again."
Following Trungpa Rinpoche's death in 1987 and the death of his successor Ösel Tendzin (Thomas Rich) in 1990, leadership of Trungpa Rinpoche's extensive communities fell to his son, Sakyong Mipham Rinpoche. Now operating as Shambhala International, with headquarters in Halifax, Nova Scotia, Trungpa's legacy has yielded a series of international communities and Western teachers (known as Acharyas) who are fulfilling his creative mission.
Another important Kagyü center is Karma Triyana Dharmacakra in Woodstock, New York. This is the North American seat of H.H. the Gyalwa Karmapa, head of the Kagyü school. The Kagyü teacher Traleg Rinpoche, who has been based in Australia, is in the process of establishing a center in upstate New York. There are a number of other significant Kagyü teachers, including Thrangu Rinpoche, Ponlop Rinpoche, Tenga Rinpoche, Khenpo Tsultrim Gyamtso, and Khandro Rinpoche, who, while based in Asia, teach extensively in North America and have many students in the West.
Vipassana
There are currently more than 150 Theravada-based centers in North America, and it was in one of them that I took refuge in Buddhism in the mid-1960's and got my first instructions in meditation. My teacher was the Venerable Bope Vinita, a no-nonsense Sri Lankan monk who resided at the Buddhist Vihara Society in Washington, D.C. He had an incredible knack for throwing me out of his office every time I balked at doing precisely what he told me to do. On one of those occasions, after I had become especially terrified about something that happened in meditation, he just smiled and told me to go home and get back to my sitting practice. Utterly fearful, and with tears streaming down my face, I proclaimed, "But if I do that again, I could die." He just smiled and said, "I know," and then he laughed. End of story.
The best-known form of Theravada meditation in the U.S. is Vipassana, promulgated mainly by the Burmese monk Mahasai Sayadaw. It was brought to America by Joseph Goldstein and Jack Kornfield, with considerable input from Sharon Salzberg, Jacqueline Schwartz, Ruth Denison and others.
Goldstein, Kornfield and Salzberg first met at Naropa Institute in 1974, and within a year they had founded the Insight Meditation Society (IMS) in Barre, Massachusetts. In subsequent years, an impressive network of Vipassana teachers developed in America, as well as an offshoot center, Spirit Rock Meditation Center in Marin County, California (1988).
Vipassana has developed as a movement for householders, not monastics, emphasizing both loving-kindness in lifestyle and health benefits for all meditators. Its attempt to blend Buddhist and Western practices and values into a harmonious whole has made Vipassana one of the most popular meditation practices for Western Buddhists, as witnessed by the doubling of Theravada centers between 1987 and 1997.
Soka Gakkai
Not all American convert Buddhists meditate. As early as 1960, Daisaku Ikeda, the president of what is now called Soka Gakkai International (SGI), visited the United States. Within a decade, Nichiren Shoshu of America, as it was then called, was cited by Life magazine as having 200,000 members.
Although its history, both in Japan and worldwide, has been complicated, SGI now has more than sixty community centers in the United States. SGI-USA has its national headquarters in Santa Monica, California, and centers in about two-thirds of the fifty states. It is a completely lay organization based on the teachings of Nichiren Daishonin, a 13th-century Japanese fisherman's son who founded a major school of Buddhism based on the efficacy of the teachings of the Lotus Sutra. The practice component of SGI-USA involves a ritual chanting of portions of the text—and especially the phrase nam-myoho-renge-kyo, or "Homage to the Lotus Sutra"—and emphasis on a peaceful, humanistic lifestyle. Current American membership may be as high as 300,000.
Non-Denominational Buddhist Groups
Because the American Buddhist community mirrors the rest of American society, there are now a significant number of Buddhist practitioners who are gay, lesbian, bisexual or transgendered people. Until recently, not much Buddhist literature has addressed the lifestyles of these groups in relation to their practice. Now, however, groups such as the Gay Buddhist Fellowship in San Francisco are providing a safe haven. Moreover, it is not uncommon for mainstream American Buddhist communities to run meditation retreats exclusively for gays or lesbians, or gays and lesbians together, in order to better meet the spiritual needs of this component of the American Buddhist community.
As Buddhist social engagement—emphasized by Thich Nhat Hanh, Sulak Sivaraksa, and others—has become important in American Buddhist communities, organizations such as the Buddhist Peace Fellowship, founded in 1978 in Hawaii but now headquartered in Berkeley, have sprung up. The BPF refers to itself as a group of "meditating activists" and has about fifteen chapters (and an equal number of affiliate groups) across the United States.
Finally, there are an increasing number of American Buddhist communities that have no special sectarian affiliation or are cross-sectarian. These groups have been referred to by Don Morreale as "Buddhayana" groups, and he maintains that between 1987 and 1997, for example, their number grew from 14 to 135. Moreover, these groups can be found in about two-thirds of the states.
Jack Maguire, in his book Essential Buddhism, points out that "Becoming a Buddhist means quite literally becoming a student." No doubt, becoming a student involves finding an appropriate teacher, irrespective of whether that teacher is a bhante, lama, rinpoche, sensei or roshi. Recently, when I was on a flight from Nashville to Pittsburgh, it became clear upon takeoff that there was a serious problem with the jet's left engine. About five minutes into the flight, and without having been able to climb very much, the pilot came on the intercom: he announced that there was a problem and he was going to "try to return to the airport."
The five minutes or so it took to return to the ground were far longer than any meditation retreat I'd ever been on, and it wasn't until we were safely back down on the ground that I realized I had been reciting the Pure Land expression Namu Amida Butsu—"Homage to Amida Buddha"—continuously. Trungpa Rinpoche was right: sometimes the events of our lives make remarkable teachers.