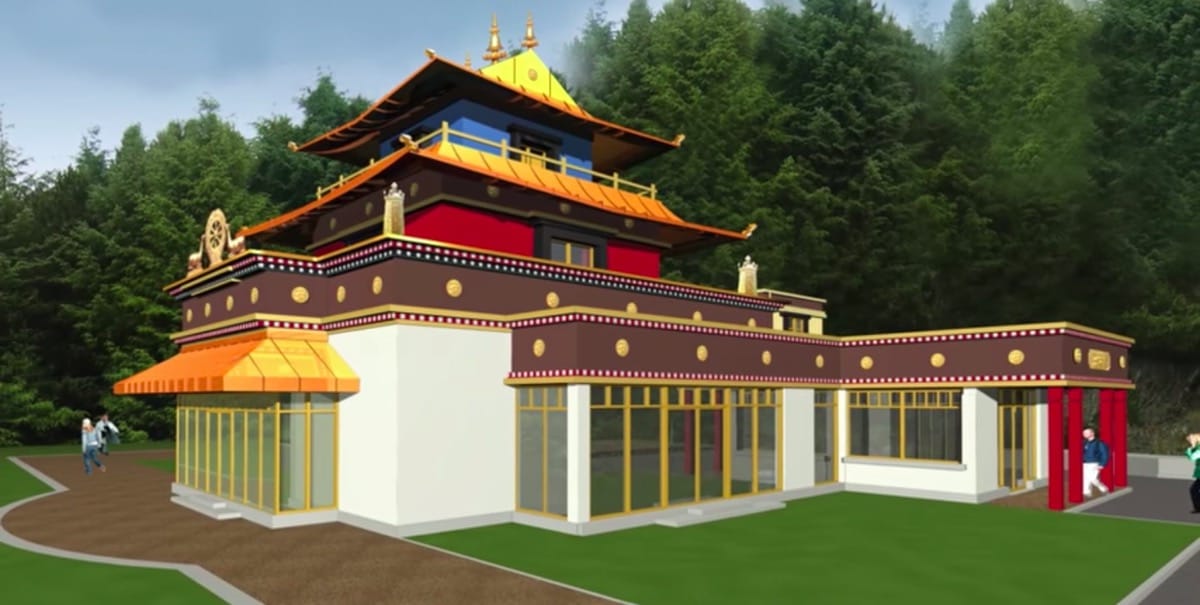 Artists' rendering of Dzogchen Beara Buddhist Meditation Center.
Ireland's first Tibetan Buddhist temple will open in 2019 in rural West Cork at an estimated total cost of €3.5 million.
In 2008, the Dzogchen Beara Buddhist Meditation Centre began plans to build a temple in the traditional Tibetan style. The community hopes it will be a place to cultivate peace and happiness.
The temple will measure 14 1/2 meters in height, with the ground floor capable of hosting 300 visitors for retreats, meditations, and conferences.
The project manager, Leon Rossiter, told the Irish Times that he wants the structure to last hundreds of years. Mass concrete walls, ring breams, and galvanized steel have all been incorporated in the construction to ensure longevity. The temple foundation sits upon four meters of boulders.
"We believe if we put in the money now we won't have to invest more into the future," Rossiter told the Times.
Each aspect of the temple has been taken into careful consideration, including window placement, acoustics, and lighting. There will be underfloor heating and timber floors, and the design team will source as many materials as possible from local businesses, such as the temple's copper roofing.
Although scheduled for the summer of 2019, the temple's opening will depend heavily on funding. So far, €1.8 million has already been fundraised, and the Dzogchen Beara community is confident the rest will arrive.
"Some days the donations are small but still they come," Kathryn O'Flaherty, hospitality director, told the Times. "We know this stunning temple will be built and as a community we're just so excited by what it will offer to people."
According to the 2016 census, the Buddhist population has grown to 10,000 in Ireland — an increase of 11 per cent over six years.